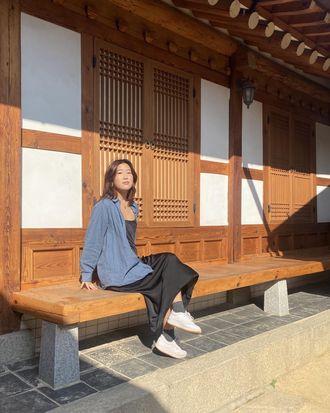 "Swellness" is a monthlong series exploring the health and wellness stuff no one talks about.
I was raised with Korean skin care before it became mainstream and cool and a shiny shelf at Sephora. My Umma, my mom, wore sheet masks religiously before they were sold in the checkout aisle in Urban Outfitters. She also used ginseng and snail cream while everyone else was using pink-grapefruit soap; slugged, moisturized. Her goodnight kiss always left a glossy sheen on my cheek. I clung to my Korean-ness through boxes filled with sheet masks, red-pepper powder, and strawberry-shaped sponges. Living in Maryland for almost all my life, all I wanted to prove was I was Korean enough. Skin care was a way to connect with my culture that was sometimes at odds with my American environment.
I can't speak Korean. I never wanted to be whitewashed. Having a routine with products rooted in my culture gave me a sense of superiority of being an expert in something Korean, even if it was just skin care. "Not only am I using Korean skin care," I thought, "but I'm using good Korean skin care, like the crème de la crème of sunscreen, Beauty of Joseon." Come to find out, I was so wrong.
I went to Korea for the first time when I was 23 years old and paid a visit to Olive Young, Korea's number-one beauty chain with over 1,000 locations. Think Sephora on steroids. Within my first 24 hours in Seoul, I left with a full heart and heavy bags. By the end of my two-week trip, I had gone over 20 times. I was surprised by what I found on the shelves: Many popular Korean skin-care brands in the United States — like Peach & Lily, Glow Recipe, and Saturday Skin — are not sold at Olive Young. Daisy Pyo, a Korean American who traveled to Korea last November, echoed this shock and "could not recognize anything on the shelves." Ahead are the most surprising things I learned about Korean skin care during my time there.
Sunscreen Is Different in Korea
When I showed my cousin a picture of the Beauty of Joseon sunscreen, a holy grail in America, she immediately said "I've never heard of it," and it broke my heart. Yejin Cheung, an Olive Young store clerk, had never heard of it. Instead, she suggests the best sunscreens are the following: Etude Soon Jung x Director's Moisture Sun Cream, Dr.G Green Mild Up Sun, Cell Fusion C Laser Sunscreen, and d'Alba Waterfull Tone-Up Sun Cream.
It's All About Skin Prep
Sol Han, an Olive Young product manager, explains toner pads are "the first step of skin care to prep your skin for essence and serum." The cotton pads are conveniently soaked in toners that moisturize, exfoliate, and calm the skin. They can also be used as an impromptu mini-sheet mask on the forehead, cheekbones, under eyes, and more.
Cheung says the most popular COSRX product is actually the One-Step Green Hero Calming Pads. Ramón Pagán, a cosmetic chemist and esthetician who went to Korea in December, suggests any COSRX toner pads for those with acne-prone or oily skin. Some popular Olive Young picks: Anua Heartleaf 77% Clear Pad, Abib Heartleaf Spot Pad Calming Touch, and Skinfood's Carrot Carotene Calming Water Pads. (The last one is my cousin's favorite; she has boxes stacked under her vanity.)
The Masking Method Is Important
Mediheal is the bread and butter of sheet masks in Korea — classic, versatile, and always good. These ingredients are favorites for their soothing and moisturizing properties. Collagen, tea tree, watermide, placenta, vita, and madecassoside masks are particularly popular and always top shelf, which is where the best products are at Olive Young, according to Cheung.
Cheung explained how to mask quite simply. There are daily masks, every few day masks, and once-a-week masks. She does not recommend the Mediheal tension flex masks. If the mask isn't fitting to your face well snip between the eyes and upper lip to help contour it to your face. The leftover serum can be used the following day or slathered over your body.
Abib, a brand you may have never heard of, is Cheung's favorite. Its sheet masks are what she describes as some of the best in Korea. From the Mild Acidic pH Sheet Mask Heartleaf Fit to the Mild acidic pH sheet mask Aqua fit, Abib has a mask for every skin type. Dr. Jart's sheet masks, especially the Cicapair Tiger Grass Calming Mask, are popular in Korea and extremely accessible in the U.S. from retailers like Sephora.
Dr. Jenny Liu, a board-certified dermatologist, has Mediheal sheet masks in her weekly rotation because of their hydration: "In the West, I feel like there's always going to be exfoliating versus Asian skin care that keeps your skin healthy, hydrated, and dewy. So by doing [sheet masks], you're actually able to tackle a lot of the skin-care concerns."
Calming the Skin Is Key


While snail mucin is currently all the rage in the States, "it was about ten years ago that it was popular [in Korea]," says Hongji Shin, Olive Young global marketing manager. Instead, ingredients like artemisia, heartleaf, bee propolis, and cica are trending due to their calming moisturizing effect.
Instead of the COSRX Advanced Snail 96 Mucin Power Essence, Cheung recommends the COSRX Propolis Light Ampoule and the Full Fit Propolis Synergy Tone. Dr.G Red Blemish, AESTURA Atobarrier 365, COSRX Cica, Dr. Jart Cicapair Tiger Grass, and Physiogel Daily Moisture Therapy​​ are extremely well-vetted lines that calm the skin and protect the skin barrier.
Cosmetic chemist Pagán highly suggests the AESTURA Atobarrier 365 cream out of the skin-care line because of the perfect balance of emollient and occlusives that help reduce water loss and richly moisturizes the skin. "I'm very blown away by how silky and smooth it feels when you apply it," he says.
Artemisia, heartleaf, bee propolis, and cica in essence, and serums can also be used to make impromptu mask packs. Soak cotton pads with the product and place them on your problem areas. Leave them on for five to ten minutes to effectively soothe. While thinner pads absorb the product better, many Koreans swear by SKINFOOD cotton pads due to their thickness and ability to be split into two pads.
Gentle cleansers like numbuzin No.1 Easy Peasy Cleansing Oil, Banila Co. Clean It Zero Cleansing Balm, Easy Peasy cleansing oil are the pecking order. Not a single medicine cabinet at my family's house did not have Senka Perfect Whip face wash.
However, retinol is slowly making its way into the market but in a more gentle form such as the C-K-D Retino Collagen Small Molecule 300 First Essence. The liquid toner formulation of retinal is a particularly impressive chemical-inducing feat.
Misting Is the Best Way to Use Serum
Korean Air flight attendants look refreshed getting off a flight. How? A misting serum.
My cousin pointed to one product, the d'Alba Italian White Truffle First Spray Serum. (This has been my first step after washing my face and an instant favorite of mine. Being in a spray form really ensures you are getting your money's worth and not wasting any product.) Sol Han, Olive Young global product manager, says, "in the airplane, your skin gets really dry and dehydrated but on top of this mist serum has the oil layer so it's super hydrating compared to the other mist."
Think Consciously, Buy Intentionally.
Happy shopping! Olive Young Global is your best bet. They offer free international shipping for purchases over $60. Asian beauty retailers Yessstyle and Stylevana are a mixed bag with some suspicious of the authenticity of the products. The more reputable Sokoglam has some products from more well-known brands like COSRX and Sephora has Dr. Jart's but that's about it. While Amazon has Korean skin care be careful as they also sell counterfeits, so make sure you buy directly from the brand page.