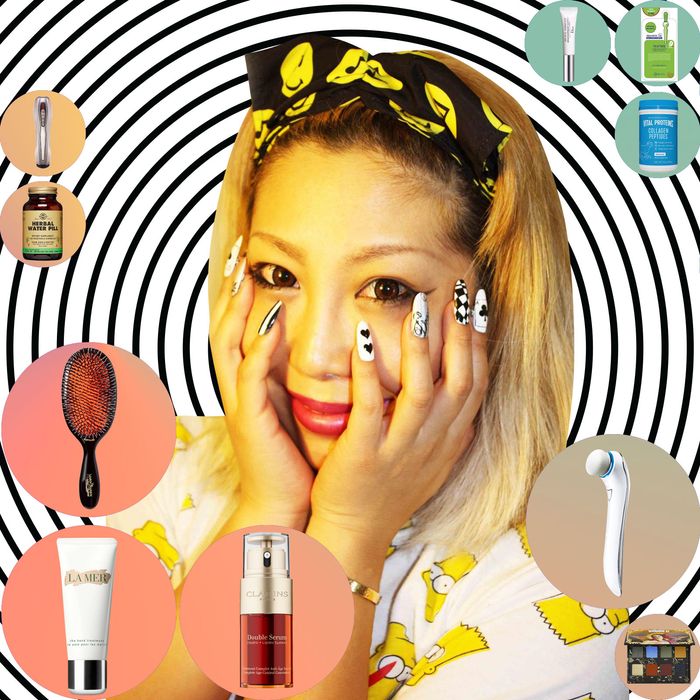 Photo: Courtesy of Britney Tokyo; Image by the Cut
What beauty products do you buy over and over? On The Beauty Group, a Facebook community co-founded by the Cut and the Strategist, beauty obsessives chat all day long about the products they love — the ones so good, they'll make you hit that little "auto-refill" box at checkout. So we decided to turn the question to some of our favorite beauty pros.
The manicure made its debut mid-December — a strawberry, a kiwi, a bunch of cherries, and a slice of watermelon clutched a microphone. If you're even somewhat online, or a current (or former) Directioner, you know that we're describing the nail art of Harry Styles, worn while promoting his Fine Line album. What you may not know about the manicure is that it was created by L.A. celebrity nail artist Britney Tokyo.
Tokyo's client list includes Instagram's most followed people such as Rosalía, Beyoncé, Kesha, Kim Kardashian, and Ariana Grande. On her Instagram, she shows close-ups of the designs she's created for them, like simple stripes for the Ivy Park campaign or the more complicated bejeweled, pierced coffin nails. Her favorite three looks: Style's fruit manicure, Hailey Bieber's glow-in-the-dark nails, and Rita Ora's heart-shaped hole-punch design.
Tokyo's creativity and talent doesn't come with the risk of nail damage. "I always use new products on my own nails before using them on my clients," she explains. "I love nail products that make my art last longer, but I want them to also be healthy — healthy nails are key to beautiful nail art." She also loves drugstore and luxury products equally. As she says, "Sometimes cheap products are as good, or better, than expensive products." Her go-to gel nail polish from Nail Labo, which "can keep over three weeks without chipping," retails for $14 a bottle. Her favorite nail stickers, which she says are a favorite of Ariana Grande, Rita Ora, Kylie Jenner, and Playboi Carti come in at just under $10 a sheet.
When she isn't focused on nails, Tokyo also thinks about her skin and her hair, which she regularly dyes different rainbow shades. She swears Olaplex No. 6 "changed her life," trusts her Slip pillowcase to keep her locks — and skin — hydrated, and has been using her Mason Pearson hairbrush for over five years. Tokyo applies the same amount of care to her skin, even using a water distiller to wash her face because she thinks that "purified" water is better at hydrating.
Below, see all of Tokyo's favorite beauty products, including the luxury cream she relies on for silky hands, her favorite water purifier, and the "essential" tweezers for nail artists.
If you buy something through our links, New York may earn an affiliate commission.