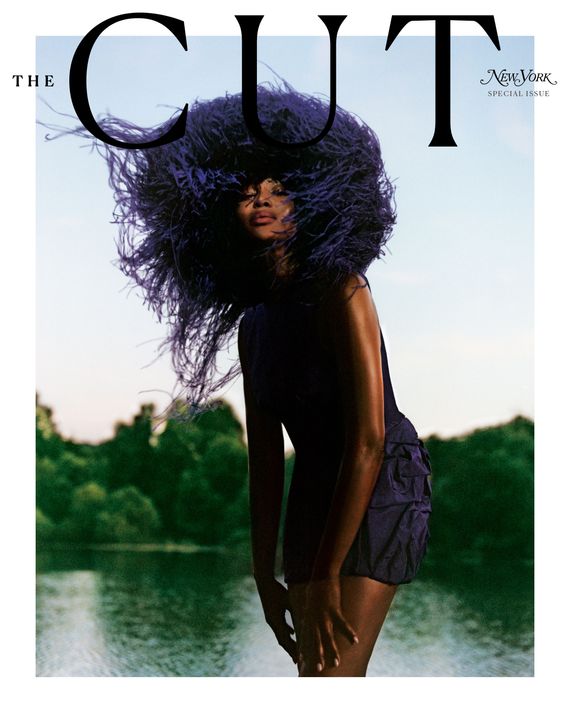 Valentino Haute Couture
Serena T. Aubergine Bouillonne Light Faille Drapé Mini-Dress and Aubergine Feather Hat, price upon request.
Photo: Campbell Addy for New York Magazine/the Cut
Black people activate fashion in a particular way," my friend AJ (the artist Arthur Jafa) said with casual certainty a couple decades ago. We were poring over clippings of Black images he had surgically extracted from glossy Eurocentric fashion magazines. Now sleeved in big black binders and emancipated from their privileged published pages, they could be seen by us more honestly. Like generals in a war room, we studied the images' relationship to one another and to us. It was an advanced exercise to train our eyes and sharpen our sensibilities, to decentralize whiteness and recentralize Blackness even in the whitest and most exclusionary of space — something Jafa elevated into an art form and for me was to become daily practice.
The runway and its extension into the fashion industry at large has historically been a very white and narrow space. And while there have been pops of color here and there of exquisite and talented beauties, Black and nonwhite models are still generally regarded as a trend — seasonal and largely disposable in a mid-20th-century Dior-esque kind of way. Naomi Campbell disrupted that disregard. She was perennial, inevitable, and undeniable. Naomi was the activator.
Impossibly beautiful (as were Naomi Sims and many others not so named), she, like elite athletes and nearly all high-fashion models, is endowed with features not awarded by merit but gifted by nature. Naomi is a force. She not only activated fashion; she did so with sublime physical intelligence. She was ferociously elegant. From the moment her 15-year-old feet took their first step on a rare tight catwalk in Paris, she bodied every runway she ever hit. And now, at 51, she's still walking like a Black panther, still undisputed.
Undeniably, her walk is fire. Naomi walks warrior, not waif. When her foot touches the floor, muscles tremble and release in rage only to snatch back in complete command like royalty. Gorgeous and riotous, her signature strut is signifying. Her stomp is an awakening of the Holy Ghost, a drumbeat for battle. However, she, not Mother Nature, started it. Naomi attributes her elegance and walk to her birth mother, who traveled the world as a contemporary ballet dancer while Naomi spent time with her grandmother and attended theater school, but destiny led her not to pirouette but to prance hard-core. Bearing witness to Naomi's walk, one might think not only her mama but Queen Nanny, Yaa Asantewaa, Carlota Lukumi, and Harriet Tubman had all personally schooled her in the Ancient Mystic March of Arts.
Fashion can be a vicious gladiator sport. Naomi, more than any model of any color, seemed to understand that. Maybe as a result of an act of Providence, she never tried to be anyone's pretty and silent clothes hanger. She was naked with all her complexities — her mess and her majesty on full display. She has demanded respect and redemption, all without shame. Naomi has, openly, unapologetically, relentlessly, been Naomi. An extremely rare existence for any Black body anywhere, to shamelessly be oneself. She came to the fashion game armed with swords forged from her own flesh.
Black people, particularly those who felt unseen, instantly homed their gaze on the importance of Naomi. Hers was a revelation, a revolution, a runway-to-freedom walk. She walked for all the Black kids in the margins — those who had fashion fever but whose melanin and circumstances had barred them from the track. Naomi walked with all the passion of the countless queer folks and trans girls who, in dank basements and gymnasiums, idolized her and practiced for endless hours to emulate and capture her confidence and fierceness. Just to survive. The Ball community turned her walk into a whole category, a technique, a way to move through the world of one's own very existence. Queen Bey herself immortalized it in her song "Get Me Bodied." Because to many in the entire beloved community, Naomi is beyond the most famous supermodel. She is a superhero with staying power as her superpower.
After spending most of quarantine in her apartment in New York and a stint in L.A., Naomi is off to finally visit family — her only priority. Having just landed somewhere in Europe, she recently phoned me. An electric determination palpitated my device, facilitating our conversation. It alone was running the thing. Off the bat, it was clear that Naomi was not interested in chitchat or in looking back. At all. "I don't like … what's the word? Stagnation. Yes, that's it. I don't like that. I don't like being stagnant," she declared without prompting. "It's not who I am. It's not the energy I was born with." I wholly believed her. Mother Nature has been moving Naomi in one direction. "I'm not trying to talk about the past. I'm going to talk about the present … forward."
This was not the Sankofa moment for any backstory but rather one to explore how exactly Naomi has survived, which she sees as tied to her refusal to look back: "Look, I've been misunderstood a lot of times. But I just have to keep going forward." She won't allow anyone or anything to throw her off course. "We're moving forward, forward, and forward!" she said, placing herself among the collective. Her other superpower: "I'm open to the challenges that life throws at you." And she has been known to throw a few things back. "I'm a communicator, and I'm a connector, too," she said. "But don't take advantage of it. I give with good intentions. Always. I give in good energy. Don't try to use me. Don't try to. You may get something from me. You may get a part of me for a second, but you'll never get me again." A warning to all: Don't. Try. Naomi.
When asked what she felt were her most significant struggles or betrayals in her journey, she said, "I have no time for bitterness." With a hint of melancholy, she added, "There's a journey. I'm still on it. It's God willing. I'm just still going, and I want to keep going and doing things that I love doing in my life. And that's it!" She snapped back. Any whiff of sentimentality … gone.
Naomi finds comfort in being out in the world. "I feel like traveling has saved my life in so many ways. I don't have a fear of the world. I see the world as an optimistic dream," she said with conviction, adding that travel has been her greatest teacher. And wherever she goes, she gets involved. "I am a global citizen," she said. In 2005, she began the Fashion for Relief nonprofit, which deploys fashion and the arts to advance the social and educational development of young people. When she lands in Ghana or Nigeria, she seeks to not only strengthen local fashion initiatives but to understand the most pressing needs of the community — education, medicine, or clean water — and responds accordingly, most recently raising money for children in the U.K. during lockdown.
To Naomi, home is a global concept, not a specific location. "I may have Jamaican roots, but my Jamaican roots essentially come from Africa. I feel rooted when I'm in Africa, no matter what part of Africa I go to." Not once bringing up fashion or film, she makes it apparent that it's her work in Africa that is most inspiring to her.
She is very aware that many Black people have her back. "I am grateful to God that my culture embraces me and protects me," she said. That is where her deepest connections seem to come from: her people and her long-lasting friendships. "My people support me. And defend me. And I do feel, especially in the past few years, I've really felt that when people or publications — just newspapers, really — have come at me with an angle that before, I'd have to be out there trying to [defend myself] — well, I never really did justify myself with newspapers, to be honest. But now, I don't have to say a word."
Well, that is, unless it's really out of the box. "If they put out something that's wrong, I'm coming right out on my platform and I'm going to justify it. I'm going to set the record straight. I don't do it often, but when it's really ridiculous and disgraceful, I'm not going to … I'm not living in fear. I'm not doing it. I'm going to speak," she said. Naomi has noticed now, thanks to social media, that she does not have to be alone, in the center of the coliseum, when people try to come for her. "I can speak between the lines, and my people come out and say the rest of it for me."
But though that support has carried her, she still finds that self-care was and is the major battle. "I personally have to fight for my peace of mind," she said. "I first learned to do that in 1999. It's the best thing I ever did, to finally have the courage to say to people who benefited from me, 'I'm really sorry. I have to take time out to take care of myself,' without any fear of what I would be losing or what I would miss out on." She also attributes her closer walk with wellness to being in recovery. "I'm in recovery. I'm very proud to be." The support she garnered from her recovery community was especially important during the pandemic, she shared.
Naomi's true friends, the people she trusts, are her greatest source of support and her main reservoir of genuine gratitude. "I've had extremely long friendships that are still very present in my life to this day — 30, 33, 35 years on. I'm grateful for those people in my life. They know me better than anyone," she said. And the person who knew her first? That relationship has also evolved. "I'm grateful for my mother and our closeness and her understanding." In May, she announced on Instagram that she had, at 51, become a mother herself, to a baby girl, though that part of herself too she shares only with those closest to her.
In the most tender moment of our conversation, Naomi spoke softly. "I'm not out here on my own," she said. "It's simple, and it's small. To be with your loved ones who just want to enjoy the quality time. I want my friends to flourish. You want to protect those you love. And most importantly, when I reach out to people, and I need help and understanding and guidance, it's important for me to remember to say 'Thank you.' " Almost like a threat — "You never know when you may need that person to help you again or guide you."
Early in the pandemic, Naomi lost one guide when her grandmother, Ruby, that cornerstone of her childhood, passed. "All that I am is because of you, even though I would moan and groan to have to do my chores, your discipline has remained with me till this very day," she wrote on Instagram. There have been other losses too, like the designer Azzedine Alaïa, whom Naomi referred to as Papa. "I grieve, I do grieve. But I try to remember the things that those people that I've lost instilled in me," she said. "To do what they expected and were explaining to me, but I was maybe not understanding when I had them in reach. It's when I no longer have them it all comes together somehow."
The only time Naomi really paused was when I asked her what she thought she had sacrificed for her supermodel global-citizen life. Without a speck of regret, yet with acute consideration, she said, "I'd say the sacrifice is really finding that soul mate who will understand you. It's really like you feel if they look at you as if you're strong … you know, I'm strong, but I'm also sensitive. I know that in relationships I have to compromise."
Naomi was quite carefully self-reflective: "I don't have a problem looking at myself in the mirror anymore and facing and owning who I am." Alluding to her past well-documented misuses of people and influence, she said, "And for sure when I was younger, I wasn't always using it in the right way. It takes growth."
She spoke of her admiration for a couple of sister-warriors presently fighting ancient systems — Naomi Osaka and Simone Biles. "I know that it must have been so hard for these young ladies to actually just finally be able to come out and say it: 'Enough.' God knows there are people in the past who have suffered and not been able to come out," she said. "Everyone just expects them to be perfect and be on every single time. I just have total praise and respect, and I'm in awe that they had the courage to do the right thing, to take care of themselves."
Naomi Campbell has done for fashion what Biles did for gymnastics. Both torch the Old Guard with flames thrown from their very Black-girl bodies. While Naomi acknowledges the strides that have been made, her advice in the now, especially for women and women of color, is "Go, go, go, go, go, go, go, and go! Go for gold! Take it."
Naomi leaves me with a definitive warning regarding this current "racial reckoning": "Don't make this a trend, because this is not a trend! Oh, it's not that. No. You have to do what's right and mean it till the end. And … it has no end."
More From Fall Fashion 2021
See All