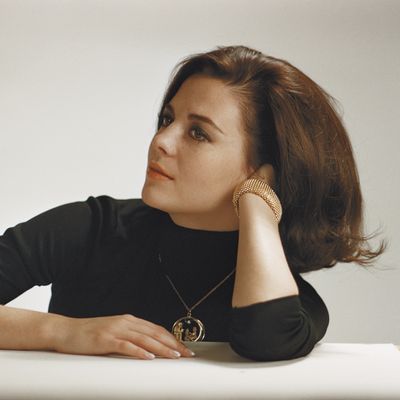 Natalie Wood
Photo: Getty Images
It's been almost 40 years since film icon Natalie Wood drowned off the coast of California's Catalina Island at the age of 43. Her death was ruled an accident at the time, but in the decades since, questions have persisted about what really happened that night. Was her death a terrible accident, or was there foul play involved? In the new HBO documentary Natalie Wood: What Remains Behind, out May 5, Wood's daughter Natasha Gregson Wagner looks at her mother's life and confronts the mysteries surrounding her death, including her stepfather Robert Wagner's rumored role in the incident.
Below, what we know about the death of Natalie Wood.
1981: The boat trip.
On November 28, 1981, Natalie Wood was on a weekend trip to Catalina with her husband, Robert Wagner, aboard his 55-foot yacht, Splendour. Also with them: the ship's captain, Dennis Davern, and the actor Christopher Walken, who was filming the sci-fi film Brainstorm with Wood at the time.
Wood was a former child star who began her career in film when she was only 4 and had managed to make the transition into a respected actress, earning three Academy Award nominations before she was 25. She and Wagner were on their second marriage to each other. They had been married for five years, from 1957 to 1962, and then divorced. Then, after Wood had a brief marriage to British producer Richard Gregson, she and Wagner reconciled and remarried in 1972.
On the night of her death, Wood had been partying with Wagner and Walken. The two men got into an argument and Wood left. Wagner said that when he went to bed that night, she wasn't there. According to the L.A. Times, Wagner's spokesperson said he had assumed his wife had taken a small dinghy out on the water, as she had done before, but when ten to 15 minutes passed and she didn't come back, he called Harbor Patrol. Authorities found her body the next morning at 8 a.m. floating in the water a mile from the Splendour, with a small dinghy beached nearby.
A postmortem report said that Wood had bruises on her body and arms and an abrasion on her left cheek. After a two-week investigation, a coroner ruled the actress's death an accident, concluding that she had been drinking, and may have slipped and drowned while trying to board the yacht's dinghy.
Many of Wood's friends and fans were unsatisfied with this conclusion at the time, and rumors started to swirl. On December 3, 1981, the L.A. Times reported that a woman who had been on a nearby boat at the time told police she had heard a woman screaming on the night of Wood's death.
2011: The investigation into Wood's death is reopened.
In November 2011, 30 years after Wood's death, the Los Angeles County Sheriff's Department announced that it was reopening her case. "Recently, sheriff's homicide investigators were contacted by persons who stated they had additional information about the Natalie Wood Wagner drowning. Due to the additional information, Sheriff's homicide bureau has decided to take another look at the case," the department said in a statement.
In an interview with the Today show around the same time, Davern said he believes that Wagner was responsible for Wood's death, though he didn't specify how.
Wagner and Walken had gotten into a terrible argument that night, Davern said, and when Wood left the room in embarrassment after Wagner smashed a wine bottle, Wagner followed her and started arguing with her. Soon after, he says, Wood went missing.
"We didn't take any steps to see if we could locate her," Davern added. "I think it was a matter of 'We're not going to look too hard. We're not going to turn on the searchlight. We're not going to notify anybody right now.'"
In a statement, Wagner's publicist said the actor supported the L.A. County Sheriff's Department and hoped it would be careful in evaluating information from someone "trying to profit from the 30-year anniversary of her tragic death."
(Walken has denied having any knowledge about what happened to Wood that night. When asked about the incident in an interview with People in 1986, he replied, "I don't know what happened. She slipped and fell in the water. I was in bed then. It was a terrible thing. Look, we're in a conversation I won't have. It's a fucking bore.")
In August 2012, Wood's death certificate was amended to say that she had died of "drowning and other undetermined factors." A copy of the certificate obtained by the Associated Press at the time said "the circumstances of how she ended up in the water are 'not clearly established.'"
2018: Wagner is named a "person of interest."
In February 2018, 37 years after Wood died, L.A. County Sheriff's Department investigators named Wagner, then 88, a person of interest in her death. In a press conference that month, Lieutenant John Corina told reporters: "I think, before, we were all believing this story that she must have gotten in a dinghy and tried to go into town in her nightgown, in her socks, by herself when it is raining out and the seas are really rough — you can't even see at midnight — which made absolutely no sense if you really think about it."
In an interview with CBS News' 48 Hours around that same time, Detective Ralph Hernandez also said the autopsy results showed what looked like fresh bruises on Wood. "She looked like the victim of an assault."
Hernandez went on: "We have not been able to prove this was a homicide. And we haven't been able to prove that this was an accident either. The ultimate problem is we don't know how she ended up in the water."
Wagner has denied having any involvement in Wood's death. Natasha Gregson Wagner, for her part, believes her stepfather, writing in her new book, More Than Love: An Intimate Portrait of My Mother, Natalie Wood: "My mother no longer has a voice of her own but I do and this is what I know — RJ [Wagner] loved Natalie 'more than love.' No one in my world questioned my dad's love for my mom or his utter despair at her loss."