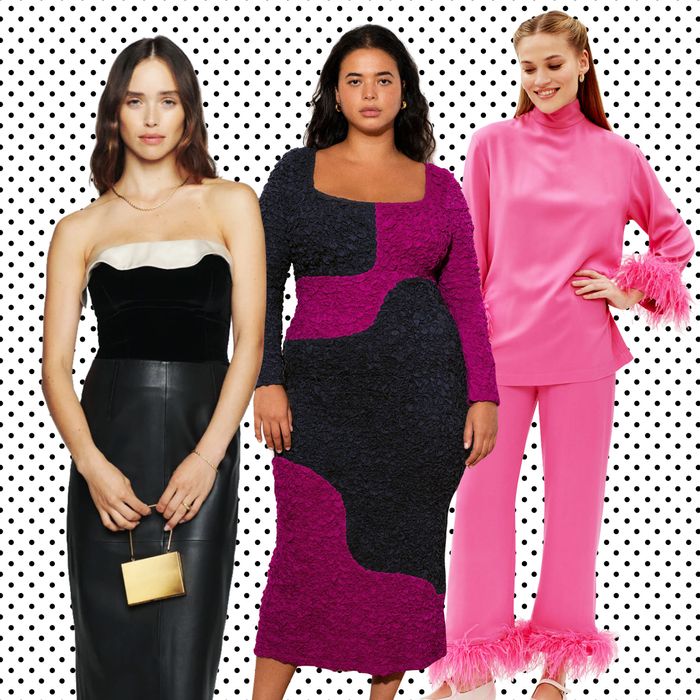 Photo-Illustration: by The Cut; Photos: Retailers
New Year's Eve outfits are generally synonymous with one thing:
sparkle. Whether it's in the form of sequins, glitter, or anything else that recalls a disco ball, it's the centerpiece of the outfit. And while we'd never begrudge anyone for wanting to look like a gaggle (a flock? a throng?) of tinsel, why not wear something that won't stick out like a sore thumb when you recycle it in February?
Ahead, we rounded up 17 New Year's Eve outfits that are fun and festive but won't leave a trail of glitter in your wake.
If You Want a Blazer
It's giving fireworks, though it's actually a bunch of toucans. And despite the party-ready print, the subdued tones make this blazer versatile enough to wear all year.
If You Like Having the Biggest Sleeves in the Room
This organza polka-dotted top dresses up simple jeans. Plus, it's a better conversation starter than, "So, you ready to watch that ball drop?"
If You'd Rather Have No Sleeves
Be the dessert in this top that's equally sweet and decadent.
If You're Business on the Top, Party on the Bottom
Decide how you wear the pants: go barely there with underwear, add some coverage with a miniskirt, or layer it under a dress with a thigh-high slit.
If You Want Something Classic
The deep-red colorway is really what makes this dress festive (that and the always welcome velvet material). Not only do you have an outfit for a New Year's Eve party, but you also have a wedding-guest-ready gown.
If You Want to Keep It Office-Appropriate
If you're going to be around a more conservative crowd (or just your co-workers), this dress will hit all the right notes. It's cute, ruffled, and ruched, so you can enjoy the potluck dishes properly.
If You Really Just Want to Wear Pajamas
Wear some Über-fancy ones. Maybe, just maybe, on New Year's Eve will you manage to loosen those inhibitions and actually fall asleep in a Sleeper PJ set.
If You Need Something for the Dance Floor
Get you a dress that moves. Nothing will do it quite like a midi with all-over tassels.
If You're Watching All the Hallmark Movies
This red skirt feels like something the heroine of a Hallmark movie would wear to the Town Hall decorating ceremony where she meets a local baker who will convince her to move from the city to work on a Christmas tree farm.
If You Want Something Bold
This Mara Hoffman dress won't go out of style — and you won't freeze if you pair it with knee-high boots.
If You Want to Set It and Forget It
This ribbed-knit set looks like something a Y2K cybergirl would wear in 2023. We've come full circle.
If You Need Something Fit for a Black-Tie Situation
The jumpsuit's name is remarkably similar to one Camilla Parker-Bowles, and fittingly, we think this Saloni piece would be worthy to wear to a Balmoral affair.
If the Coat Is the Outfit
Saks Potts, but without the major dent in your bank account.
If You Want to Wear That Color
Go all in. Don't be shy, your love for Barbiecore knows no bounds.
If You're Watching the Ball Drop From Your Couch
Yes, there are rhinestones. But they're delicately placed along the sleeves to keep the all-over vibe minimalist.
If You Want Something Buttoned-up
Keep it cute with a tweed miniskirt-and-jacket combo that we *guarantee* would be worn by Cher and Dionne.
If You're Not Sure What to Wear
No pressure — just throw a vest over a shirt (poplin or plain tee) and call it a day New Year's Eve.
If you buy something through our links, New York may earn an affiliate commission.