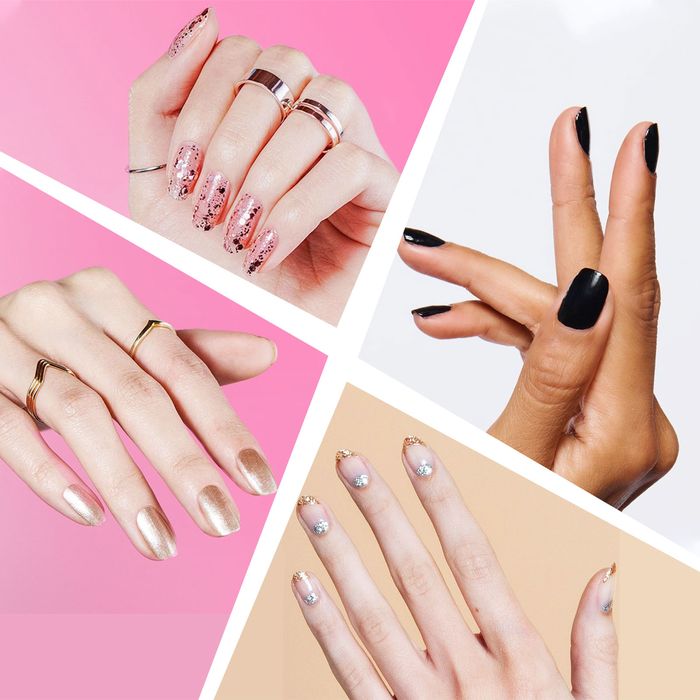 Photo: opi, oliveandjune, paintboxnails/Instagram
It's almost the end of 2019, which means it's time to reflect on all that you failed to accomplish in the past decade, and also time to pick out a snazzy outfit for your nails. A nice set of New Year's Eve nails is a low-lift way to "get into the spirit," as they say, without having to commit to a really shiny outfit you'll never wear again. Here are 15 New Year's Eve nail ideas to help toast the end of 2019 and whatever 2020 holds. Read on for one-and-done polishes you can paint on your own, plus more intricate nail-art designs to present to steady-handed professionals.
1. The One You Can't Go Wrong With
If your main goal is to be shiny for the night, simply paint on two coats of Nails Inc's extremely irredescent Cosmic Blur and get back to plotting out that 01/01/2020 hangover.
2. The Nostalgic One
Remember when throwing confetti everywhere was a socially acceptable thing?! Celebrate in a more environmentally friendly way with OPI's Born to Sparkle polish which creates that pretty, confetti-stuck-to-a-questionably-damp-floor effect.
3. Slime Green, But Make It Festive
Make an appearance with everyone's favorite, slightly aggressive, party-ready shade of green. Cirque Colors' glittery Peridot is slime all dressed up for the holidays.
4. The Tribute to Euphoria, Whether You Saw It or Not
If you want to upgrade the typical glittery nail and pay homage to the reason everyone started gluing rhinestones to their faces this year, try applying glitter flakes in varying sizes to the upper half of your nail for a spacey, cool-teen vibe.
5. A Tasty Glitter Sandwich
Let the meaty middle of your nails breath by flanking them with some Heat Miser copper on top and Snow Miser silver on bottom. Paintbox already has the two shades paired for you in their Power Couple bundle.
6. Just Black
If your outfit is fulfilling the shiny requirement, pitch-black nails can balance everything out. Olive & June's E+M should last you till MLK Day.
7. The Billie Eilish
If you want to outshine all the expected disco-ball outfits rather than wear one, crack open Orly's Glowstick. Nothing says young, fun, and relevant like some neon flames.
8. The Really Simple, Starry One
Nails Inc.'s idiot-proof Seeing Stars duo makes the polish-challenged feel like they know how to do nail art. Simply dot on some stars and seal them place.
9. The More Sophisticated One
If stars aren't your thing, try sticking a single crystal on each nail over a natural-pink shade like Chanel Ballerina.
10. The One for Poppin' Bottles
There will be Champagne in your glass, might as well put Champagne on your nails. OPI's Many Celebrations to Go! is a dead ringer for a crisp glass of bubbly.
11. A Classic, Sinister Red
Like a good, red statement lip, except it won't smudge all over your beverage vessel of choice. Chanel's Radiant Red and Jin Soon's Poisoned Apple both have just the right hint of metallic to make it more special than a regular red apple that doesn't put princesses into comas.
12. A Fun French Mani
French manicures made a controversial comeback this fall, but it's hard to argue with clean metallic tips on a natural nail.
13. A Fun Reverse-French Mani
Trace some of Butter London's Glazen Peel-Off Glitter Lacquer in the U-bend of each nail and you're good to go.
14. Dark, But Still Sparkly
If you're more glass of Cabernet than a flute of bubbly, Deborah Lippman's Good Girl Gone Bad is a crowd-pleasing shade.
15. New Decade, New You
For anyone looking to enter the new decade with a nice, clean slate. Focus on moisturizing your cuticles and paint on a barely detectable neutral. Put off the existential crisis of trying to pick out a real nail polish color by making that your 2020 resolution.
If you buy something through our links, New York may earn an affiliate commission.