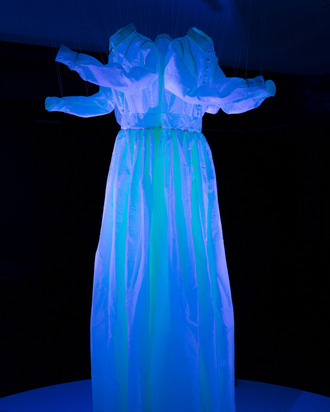 From the Cooper Hewitt Design Triennial.
Photo: Matt Flynn
Here's a roundup of the latest sales, interior-design events, and industry affairs in New York this week.
Institutional Forum: The Renovation of Trinity Church
On July 16, join the Institutional Forum of IIDA NY for "The Renovation of Trinity Church," a guided discussion exploring past conservation projects for the historic Lower Manhattan landmark. Once the tallest building in the city, Trinity Church is the burial site of Alexander Hamilton and his wife, Eliza Schuyler Hamilton. Led by Jeffrey Murphy of MBB Architects, this event will examine past efforts to modernize the neo-Gothic church, a building over 170 years old, as well as the renovation currently underway. The discussion takes place from 5:30 to 6:30 p.m. at 75 Broadway. Tickets are $100 and can be purchased online.
Curator-Led Tour: Fashion and Nature
Inaugurated in 2000, Cooper Hewitt's Triennial series explores new design developments around the world. This year's installment, "Nature," celebrates nature as a global resource for inspiration and materials while also addressing designers' relationship with the environment, calling attention to the current climate crisis. Head to Cooper Hewitt on July 16 for Fashion and Nature, a tour highlighting fashion in "Nature" led by Matilda McQuaid, deputy director of curatorial and head of textiles. Among the works of design in "Nature" are transgenic silk garments that emit a neon glow, an Adidas sneaker made entirely of what was once plastic ocean waste, and textiles dyed by bacteria and rain. Such inventive projects present alternatives to the fast-fashion approach. This event, which will take place from 1:30 to 2:30 p.m., is complimentary with museum admission and free for members. "Nature," on view through January 20, 2020, includes the work of 62 international design teams. Buy tickets here.
NYDC First LOOK event
The New York Design Center will host its annual First Look event on July 17, showcasing more than 300 new products. Now in its 15th year, this event allows participating showrooms in the Contract furniture space to exhibit their new products and offer showroom tours to attendees. Stop by the Design Center, located at 200 Lexington Avenue, from 4 to 8 p.m. to check out innovations from the top Contract showrooms.