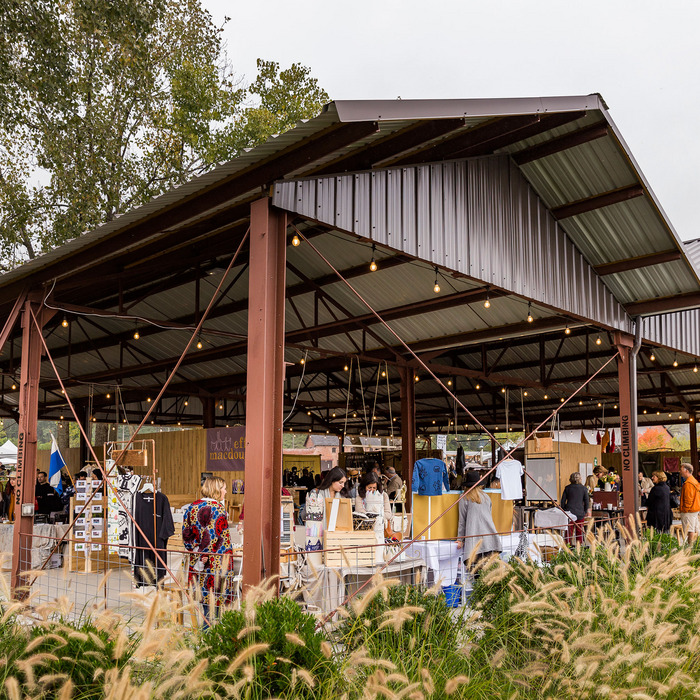 Field + Supply's market.
Photo: Scott Rudd
Here's a roundup of the latest sales, interior-design events, and industry affairs in New York this week.
Field + Supply's Spring MRKT
Field + Supply's modern interpretation of a craft-arts fair returns to the banks of the Hudson River for a new Memorial Day edition May 24 to 26 (Hutton Brickyards at 200 North St., Kingston, NY). Over 100 exhibitors will showcase their crafts, which run the gamut from gardening and outdoor recreation to furniture, apothecary, jewelry, apparel, and home décor. In addition, fairgoers can enjoy live music and activity stations for both children and adults. Field + Supply is a favorite amongst interior designers, but MRKT has something to offer everyone, design professionals and newcomers with a casual interest alike. The event is open to the public for a $15 daily ticket.
ArtSugar Launches a Framed Art Print Rental Service
ArtSugar, the curated e-commerce platform selling affordable framed contemporary-art prints, has launched a new rental service, RentSugar. Like Rent the Runway but for art, the service lets users sample ArtSugar's ready-to-hang framed prints for 90 days. When the rental period ends, users who want to are able to purchase the art. Those who do not will receive a prepaid return label that makes sending it back painless. If you need even more reason to sign on, proceeds from every purchase are donated to charities including City Harvest, ASPCA, and Girls Who Code. Rentals start at $50, purchases at $110.
Urban Imprint
Greenpoint creative space A/D/O by MINI is now home to a new installation from Studio INI's Nassia Inglessis (29 Norman Ave.). This marks Inglessis's first major project in the U.S. and comes on the heels of her acclaimed installation Disobedience. A/D/O commissioned the work to explore the future of design in the context of urban living. Urban Imprint pushes the boundaries of how city dwellers interact with their physical environment; the building blocks of urban architecture are transformed from rigid and forbidding materials to a dynamic structure as the immersive installation rises, recedes, and separates in response to the visitors passing through it. The installation will remain on view through September 2.