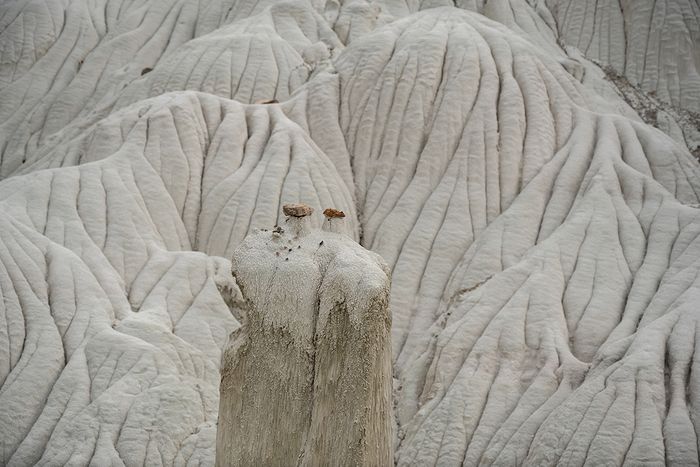 Priscilla Rattazzi,
Mini Hoodoos, Wahweap,
2019.
Photo: ©Priscilla Rattazzi/Courtesy Staley-Wise Gallery, New York
Visiting a Historic Home
Art and design fair Object & Thing, joined by art galleries Blum & Poe and Mendes Wood DM, have opened an exhibition of contemporary art and design in New Canaan, Connecticut, at the family home of the noted architect and industrial designer Eliot Noyes. You can schedule a private, free, socially distanced visit to the historic modernist home on any Saturday through November (or you can watch a video tour online). This exhibition is the first time the public has ever been invited to visit the home. The space includes works by artists such as Alma Allen, Lucas Arruda, Lynda Benglis, Sonia Gomes, Aaron Aujla and Benjamin Bloomstein of Green River Project, Mark Grotjahn, Kazunori Hamana, Jim McDowell, Antonio Obá, and Faye Toogood.
Visiting 'Hoodooland'
Today, Soho's Staley-Wise Gallery opens "Hoodooland," by photographer Priscilla Rattazzi. The exhibition features landscape portraiture of southwest Utah, specifically an area that the Trump administration made available for resource extraction in 2017. Many of the pieces feature large mushroom-shaped stone formations known as hoodoos. Rattazzi told Town & Country: "While the fate of the monument will likely end up with the Supreme Court, my hope is that this project will raise awareness of the threat to this national treasure, while highlighting the stark beauty and magic of this land." At this time, the gallery is open by appointment only.
Visiting 'The Other Side'
The Invisible Dog Art Center in Boerum Hill is currently hosting an exhibition co-presented with the Cristina Grajales Gallery and the French Institute Alliance Française. Created by New York–based artists and brothers Steven and William Ladd, the artworks are inspired by the artists' time working with inmates at the NYC Department of Correction. According to the hosts, "These spaces reference the architecture of correctional facilities, with text revealing the backstory for each artwork. The artists hope the exhibition will inspire compassion, respect for humanity, and action." At this time, you can visit the center in person, though only ten visitors are allowed at a time.