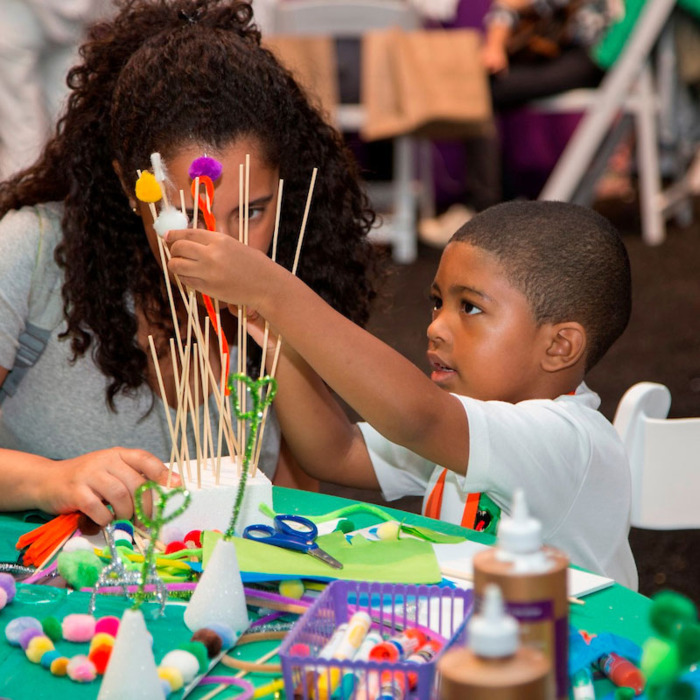 Design Kids family program at Cooper Hewitt, Smithsonian Design Museum.
Photo: Cooper Hewitt, Smithsonian Design Museum
Here's a roundup of the latest sales, interior-design events, and industry affairs in New York this week.
Kerry Joyce Book Signing and Panel
On February 20, join Rizzoli Bookstore from 6 to 8 p.m. for a book signing and panel discussion with acclaimed interior designer Kerry Joyce (1133 Broadway, at W. 26th St.). Joining Joyce will be Tony Freund, editorial director of online marketplace 1stdibs. The two will discuss Joyce's masterful new book, Kerry Joyce: The Intangible. The tome showcases eight of Joyce's projects — each home different in style and layout, but each sharing Joyce's signature cool sophistication — as well as essays from the award-winning designer.
Collecting Design: An Educational Program Series by AIA
This continuing educational series isn't for dilettantes or those who dabble. Collecting Design: History, Collections, Highlights is for architects, interior designers, design lovers, and art collectors who need an intro to the growing, lucrative, dynamic marketplace for collecting modern and contemporary design. The AIA program meets weekly from February 19 to May 7 (Center for Architecture, 536 La Guardia Pl.). Instructor Dr. Daniella Ohad will focus on different themes central to the collectible design world. Lectures are accompanied by conversations with leading experts, including curators, collectors, dealers, and scholars. For more details, visit the event page. Registration is $750 for the general public.
Cooper Hewitt School Break Family Programs
If you're looking for ways to entertain your kids over a rainy and snowy school break, look no further. Cooper Hewitt, Smithsonian Design Museum is hosting cost-free, non-ticketed daily Design Kids family programs February 18 through February 23 (2 E. 91st St.). The beginner-level workshops, suitable for children ages 5 and up, blend learning, fun and games, and hands-on design activities. All programming is on a first-come, first-serve basis. You cannot reserve a ticket online, so arrive early to ensure your participation.