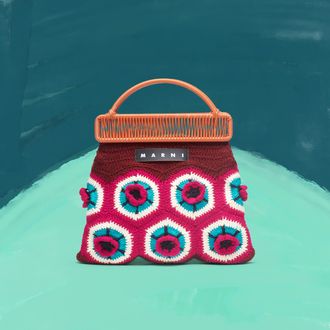 Pretty Little Things
The Italian fashion label Marni has announced a new "home market" of design objects and furnishings, all in the brand's signature style of bright colors and "unpredictable materials." The collection includes a line of bags (in a wide variety of shapes), as well as small tables, trays, stools, fruit baskets, and animal-sculptures — all perfect for a colorful summer stuck inside.
An Instagram Gallery
The Cincinnati-based artist Benjamin Cook has created the Instagram page @socialdistancegallery, which is hosting hundreds of the BFA and MFA thesis shows that were cancelled or made limited in access due to the COVID-19 pandemic. Scroll through the account to see the works of young artists across the country.
Artmaking from Home
On Saturday, the Whitney will host a live, 30-minute art class on Zoom, inviting participants to "to consider the relationship between artmaking and our domestic spaces." This week's workshop was inspired by artists Lenore G. Tawney and Alan Shields, and will focus on using string as a medium. The museum is also holding weekly film screenings and art history talks online, and a Wednesday night conversation series on their Instagram.