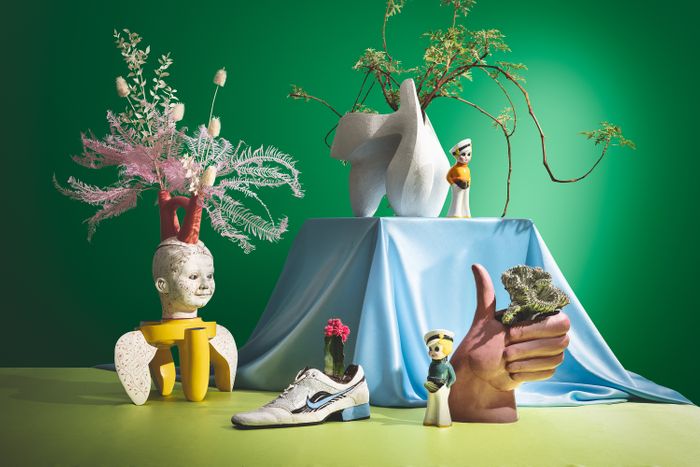 The Planter Show.
From left, Kukuli Velarde & Doug Herron, Didi Rojas, Simone Bodmer-Turner, Trish Tillman, and Jessi Li.
Photo: Joe Kramm/Courtesy of Fort Makers
Funky Planters
Starting tomorrow, the artist-run design studio Fort Makers will be showing The Planter Show, a group exhibition of sculptural planters, flower pots, and abstract containers created by 40 contemporary artists and designers. Open to the public by appointment only, the exhibition of fantastical creations will include live plants sourced from a local nursery, turning the Lower East Side gallery into a captivating greenhouse.
Honoring Keith Haring
Beginning today, Sotheby's New York is presenting Dear Keith, an online auction of works from the personal collection of artist Keith Haring on offer from the Keith Haring Foundation. Included in the sale are more than 140 works gifted to, purchased by, and traded with Haring from friends and artists including Andy Warhol, Jean-Michel Basquiat, George Condo, Roy Lichtenstein, and Jenny Holzer. Lasting until October 1, the auction will benefit the Center: The Lesbian, Gay, Bisexual & Transgender Community Center in New York.
A Virtual Book Talk
As a part of the New York Design Center's virtual "What's New What's Next" programming, a virtual book talk will be hosted on the center's Instagram on Friday at 12:30 p.m. The live chat will celebrate this year's most exciting book launches, including Il Buco Stories & Recipes, by Donna Lennard; Through a Designer's Eye: A Focus on Interiors, by Matthew Patrick Smyth; and You're Invited: Classic, Elegant Entertaining, by Stephanie Shafran.