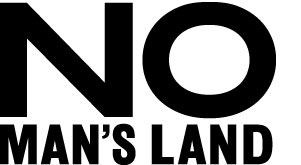 This week, women's social club The Wing launches the second issue of No Man's Land, its print magazine, with stories rolling out exclusively on the Cut. Here, three women share their nighttime routines to relax after work and fall asleep.
Christine McCharen-Tran, Experiential Designer and Co-founder of Discwoman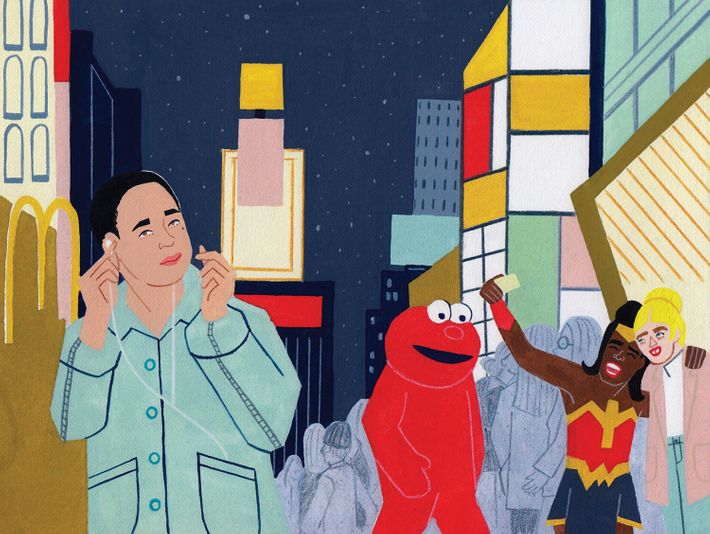 Leaving my office in Times Square, I walk past Elmo and Wonder Woman and pop on my headphones to listen to a podcast. My go-to is How I Built This, which reminds me that people start from the bottom and they're doing something great. The New York Times's Still Processing is another favorite.
Recently I've also been listening to the soundtrack from Moonlight, which has been really nice.
My go-to if I need a really great meal after work is this ramen spot in Bushwick called Shinobi Ramen. The guy knows what I order every time, and it's kind of embarrassing.
Then I go home and hang out with my wife. We love to watch RuPaul's Drag Raceand Shark Tank. I kind of go home and work again, because I also do all the merchandising for Discwoman [a collective & booking agency that represents women-identifying and non-binary talent in electronic music] in addition to managing a few of the artists on our roster and running the day-to-day operations of the company with Frankie [Decaiza-Hutchinson, one of the other co-founders]. So at times it feels like the work day never ends. All of our inventory (tees, hats, and even leggings) is in the middle room of our railroad apartment, and I pack merch to drop off the next day.
I'm really simple when it comes to skincare products: the original Burt's Bees, rosehip oil, and exfoliator. Rosehip oil is my thing as far as how I moisturize. I have this great exfoliator from Origins called Modern Friction.
For pajamas, I have a onesie that my wife got me for Christmas, and I'm obsessed with it. Otherwise I'll put on basketball shorts and a t-shirt. I've been watching Planet Earth before I go to sleep, so I'll pop that on. I'll try to read a little bit — lately it's been this Vietnamese author, Viet Thanh Nguyen. I spray my pillows with the "Deep Sleep Pillow Spray," by This Works, and it helps me settle into a state of calm before going to sleep. The lavender scent always does the trick to keep me relaxed.
Elle Johnson, Rapid Response Registered Nurse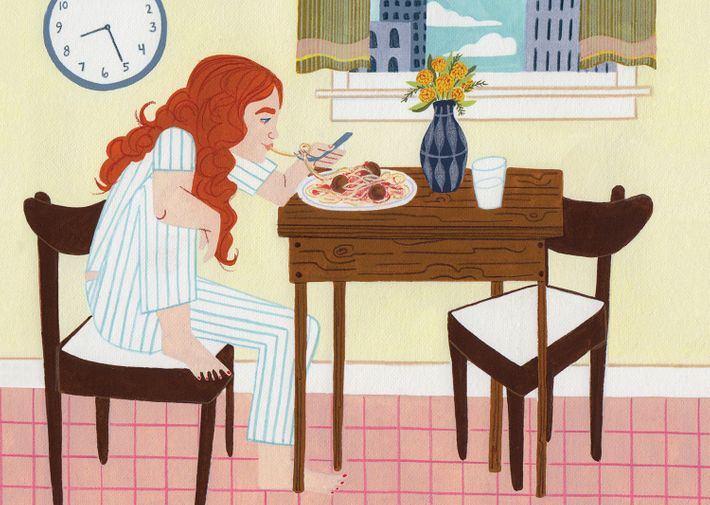 Working a night shift on Friday means staying up Thursday night. I'm in grad school, so I write some papers. To get to sleep sometimes I'll treat myself with a bunch of crappy TV. I love SVU. Can't go wrong with a little Mariska Hargitay. I go to bed around one in the morning, and get up at eight to take my kids to daycare. I take them to school in my pajamas. I used to get a little bashful about it, but now I just tell people I'm a night shift worker, and I don't care what you think. When I come back I eat so I don't wake up hungry in the middle of the day. I hate breakfast food, so I eat spaghetti and meatballs and go back to bed. I take 5mg of melatonin and sleep all day.
I have super long, curly hair and I pineapple it when I sleep, which is curly girl terminology for taking a '90s scrunchie and putting all your hair on top of your head in a doubled up ponytail, which makes it look like a pineapple. [Afterwards] I pull the scrunchie out and put half of my hair in a metal hair clip. I also put a little bit of DevaCurl Arc Angel gel in it.
I get up at 4:45 pm, get ready and start making dinner. I get my scrubs on, brush my teeth, and put on this hypoallergenic deodorant called Herbal Clear. I sweat a lot at work, but I don't use antiperspirant, because I don't think it's super natural to not sweat. I brush my teeth, and put my Maybelline BB cream on. I spend very little money and time on skincare product.
Once I'm ready, I drink a cup of coffee that's probably 500 ml, so basically four cups of coffee. I do a French press because it's so crappy to work the night shift that I might as well treat myself. It's really tasty.
My husband picks up the kids from school and brings them home. Friday night is movie night so I make a pizza. I kind of try to preserve the integrity of my kids' week. So regardless of whether I have work or not, it's still movie night. We eat pizza, they sit down to watch a movie, and I leave to go to work.
After about 2 am, I stop drinking coffee because I know I'll have trouble going back to sleep after work. I drive home from work and I always, always call my mom. I have a really hard time staying awake when I drive home, so I call her and talk to her the entire way home. She's retired, but she knows that's her job.
Paloma Elsesser, Model and Activist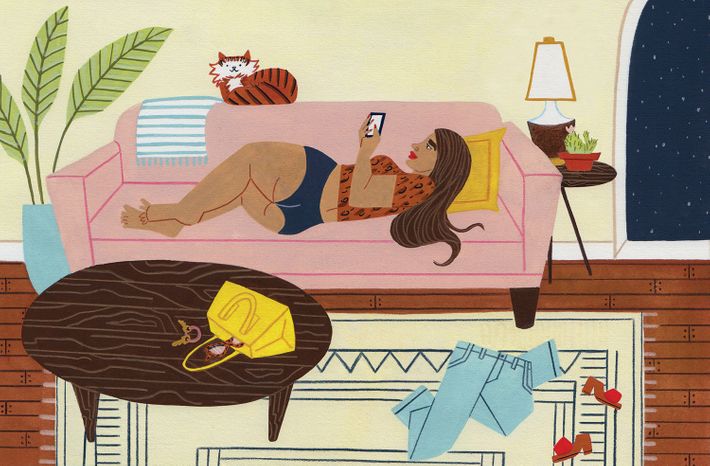 I take the train to work but for some reason, coming back from a job I need to get in an Uber immediately.
As soon as I get into my house, I take my pants off. If my boyfriend is home, I go say hi, then I decompress on my phone for a bit. I look at Instagram, CNN, BBC, i-D, Vogue.com. I get back to texts I haven't responded to.
Then, I take a shower. I take really hot showers, to the point where my boyfriend can't shower with me because it's too hot. I love to play Senegalese rock music while I'm in there, and at night I get into a world music moment. It's also good music to cook to.
My beauty routine is pretty hardcore: I try to do a mask every day. I'll wash my face with a blend of a Tata Harper exfoliating cleanser with a Biologique milk cleanser and follow it up with a Biologique product called p50, which is like a really acidic exfoliator that smells literally like garbage juice, and is astronomically expensive, but works insanely well, so I'm addicted.
I'm really into moisturizing. As a person of color you're told from the second you can walk that when you bathe, you put on lotion, so you don't get ashy or dry. So I grease myself up like a turkey with Glossier Body Hero lotion. I love the smell and it's super penetrative. On top of the lotion, I do an oil. I switch between Tata Harper body oil and a Buly 1803 oil made with Mexican tuberose that I use when I'm going out in the summer because it's more fragrant.
My boyfriend is the cook. He's vegan, so he's always inspired to try new recipes. I'm a tornado of a mess, so while he's cooking, I go into our bedroom and clean up. Maybe I'll put on an audiobook. Right now I'm listening to Shoe Dog, which is about the guy who made Nike
We watch something while we eat. We've been falling into different docu-series. We just finished Wild, Wild Country, which was so fucking good. I have a bunch of Osho books and I didn't realize it was THAT guy!
We go to bed and my boyfriend falls asleep immediately. I stay up, and that's when I have my scary web of weird shit I do curled up in the dark on my phone. I buy insane Korean products on Amazon or headbands Monica Bellucci wore. I was buying so many weird things that I tried to put my phone in the other room, but I relapsed. Sometimes I take a melatonin if I'm feeling antsy or can't sleep, but it gives me low-key nightmares, so it's a hard tradeoff.