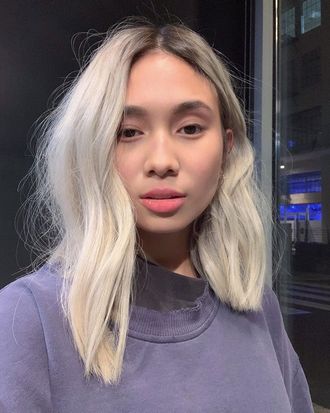 When Nicole Zefanya was 15 years old, she opened for Taylor Swift in Jakarta, Indonesia, in front of 15,000 people. Zefanya didn't think of herself as a singer, but when her mom saw a flyer announcing a music competition arranged by Swift and ice-cream brand Walls, she encouraged her daughter to try out. After the show, when she hopped offstage, Zefanya had an epiphany: This was what she wanted to do with her life.
Fast-forward six years, and the now 21-year-old has released her debut album Moonchild under the name Niki. "It's what I would call a sonic allegory from start to finish," she says. "Every song relates to one another, all connecting into one giant story line like a musical storybook."
Zefanya's own personal story line has involved an arduous journey with atopic dermatitis, the most common type of eczema, and dyshidrotic eczema, a separate form of atopic dermatitis that causes tiny, itchy, fluid-filled blisters on the skin. Both conditions are incredibly sensitive topics for the artist, who has never publicly discussed her experience until now. "At one point it got so bad that I used to have extremely painful, open, weeping lesions all over my body," she says. "It was the most debilitating time in my life. I couldn't wear anything that didn't have long sleeves and long pants (and sometimes scarves because I had to cover my neck)."
She tried to combat the conditions with oral and topical corticosteroids, antibiotics to prevent infections, and antihistamines to combat allergens, but while they helped short term, Zefanya's skin still itched incessantly. "Any time my lesions did close up, I'd wake up to some of them bloody again because I'd scratch in my sleep."
Ultimately, the long-term solution came down to moisturizing — constantly. "It sounded too simple to be true," she admits. "Unfortunately, my condition is lifelong, but on top of topical steroids that help keep the flare-ups at bay, the only other thing that has helped is good, old-fashioned moisturizer." She's currently using La Roche-Posay's Toleriane Double Repair Moisturizer, and calls CeraVe's Itch Relief Moisturizing Cream a "holy grail body lotion" because it contains one percent pramoxine hydrochloride, which helps numb itchiness. That said, any thick, fragrance-free cream will do the trick.
Below, a full look at Zefanya's complete skin-care routine, including the eye cream that "really does have a brightening effect," her "holy grail" serum, and the moisturizer she relies on for both day and night.
The Cleanser
"This is a fragrance-free, non-foaming cleanser. I use it daily to wash my face, and it cleanses without drying my skin. I found out about it through my dermatologist. If I'm removing makeup, I'll use a micellar water before this though."
The Mist
"I saw this while walking around Urban Outfitters and thought the packaging was so pretty. Thankfully, it was not a wasteful purchase because the stuff actually works. It smells like a field of roses when you mist it, and it lightly sets your makeup and preps your skin. I use it for both purposes."
The Serum
"This is my holy grail product! It smells like fresh flowers, and the texture is so satisfying because it spreads so easily on the skin and immediately rejuvenates and hydrates while adding a radiant glow. My skin is so healthy because of its moisturizing properties."
The Eye Cream
"I was gifted this by my makeup artist, Bridget O'Donnell. I tried it on a whim and was super-shocked as to how cooling it felt under my eyes. It's superlight and immediately sinks into your skin, and in the morning, it really does have a brightening effect."
The Moisturizer
"I also found out about this moisturizer through a bunch of samples my dermatologist gave me. Out of all of them, this was my favorite one, as it was texturally light enough to wear during the day and hydrating enough to sleep with at night. It really improved the dryness and flakiness I used to experience on my face. I just love this moisturizer so much!"
The Face Oil
"I love this oil. It's by an Australian skin-care brand called A'kin. I discovered it whilst walking around a drugstore in Malaysia. I decided to give it a try, as a friend of mine recommended using facial oils as the final step in one's skin-care routine to lock in all of the moisture underneath — I pat it lightly on my face. It has a very subtle, earthy smell, and it glides really nicely on the skin and doesn't feel greasy."
The Sunscreen
"I love Cetaphil products and moisturizers — I always trust in their fragrance-free products— so I went to the Cetaphil section at the store and picked up this sunscreen. It has a pretty light and spreadable texture. It does leave a slight white cast, but I personally don't mind because it goes away in a couple minutes. It also has a typical sunscreen smell, but it's not a problem for me. I mix it into my moisturizer, so that helps dilute the white cast and scent as well."
The Face Mask
"I found out about this mask after getting some free samples from Sephora. I put it on with no expectations and ended up really loving what it did for my skin. Twice a week, I will put it on my face for five to ten minutes, and it leaves my skin really supple afterwards. And it smells divine — yes, like roses!"