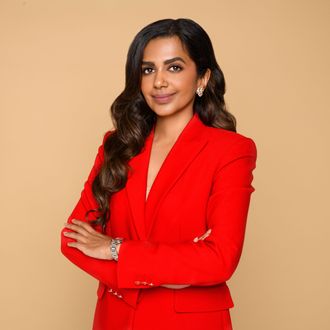 Nikita Mehta has been putting her culture at the forefront of everything she does since co-founding her hair-care brand Fable & Mane with her brother, Akash, in 2020. "Fable & Mane's story begins with childhood memories of my nani telling my brother and I magical fables while oiling our hair," the British Indian hair expert tells the Cut. "It was important to me to keep the magic of these stories and memories alive through our brand." These days, fan-favorite products like the HoliRoots Hair Oil and Repairing Hair Mask can be found on Sephora shelves and raved about all over TikTok. 
Studying business management and computer science at University College London surely only helped Mehta along her journey. Upon graduating, her career began in the fragrance and luxury beauty space — working with Jean Patou Fragrances, for example. "I was inspired to bring a level of storytelling, poetry, and mysticism to beauty," she shares of why she took such a personal approach with Fable & Mane.
And when she's not healing scalps across the globe with magical products, she's practicing an Ayurvedic lifestyle to fill her own cup. Mehta's go-tos include pranayama breathing, tulsi tea, and regular scalp oiling. "Self-care is the best expression of showing your body and mind love," she says. "It's taking the time for yourself amidst a busy day."
.

Here, Mehta's A.M. routine:
8:00 – I always start my day with some deep breathing, pranayama, and a cup of tulsi tea, which is great to relax. It actually lowers cortisone levels to reduce any feelings of stress or anxiety. I'll then take a nice, long, warm shower before starting my beauty routine.
8:45 – I take about 15 minutes to do my skin care, which always starts with a spritz of the Heritage Store RoseWater & Glycerin Hydrating Facial Mist over my face and hair. It's simple yet effective, smells divine, and adds hydration.
8:46 – My skin is quite dry, so I need super-hydrating products. I love the Venn Advanced Multi-Perfecting Red Oil Serum, which has a fermented active formula that keeps my skin plump and hydrated all day.
8:47 – I follow with the Skinfix Barrier+ Triple Lipid Hyaluronate Serum, which is great for calming any irritation, and my dry skin just drinks this up!
8:48 – Then I use Barrier+ Triple Lipid-Peptide Cream, packed with hyaluronic acid, peptides, and lipids, for extra moisturization.
8:52 – For my hair, I always add a few drops of the Fable & Mane Amla Soothing Serum to my scalp — it's so lightweight and helps to balance my sensitive and dry scalp. I can't live without the Fable & Mane Large Scalp Massager Comb. I use this to comb my hair daily. It detangles and gives the scalp a gentle massage, which is great for stimulating healthy hair growth.
8:55 – I barely wear makeup during the day, and my go-tos are the NARS Radiant Creamy Concealer in Caramel to hide my dark circles and the Merit Beauty Shade Slick Tinted Lip Oil in Jeté. It's a sheer neutral shade that's so easy to use and reacts to your lips' natural pH and color to create a subtle stain.
8:59 – I also love my fragrances. My favorite daytime perfumes are the BVLGARI Allegra Baciami, a beautiful amber floral, the Maison Francis Kurkdjian féminin Pluriel when I want something more floral, or a simple rose perfume oil.
.

Mehta's P.M. routine:
7:00 – My evenings are filled with things that stimulate my body and mind. I practice Pilates, do some evening meditation, read books (I'm always rereading The Untethered Soul by Michael Singer), sip on the Fable & Mane Tiger Tea, or give myself a champi with the Fable & Mane HoliRoots Hair Oil. 
8:15 – I dry-brush every night and use a body oil that I mix at home. It's usually a blend of sweet almond oil and essential oils.
8:30 – In the shower, I like to wash out my oil with the Fable & Mane SahaScalp Wild Ginger Purifying Scrub, which has a gorgeous whipped texture that gently exfoliates the scalp. I double-cleanse with the nourishing HoliRoots Shampoo to hydrate my ends, and then finish with the HoliRoots Repairing Hair MaskHoliRoots Hair Mask. My dry hair drinks it up and feels so soft and shiny!
.

On finding confidence:
Beauty is about self-acceptance, loving your roots, and being confident in your skin. Hair care, for me, was a big carrier of confidence, especially when I lost a lot of hair due to work stress in my mid-20s. Clumps of hair would fall out in the shower, and it affected my self-confidence. It's what inspired me to create Fable & Mane — I went back into the kitchen and connected with my roots.
.

On the beauty marketing ploy that makes her cringe:
I don't like seeing the token person of color in campaigns. Growing up, there wasn't really any representation of South Asian models in campaigns. Sometimes it feels like brands are just ticking a box, which is why we were so proud to launch our MahaMane campaign earlier this year. It featured five incredible South Asian women of all skin colors, hair types, and ages, and was fronted by my mum, who's my biggest role model!
.

On her beauty-industry reflections:
I am proud of Ayurveda and so happy to see it being recognized! I hope it stays relevant and doesn't become a beauty buzzword. I'm also proud of the acceptance of Indian hair care in the western world. I hope more and more people will view beauty as a state of mind, that less is more, and they don't always need new things or products or instant results. The best things take time, and beauty should be a ritual.
.

On ingredients:
I always avoid silicones, and I shop with sustainability in mind. I really don't like wasteful packaging, and I'm very conscious of this when making purchases. I follow an Ayurvedic lifestyle from beauty to diet, so I love using Ayurvedic products. I love Forest Essentials, which is an Ayurvedic hero brand from India, and I've also been trying Kama Ayurveda's skin-care products, which I love. I'm really into natural beauty products that also smell good. Scent is such an important thing for me, having worked with luxury fragrances my whole career! I'm also obsessed with maracuja oil — it's so good for you; it's hydrating and lightweight, and my skin loves it.
.

On the beauty services she swears by:
If I go to the spa, I love to get body scrubs. My favorite are hammam scrubs with Moroccan black soap or Korean body scrubs. I have regular lymphatic-drainage massages at home, and, of course, eyebrow threading at my local Indian salon. I'm also a huge fan of the Hydrafacial — it's a great all-rounder treatment that gives the skin a deep clean, replenishes moisture levels, and extracts any dirt or gunk out of the skin! When I'm in LA, I love to go to Forma Pilates; otherwise, I follow Melissa Wood Health for the best classes online!
.

On her biggest beauty inspirations:
My mother is my biggest beauty inspiration. She's timeless, ageless, and always celebrates life. She's 58, which surprises everyone — they always think she's my older sister! Also my dear friend Kaushal for the best, easy makeup tutorials that are effortless. I'm also inspired by Dr. Pyal for her radiant skin!