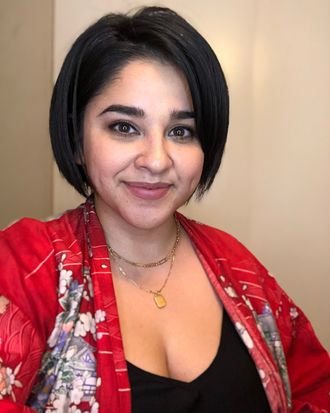 Photo: Courtesy of Noemí González
Noemí González's interest in skin care began with the George Lopez show. "There was an episode where Constance Marie's character, Angie Lopez, is rocking a green face mask. Her husband pokes fun, and she sets him straight," she remembers. "She told him how much she enjoys it, and that although the process isn't pretty, he also enjoys the fruits of her self care. I loved the idea that enjoying a weekly mask meant having a loving relationship with oneself."
Now as an actress, González has taken the lesson to heart. It helped her cope with her grueling, six-days-a-week filming schedule for her role as Suzette Quintanilla in Netflix's Selena: The Series. Adding to the stress, the entire cast and crew had to follow strict COVID-19 filming protocols, which meant her skin needed as much help as it could get.
The actress originally built her skin-care routine with help from Pinterest and DIY-ed her products. "I was broke!" she says. "And, partially, I felt intimidated by all the ingredient names in skin-care products. [Making my own products], I felt more in control of what I was putting on my face and able to monitor the effects better." Twice a month, she still mixes a face mask using equal parts apple-cider vinegar and Aztec Secret Indian Healing Clay "with non-metal utensils — if you use metal, it affects the chemistry!"
Once she could finally afford to splurge on products, González admits, "I went HAM. I bought a cult product for each step of my skin-care routine. To be honest, I didn't see the huge change I thought I would. I was bummed." She still loves the SkinCeuticals C E Ferulic serum, but she's since swapped out the other products with recommendations from her dermatologist.
Ultimately, she wants everyone to remember: What works for others might not work for you. "I ingested bee kernels when it was a popular nutritional craze — B-complex was missing in my diet, and that is the dominant nutrient in the kernels — and went into anaphylactic shock. Needless to say, I think twice about a craze before trying it for myself — and I do avoid beeswax in products now."
Read on for González's current product rotation.
The Cleansers
"I received this wonderful oil cleanser for Christmas last year, and I love how it feels on my skin. You can really feel your makeup start to break down simply by placing this oil cleanser on your hands and rubbing it directly onto your done-up face. I use this especially when I wear more makeup than usual for an event. I get a lot of satisfaction feeling it really dissolve the makeup. Also, its predominant ingredient is olive oil, which I love because I do lean toward natural ingredients as much as I can."
"A classic oil-free makeup remover for the eyes. It has been a staple of mine since I was in high school rocking chola eyeliner (who am I kidding? I still rock this look on my eyes because it's timeless). I like to dab this product on using reusable cloth pads: I press the pads down gently on heavy eye-makeup looks. I love it because I wear contacts, and it won't cause your contacts to have an oily film that makes your vision blurry while trying to continue the rest of your skin-care routine. A must-have!"
Photo: Courtesy of Noemí González
"Following the skin-care routine influence of Zendaya, Jhené Aiko, and many other women of color, I have been going the natural route in my routine. And I love how this feels on my skin! You can feel the shea butter right away — it feels moisturizing to start and very clean when complete with a rinse. I don't experience eczema or psoriasis, but this bar also has properties of tea tree oil and willow bark extracts, which really help my hormonal acne stay under control. It's also so affordable — only a couple of dollars for a bar that lasts me six months to a year. I also split the bar into three: one for my bathroom sink, one for my shower, and one for my travel kit."
The Toner
"A cult classic that feels so light and refreshing. I've had this product in my routine for a very long time. It has more than one use, too! You can use it after cleanser to tone, spray for a pick-me-up mid-day if your skin is feeling dehydrated, or spray after makeup to set for a dewy look. I love the rose scent that has me feeling romantic and cared for all on my own. Also, it's super affordable, which makes me feel myself all the more."
The Eye Cream
"I added this to my routine as I got older, when I kept researching and realized that retinol was missing in my skin care. I apply a pea-size dot under my eyes, where crow's feet would be. Also pro tip: I add any residual product to that middle space between my eyebrows, where I scrunch my forehead, to prevent strong wrinkles from forming there. I also like to add the same amount down my smile lines and where my jowls would be. When I started using eye cream, I incorporated it into my routine every other night because retinol can be harsh on the skin, although very necessary for prevention."
The Serums
"If I am not mistaken, I added this to my skin routine as an alternative when another product I was looking for was sold out. Now, I am so thankful that is the case. I love putting it on my skin every night, although you can also apply in your morning routine — I try to have a product I crave to put on every night to keep me excited for my daily routine.
Also, I love and respect that this product has two customized dials of dosing the product for your skin's needs: The two settings for dispersing the product help you decide if your skin needs more or less product. I like to use less in the morning, and I turn the dial for more at night! It has 21 plant extracts that target everything we want for our skin: hydration, nutrition, regeneration, oxygenation, and protection."
Photo: Courtesy of Noemí González
"When I was looking to step up my nightly routine, I saw that this serum was highly recommended and always number one in so many lists I came across. So when I finally got my hands on it, I was so excited. It is so silky and light all at once as you apply. It is great for all skin types, and it focuses on anti-aging. The hyaluronic acid also leaves your skin feeling hydrated and plump. Consistency is a must for you to really see the results. After four weeks of consistent use, I saw fewer fine lines, and my face felt more hydrated and had more of a glow."
The Face Oils
"I felt I needed another product that was retinol-focused, but this time, I wanted something more luxurious to look forward to. This kept coming up, and I couldn't resist. I love that it not only has incredibly effective glowing results, but it has an awesome experience for the user when applying: From the dropper, the oil is blue like the night sky and then goes to clear the more effectively you rub it into your lovely face. I love the scent of chamomile essential oils, as well.
I tend to use this most when I start my routine early because it is indeed an oil so it is heavy for me, but I especially use it when I need to be relaxed and lulled to sleep for a big day. You wake up a little more rested and glowing and ready to shine. In the long term, it makes your skin tone more even, reduces the appearance of pores and age spots and makes your skin less dull."
Photo: Courtesy of Noemí González
"Another inspiration I took from celebrities that are women of color like me: vitamin E oil. Based on my research, I have noticed that the most simple effective ingredient for radiant skin is vitamin E because it is antioxidant rich and anti-inflammatory.
This product is awesome because it can be used as a serum or an oil. I absolutely love that although it's technically an oil, it is not heavy on the skin. I try to time my night time oils so that they've absorbed before I hit the pillow, but I don't have to worry about that as much with this product because it's lightweight and non-greasy. It has an amazing scent of roses and hints of baby powder."
The Lip Balm
"I found this lip balm when I was acting on a kids soccer show called The Kicks on Amazon Prime. I researched what badass, female athletes like Alex Morgan used for skin care while traveling and while on the field.
It is a timeless cult-favorite, with many uses – not just for lips but elbows and dry patches of skin! It is minty and rose-scented and soothing to my dry lips when on the field acting or in a cold studio set. I can't remember a session with a makeup artist that didn't include this product. Although I initially used it for the winter season and for sporadic use in my bag, I have been using it a must need night skin routine for a long time.
Only recently have I seen people acknowledge lips on their face for their skin care routine! Let me tell you, it pays off for my own love and care, but I love when I have kissed someone new over the years, and they have to comment on my soft lips. I love it."
The Face Mask
Photo: Courtesy of Noemí González
"I received this from our department head of hair and makeup for Selena: The Series, Malinali Contreras Ruiz of Coqueta Makeup Lab. She handed me this for our grueling six-days-a-week, COVID-19 protocol filming schedule. The stress was evident on my skin, and Malinali took care of me.
It is an awesome, weightless, whipped sleeping mask that restores moisture while you catch some zzz's. You can tell it is super-moisturizing even on your fingertips before applying to your face. It has hyaluronic acid, retinol, peptides, and plant extracts that work their magic throughout the night. I especially use this when I am feeling lazy and don't want to go through my entire skin routine — I know that this mask will not only cover all my bases but also take good care of me through the night."