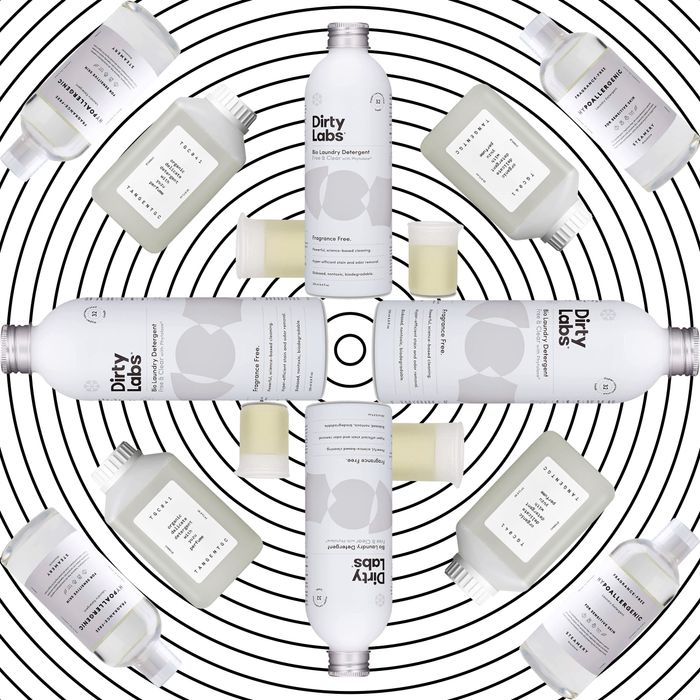 Photo-Illustration: by The Cut; Photos: Retailers
For more of the Cut's favorite fashion, beauty, and home finds, sign up for the weekly Cut Shop newsletter.
You may have heard that the Laundress, purveyors of cleaning products for the budget unconscious, haven't actually been so clean. And because you're on the hunt for the next humblebrag in nontoxic laundry detergents, we tapped a handful of experts — Samara Geller, director of cleaning science at the Environmental Working Group; Zack Pozniak, VP of operations at luxury dry cleaner Jeeves NY; and boutique-laundry-service owner Amelia Liddy-Sudbury — to help you decide what to buy the next best high-end nontoxic detergents before everyone else does.
The Criteria
Luxury: "The Laundress has done a wonderful job marketing their product as an experience rather than just a chore," says Pozniak. You want your next detergent to have a similar air of excess as well as design. As Liddy-Sudbury put it, "You may not have the Gucci handbag, but you can have the Gucci of laundry detergents — the price you pay to feel chic whilst you wash your clothes."
Performance: Because good packaging can coexist with getting stains out.
Nontoxic: Housed inside the Laundress's transparent bottles was a petroleum-, phosphate-, and paraben-free solution heralded as the "nice" nontoxic detergent. But much like the proliferation of "clean" products in beauty, many terms that sound primed for Gwyneth Paltrow or Jenni Kayne's homes aren't regulated. "Bear in mind that vague descriptors like natural, green, sustainable, ecofriendly, plant derived, and many more, have no enforceable regulatory or legal definitions," says Geller. "These claims are often abused by industry" and are "often little more than window dressing."
Ingredients: Geller shared a laundry list of ingredients to avoid when shopping for detergents, including borates (which the EWG says have been linked to reproductive and developmental toxicity) and optical brighteners (which persist in the environment and are toxic to aquatic life). Geller and Liddy-Subury agree you should opt for fragrance-free products if you're looking to avoid phthalates and synthetic musks. "These are often hidden by the umbrella term fragrance and linked to hormone disruption," says Geller.
Basically, get comfortable decoding your labels and consider running your would-be purchases through the EWG's guide to healthier cleaners or the EPA's Safer Choice. To that end, here are products that made it to EWG's list — along with a few others worthy of delicately rinsing your Tibetan robes.
The Swaps
The one without any dirty laundry.
No company is as forthcoming with its formulations — what it leaves out and why — as Dirty Labs. The brand is an overachiever, to say the least: It's USDA Biobased certified, approved by the National Eczema Association, EWG Verified, and an EPA Safer Choice.
The Necco Wafer of detergents.
Tide Pods are simply too gauche. Your palette is reserved and demands a chalkier, puritanical tablet meant to be dropped with a sense of self-importance. Or as Liddy-Sudbury put it, "This product is not only chic and effective, but it is also, most importantly, an ecoconscious leader in this space." It gets stellar EWG ratings, and Blueland even tested its effectiveness on blood.
The one that's safe and, respectfully, boring.
Meliora has the shortest, simplest ingredient list of the bunch — and every one of these powder detergents gets an A from the EWG.
The one that works like bleach.
"Clean" products can sometimes mean middling performance, but Branch Basics makes a bleachlike product out of just two ingredients. It's not only EWG verified but also Made Safe–certified.
The one Upper East Side nannies are acquainted with.
For something a little less pedestrian than Dreft but still safe enough for the whole family, AspenClean's formulas are approved by the EWG and Ecocert (the EWG with a French accent). If you don't want to pay for shipping, Amazon carries the pod version.
The sans-serif version of the Laundress.
Everything you loved about the Laundress (no harsh preservatives, perfumes, or dyes) packaged in a new- money minimalism.
The millennial-paradox option.
Looking for something vegan to clean your sheep's-wool sweater? Tangent GC uses plant-derived ingredients to create surprisingly powerful, if not modestly confused, cleaning products. Although it's not rated by the EWG, it meets Smallable's Greenable criteria.
The one that'll get you Gen-Z cred.
The next time you find yourself at L Train Vintage, wash your clothes in Dedtergent — no one will know you're an old. This one has fragrance but an otherwise shockingly minimal ingredient list. Plus the brand is transparent in its sources and what it says "no" to.
Our Experts