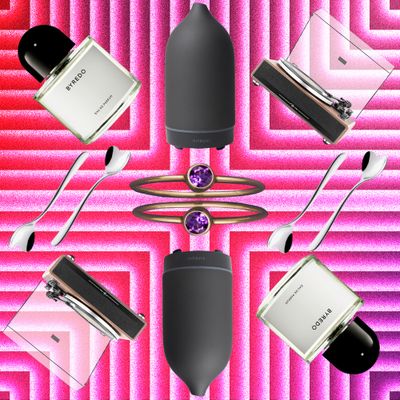 Photo-Illustration: by The Cut; Photos: Retailers
For more of the Cut's favorite fashion, beauty, and home finds, sign up for the weekly Cut Shop Newsletter.
Although we're always happy for the opportunity to eat candy and swap presents, Valentine's Day's more traditional trappings can very quickly fall into the realm of cliché and banal if you're not careful. So if your partner is indeed the type to roll their eyes at stuffed teddy bears or heart-shaped boxes of chocolate (and whether or not they steal your beauty products), plan accordingly.
Below, we've compiled a list of the best unexpected Valentine's Day presents for your loved ones.
For the Movie Buff
An excellent gift for the movie fan in your life, this subscription gives them access to an incredible collection of acclaimed films from around the world.
For the Workout Fanatic
Bala Bangles are a popular workout accessory for those who are dedicated to their virtual workout classes.
For the Person With Too Many Design Magazines
These elegant glasses are the perfect gift for anyone trying to give their dinner parties a bit of an upgrade.
If They're Looking to Take the Edge off
There are few things better than a delicious cocktail, so give the gift of an at-home bar set. It's an exciting experience with an even more exciting reward.
For the Bookworm
Each month, you are offered a curated selection of five books. You just choose your favorite and it's sent to you (or your loved one) to enjoy!
For the Person Who Can't Wait to Travel Again
The travel bug has bitten plenty of people during these months stuck indoors — sometimes to no avail. A new Away travel bag may be enough to hold them over until they can actually get on a plane.
For the Tea Lover
This handsome electric kettle will not only satisfy the tea drinkers in your life but will also act as a beautiful accessory in their kitchen.
If They Miss Getting Professional Blowouts
The perfect gift for all the people who are missing their shiny professional blowouts. With this Drybar dryer brush, they'll be able to do it themselves.
If They Just Learned How to Cook
The Always Pan is a no-brainer for anyone who dedicated their quarantine to improving their cooking skills.
For the Fashion Bestie
Sure, a heart-shaped purse is a bit on the nose, but odds are they don't already have one.
If They Weren't Expecting Anything
They'll be in for a surprise with this one. Market editor Roberto Johnson kept getting an ad for these on Instagram and loved the idea of a card that explodes in your face. Talk about a plot twist!
If They Love Subtle Surprises
And if an explode-in-their-face Valentine's Day card wouldn't go over well, try this ring that you can customize with your own love message.
For the Music Lover
If they have a dedicated vinyl corner in their home or are working on growing their collection, this turntable with a built-in Bluetooth speaker is ideal for all the future intimate dance parties you'll have together.
If They Have a Sensitive Sense of Smell
Gift them a diffuser, and they can pick their own oils and have their place smelling like … whatever they want it to smell like.
If They Want to Have More Experiences
Maybe they don't want more stuff. This year, consider an experience you can do together, like a ceramics class.
If They Are a Minimalist
This LGBTQ+-owned jewelry brand offers rings up to size 16. It's perfect for the person who appreciates minimalist design.
If They're Part of the Beyhive
Photo: Mykyta Dolmatov/Getty Images/iStockphoto
If They Have a Sweet Tooth
If You Want a Customizable Gift
Customize your purchase to your partner's taste with this limited re-edition of the unnamed fragrance that Byredo created in 2016 for its tenth anniversary.