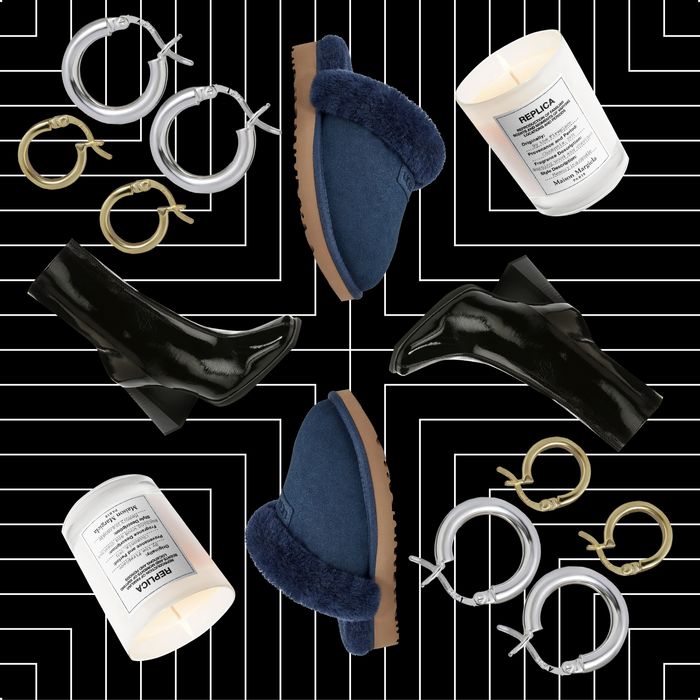 Photo-Illustration: by The Cut; Photos: Retailers
Mariah Carey has officially defrosted, and you know what that means: Now you can actually carve space to read all of the gift guides we've been pumping out. Whether it's searching for a gift for your dad who "doesn't want anything" or your mom who wants something "simple" (hint: It's never simple), or you're tasked to be Secret Santa at work, we know gifting season means having way too many tabs open to scratch off everybody on your list. It adds up quickly — and we don't just mean money.
With Nordstrom's Black Friday deals still in full effect, tons of gift-worthy gems remain on sale, but that also means pages and pages of deals. So to save you even more time, we went through them all (Really! It's our job!) so you can keep the tabs at a minimum and your sanity in check.
Below, our favorite picks — some discounted, some not — that start as low as $20.
Best Nordstrom Gift Ideas Under $25
Super-warm and extra cozy, these fuzzy slippers with an adjustable strap are the perfect gift for your mom or siblings.
Capture cool, moody photos with this disposable camera loaded up with motion-picture film.
Give the gift of good brows — and no one does brows better than Anastasia Beverly Hills. One end of this brow definer is a waxy pencil for creating hairlike strokes to define brows, and the other end is a brush to help shape and create a natural look.
Some of us never stopped making bread after 2020. If they're still going strong, this focaccia-making kit is just what they need for crisp and soft garlicky bread. It includes yeast, baking mix, and a blend of garlic and herbs to top it off with.
Best Nordstrom Gift Ideas Under $50
If you thought boat totes were just back for their quirky messaging, you're mistaken. This bag comes in a large and extra-large size, which makes it perfect for weekend getaways. Plus, the zip-top option keeps all belongings nice and secure.
Body-care gift sets don't have to be a basic gift. Instead, opt for this nourishing trio featuring full sizes of body wash, hydrating skin serum, and fragrance-free moisturizer.
Keep cool while you work out with these lightweight and moisture-wicking leggings.
A comfortable bra seems too good to be true, but the reviews don't lie. This is a favorite for its lightweight feel and support, and now it's discounted.
This tiny pumpkin cocotte holds up to 12 ounces and is perfect for making treats for one and storing your favorite chef's ingredients.
Best Nordstrom Gift Ideas Under $100
The best-selling weekender tote is now water-repellent. Talk about an upgrade! Gift this bag to your travel buddies who are always buying way too many things during their trips.
Photo: Courtesy of the Retailer
Le Labo's candles have garnered quite the fan base. Offering about 60 hours burn time, you can gift the soy wax candle in one of your favorite scents, including the Santal 26, a smoky, leathery blend.
The internet's favorite space-saving pan made for frying, steaming, and sautéing is worth it when it's on sale. We're partial to this fitting holiday shade.
You can truly never have (or gift) enough slippers. This best-selling pair from UGG is made of leather and lined with warm shearling.
The guy in your life deserves a pair of comfy slippers. This cool pair is made for indoor and outdoor use. Versatility!
Consider this their new signature scent. Inspired by Casablanca, Morocco, this fragrance features notes of amber, sandalwood, soft suede, and vanilla orchid.
Any skin-care fanatic has likely had this clean-beauty brand on their list, and this set is the best introduction to this Cut Shop–fave brand. It features a full-size and travel-size gentle exfoliating cleanser.
Because who doesn't need a pair of cute and comfy clogs to stomp around in? This vintage-inspired pair is easy to slip on and is on sale in a number of colors.
Now is the time to see for yourself why reviewers have dubbed these "literally magic" because all colors are currently on sale.
Best Splurge-worthy Gift Ideas
Along with pairing perfectly with a suitcase, this lightweight carryall has nine pockets to fit shoes, water bottle, and much more, making it the perfect gift for the traveler on your list.
Another easy gift for the pickiest person you know: a robe. Made of a plush fabric, this robe stays cozy and warm without pilling.
We don't blame you if you plan on adding this to your cart for yourself instead. There's no better way to try out the celebrity-favorite skin-care brand than this all-in-one set. It features everything you need for a complete skin-care routine: cleanser, essence, eye cream, and even the cult-fave rich cream.
Anyone whose New Year's resolution was to be a little greener will appreciate this head start. The chic blender comes with everything they need to make smoothies. Bonus: It looks extremely chic on a kitchen counter.
For the foodies, gift a way to nicely organize their meals and fridge. This dishwasher-safe set makes it easy for them to move their favorite meals from the stove to the freezer and right into the microwave.
We don't always pack light, and if there's a frequent traveler in your life who doesn't mind checking a suitcase, gift them this easy-to-organize and lightweight suitcase for their next getaway.
Everyone needs something in between their work bag and their going-out bag. Behold, this happy medium with the right amount of color.
Yes, snow boots are a winter staple, but a good pair of black boots? That's a necessity. This shiny patent pair from Sam Edelman is decently discounted and waiting to be worn with your winter looks.
This Lunya silk set is a personal Cut favorite. The low-back slit keeps you cool and comfy through the night, the perfect gift for a hot sleeper.
They need a classic tote made for everyday use, and you've found it. This minimal tote from Marc Jacobs features adjustable straps for comfort and zippered compartments to keep things neat and organized.
This is your sign that it might be time to finally splurge on the styling tool. Available in this limited-edition blue, this set includes attachments for quick drying and styling locks of all textures.
For the fashion splurge, consider this leather shoulder bag from Beyoncé-approved brand Anima Iris. Crafted in Senegal, the structured bag will be the finishing touch to all their holiday-party outfits.
For more from the Cut Shop team, follow us on Instagram and Twitter, where we share our best new finds, favorite styling tricks, and more.