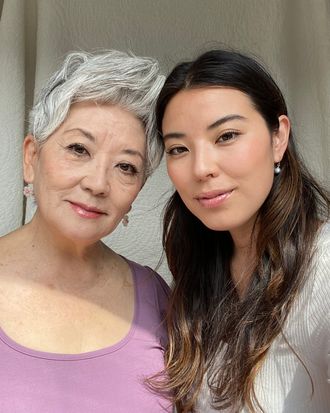 Photo: Courtesy of Marcela Alcala
Lots of people learn the basics of beauty from their mothers, but Norma Alcalá and Marcela Alcalá take it one step further by making social content together. Scroll through their accounts, and you can find Marcela, better known as @mexicanbutjapanese on Instagram, and her mom, Marcela, who goes by @platinumpunk on the platform, testing and swatching products together. There's a video of them trying Glossier's now-discontinued Vinylic Lips (Marcela opts for the color "Genius" while Norma goes for "Driver"), a Reel of the duo testing Fenty Beauty's Eaze Drop Blurring Skin Tint (Marcela is a shade eight and Norma is a shade three), and a post of the pair starting out their week with Jurlique's skin-care range (Norma goes for the Rosewater Balancing Mist, while Marcela tries the Calendula Redness Rescue Calming Mist). Ultimately, all of their collaborations, even those with makeup, are rooted in their shared beauty philosophy of maintaining healthy skin in the most nurturing and non-invasive way.
When Marcela was 12, Norma concocted a skin-care routine for her which consisted of a face wash, a day cream, an SPF, and a night cream. Still, she says she often got carried away by trends that either didn't do anything for her combination skin or actually wound up hurting it, like harsh exfoliators. Now, she says, "I don't necessarily care for perfect, glowing skin. Instead, I am looking to take care of my skin barrier and microbiome, and to support my skin's natural cleansing and shedding built-in systems."
Similarly, Norma's goal is to "stay stress-free and to take care of my body and mind. It's important for me to enjoy a happy, meaningful life. So, my skin-care routine is a combination of products that make me feel good and that work."
Her skin-care line-up consisted of only a gentle cleanser and a moisturizer for a long time, but these days, she also experiments with serums and devices to help with her dark spots and fine lines. Laser treatments didn't work for her, so she's turned to NuFace. And she says, "I never leave the house without my 'visera' visor, sunglasses, and SPF."
Below, the duo walks us through their current routines including the serum that smells like smoked oysters but really works, the lush antibacterial face towels, and the gentle exfoliant that makes a big difference.
Norma
The Cleanser
"I like this cleanser because it removes makeup and impurities. It's also super moisturizing. We received it in a PR package from Josie Maran. At first, it's is creamy but once it mixes with the water, it becomes milky (not frothy or sudsy) and soft, and it leaves my skin clean but not stripped. I also love the scent; it's super fresh and barely there."
The Device
"I've been using the NuFace toning device for a couple of weeks now, and so far, I like it because it's fun to use, and it's like a mini face massage. I use it with the brand's NuFace 24K Gold Gel Primer and use three different heads: the one with the red light, the face, and the lip and eye applicator. It helps to tone and lift my skin. I have particularly seen a difference around my eyes and forehead — I've noticed my skin to be smoother, with fewer fine lines, and definitely more lifted around my eyebrow and brow bone area."
The Vitamin C
"I love this serum because it helps even out my tone and sunspots. I think it smells like smoked oysters! But I don't mind it. I say it's definitely worth the cost (both from the scent and price point) because of the benefits. Also, one bottle of this serum lasts me about six months."
The Moisturizer
"This is my all-time favorite. I love Perricone's products! I find that they really work for me. This moisturizer especially softens my expression and fine lines."
The Face Oil
"I alternate oil before and after moisturizer. Sometimes I like to use it first, like when I want the oil to deeply nourish my skin and then the moisturizer to keep me fresh. Other times, I like to use it after moisturizer to seal in my skin care."
The Face Mask
"If I want extra glowing skin, I love the ByTerry Baume de Rose Hydrating Sheet Masks. They smooth my expression and fine lines instantly, and make my skin super bouncy, happy, and moisturized. And they have a great rose scent."
Marcela
The Cleanser
"I love this cleanser because it is super soft. I love the texture — it's kind of like an oil that turns into a luxurious milk. It also removes makeup, and it leaves my skin really nice and balanced. Also, it has no scent! This is important to me. I try to avoid fragrances in skincare."
The Towels
"My mom and I just got these amazing face towels. They're incredible. They're antibacterial, and they're so plush. It's important to have a nice, clean towel, and they just make skin care so luxurious."
The Gua Sha
"I'm new to the traditional Chinese healing practice of Gua Sha. I'm not an expert by any means, but I really enjoy it to help with my sinuses and lymphatic drainage. I was introduced to gua sha via @gingerchinyc. A close friend introduced me to the brand and owner, and they were so kind and sent me a starter kit."
The Mist
"I start my Gua Sha routine by spraying a little bit of the Chantecaille Rose Water. It's pure rose water, and it's super refreshing and helps calm my skin. I spritz it all over my face and add a tiny bit of jojoba oil from Kindred Black."
The Face Oil
"I like this oil because it's super sheer. It feels more like a serum. It's made by a family in the Sonoran Desert, and the glass bottle is made by artisans in Oaxaca, Mexico. Sometimes I alternate it with Pai's Rosehip Bioregenerate."
The Moisturizer
"This is amazing for super moisturized, plumped, and glowing skin! The ingredient list is pretty crazy (in a good way): Hyaluronic acid, peptides, shea butter, and avocado oil. It's amazing! It goes on so smoothly and it's rich, but in a lightweight way, and the first thing I notice is how plump and hydrated and glowy my skin is. I don't even need makeup afterward."
The Eye Cream
"I love this eye cream because it's sheer, easy to apply, and has a cooling applicator tip, which my puffy eyes love. It has marula oil and Persian silk tree extract, but the reason why I like it is that I have milia, and this eye cream is not heavy and absorbs fast into the skin. It just feels sooo good."
The Face Masks
"Lately, I have been enjoying Loops Weekly Reset Eye Masks, especially on Mondays — I try to make my Mondays fun as an antidote to the Sunday scaries. I wake up and go to yoga first thing in the morning, then I take a nice pampering shower, and finish with the eye masks. They're great to depuff my eyes but also just add a little 'me' moment to make Mondays feel special and exciting."
The Exfoliator
"I exfoliate once a week or so, only when I need it. I'm not an expert here, but I think I was in this cycle of exfoliating every day so that my skin looked perfect and glowy instead of focusing on maintaining healthy skin, and then using moisturizers and treatments to protect and rebuild my skin barrier. It seemed odd to me that I was exfoliating (removing dead skin cells, which are there for a reason — to protect your skin) and then using another product to rebuild my barrier. So, I'm just a bit more careful with exfoliation now. And by the way, exfoliating is one of my favorite steps, so it was hard to lay off it. I still do it, but in moderation — one to times a week tops — and when I do, I love Rose Rosebrook's Daily Acid Toner. It is super gentle on the skin while making a big difference — it's gentle enough that it can be used daily (although I don't)."