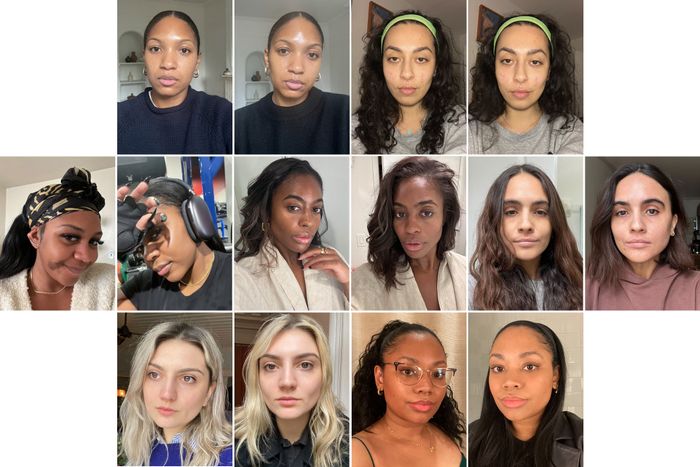 Photo-Illustration: by The Cut
Editors note: We've updated this story to reflect that the NuFace Mini Starter Kit and NuFace Trinity Starter Kit are 20 during the brand's Memorial Day sale.
Over the past few years, the obsession with face-slimming treatments through at-home microcurrent gadgets, gua sha, and in-office treatments (i.e., buccal-fat removal) has been at an all-time high. For some, achieving sculpted and snatched-looking skin is the goal. So it makes sense the NuFace, an at-home microcurrent device that increases the tone of the facial muscles over time and promises a more sculpted and defined appearance, is only growing in popularity (mostly thanks to TikTok).
The non-invasive tool achieves almost immediate results (in under five minutes), utilizing low-level microcurrents to target the facial muscles and stimulate collagen production. There's no downtime, so it replicates an in-office microcurrent treatment. People have even compared the results to Botox without needles. As for how long the results last, it all depends on how diligent and consistent you are. The more you use it, the better the effect. So we put the tool to the ultimate test and asked seven of our team members — each with a different skin type — to try it. But first things first.
How do you use the NuFace?
You start by applying the NuFace Hydrating Aqua Gel, which gives the skin a nice slip. Next, you pick up the handheld device, which is very lightweight, and gently press the applicator into targeted areas of the skin (neck, jawline, lips, brows, etc.). There are beeps to alert you to move on to the next section, and it takes five minutes altogether. Still confused? Download the app. It's easy. Overuse is a real thing, so be consistent, but don't use it on your skin longer than one round.
How often should I use NuFace?
Use the device five days per week for 30 days to see results. If you're open to trialing the tool without the hefty price tag, try the NuFace Mini version, it's smaller and has fewer attachments. Wondering how consistent you'll really need to be to see real-time benefits? Dr. Joshua Zeichner, associate professor of Dermatology and the Director of Cosmetic & Clinical Research in dermatology at Mount Sinai Hospital, says the device takes consistent use for modest results. "You see the best results in people who have healthy skin cell functioning, as the device enhances cellular activity," says Zeichner. "The only downside to using the device is the time that it takes to devote to the regimen, as well as harm to your pocketbook since it's costly."
Can I use the NuFace if I have Botox or filler?
According to Zeichner, yes, you can use the device if you have Botox or filler — just not on the same day of your injectable treatment. "The NuFace uses microcurrent technology to help tighten the skin. There is data showing that micro currents provide low level electrical stimulation to enhance collagen production. However, I do not recommend using the device on the same day as your injectable treatment."
Bianca's skin type: sensitive and dry.
How often do you use it? I used the NuFace Mini in the morning every so often from late November through early December. Then I used it consistently (I might have skipped one or two days. Hey, I'm human!) during winter break (December 11 through January 22). I would alternate between using it with the Silk Creme and Aqua Gel activators.
Did I see noticeable results (and were they long-lasting)? Yes, especially around my cheekbones. I already have pretty defined cheekbones, but the tool gave them an extra lift. Since I have such dry skin, both activators left my skin prepped for my following skin-care steps.
Would you recommend it? Yes. I wouldn't recommend buying it at full price, though. During Prime Day, Nordstrom's Anniversary Sale, Black Friday, Cyber Monday, or any major tentpole event, you can bet the NuFace mini (and sometimes the Trinity or the Fix Wand) will be on sale. I snagged my Mini during a Skinstore sale two years ago.
Sasha's skin type: normal
How often do you use it? I used my Mini mostly before events but started incorporating it into my routine whenever I felt puffy or was getting ready to see others. I now use it probably three to five times a week.
Did I see noticeable results (and were they long-lasting)? Never have so many people asked me if I've had work done. I haven't, but I get why they're asking. My cheeks look buccal-fat-removal–esque, especially in photos with stronger light contrast. I'm not a beauty-trends person, so I'd never be moved to change my look with the fashions of the moment, but I have always had a round face and been self-conscious about how it looks, especially in pictures. So this is a nice way to feel snatched and sculpted without doing anything too intense or permanent.
Would you recommend it? I would definitely recommend it — it's a new part of my routine, especially before events or on days where I feel puffy.
Maya's skin type: combination oily and dry and acne-prone.
How often do I use it? Regarding my skin-care aesthetic, I love for my face to look ultra-lifted. My obsession with a snatched jawline is serious (I've been contouring since college), so naturally, I was inclined to incorporate this at-home microcurrent device into my routine. I love using it in the mornings and before events, since it has an immediate effect and only takes five minutes, which is not a huge time commitment for a gorgeous payoff. I was consistent for about a month, but lots of travel and running around threw me off schedule. However, it's a device I keep on my top shelf and use a few times per week, especially when I'm going to be photographed and want my bone structure to stand out.
Did I see noticeable results (and were they long-lasting)? My jawline will never be the same. After watching tons of TikToks with creators demo'ing the device and seeing pretty impressive before-and-after photos, I was giddy about seeing my results. It did not disappoint — my cheekbones were more defined, my non-arched eyebrows looked more lifted, and my jawline was super-snatched. Overall, it brings out my features more and makes my face look defined and toned. Disclaimer: I'm fortunate enough to receive a lot of facials (a few per month), so it could also be a combination of other high-tech microcurrent tools from in-office treatments. The first few times I tried the NuFace Trinity, I did feel like the effects wore off after a day. But after about a month of consistent use, the results lasted longer.
Would I recommend it? I would, especially for skin prep before applying makeup. And if you haven't received a facial in a while, it's a great tool to keep your skin looking fresh and sculpted between treatments. Plus it's so gratifying to see instant results from the comfort of your bathroom.
Asia's Skin Type: combination oily and dry.
How often did you use it? I used the NuFace Trinity at night, usually before a dinner event or post-dinner if I consumed too much wine and didn't want to wake up with a super-puffy face. I was semi-consistent with it, and it's because I'm always testing products. But through January and February, I was been pretty consistent with it, as I was trying to get into more of a daily routine with everything.
Did I see noticeable results (and were they long-lasting)? I saw noticeable results, especially around my jawline, but that's probably because I excessively massaged the tool on that area. After all, I am a bit obsessed with having a snatched jawline. Sure, I can contour it with makeup, but why not lift and tone my facial muscles with the help of a tool? My results were only long-lasting when I was consistent. The NuFace reminds me of going to the gym: Consistency breeds results, but our face is full of muscles just like our body, so I don't know why I thought it'd be any different. Now I approach the NuFace as I approach weights at the gym; the more consistent I am, the more toned the results I'll see.
Would you recommend it? Yes. I would recommend it, but only if you are consistent. If you can't be consistent with your skin-care routine, don't even bother.
Danya's skin type: combination dry and oily, also acne prone.
How often did you use it? For a while, I was consistent with my NuFace, mainly using it in the evening because I found conduction gel wouldn't sit well underneath my makeup if I used it in the morning before getting ready. I hate to say it, but as with most routines that take longer than one minute, I fell off the train, though I kept using it on an as-needed basis and before events. I wish I were someone who could remain consistent, but alas.
Did I see noticeable results (and were they long-lasting)? I did see noticeable results! My eyebrows appeared more lifted, my cheekbones more defined, and I generally looked more awake. I also used my NuFace Fix on my lips, and they looked fuller! I don't think my results were long term, although using this just before an event helped me feel confident throughout the night.
Would you recommend it? Yes! I have a hunch that if I'd remained consistent in my NuFace journey, I'd have seen more lasting results, but using my NuFace before a night out or after a bout of insomnia was enough to sell me on it.
Chinea's skin type: combination, also sensitive.
How often did you use it? I'm going to be honest, TikTok made me impulse-buy the NuFace Mini a while ago, and I let it collect dust until it was time to test. It's fairly easy to use and even easier to work into a routine. It takes five minutes in total. However, the thick gel you must use with it makes the rest of my skin-care routine pretty difficult. So I would skip on days where I double-cleansed or wanted to use an exfoliant or retinol at night.
Did I see noticeable results (and were they long-lasting)?: Yes and yes. I have cheekbones under there somewhere, and it usually takes some strategically placed blush and contour to get them out of hiding. The effects on the hollows of my cheekbones were pretty noticeable immediately; you can see it while you're using the device in the mirror. After about a week of consistent use, the results were even more long-lasting. I looked less flat in the tiny squares of Zoom meetings and on FaceTime, and I skipped contouring altogether.
Would you recommend it? Yes. It's pricey but goes on sale often. If you're consistent with it, it's way less work than other facial-sculpting tools.
Noelle's skin type: acne prone.
How often did you use it? Initially, it was like receiving this new shiny toy, and I couldn't put it down. The results are instant, so I defaulted to using it before date nights or events and in the a.m. when I wanted to combat puffiness or wear very little makeup for the day and still look snatched and fresh-faced. I stopped using it consistently around the holidays, which is silly, as the NuFace works. The tricky thing for me was the gel. I purchased ultrasound gel once I ran out of the official NuFace gel, but the ultrasound gel is thick. So it meant washing my face before and after NuFace use, which was a bit of a time suck.
Did I see noticeable results (and were they long-lasting)? The results are evident, for sure! I noticed how it made my cheekbones pop, and my eyebrows lifted before my eyes. One side of my face had more significant results than the other. Overall, the more consistent I was, the longer the effects lasted.
Would you recommend it?I would, but this is for serious skin-care girls. It's an advanced step; you must be consistent, but you will see results. If you can't commit to regular use, it's also a great tool in your event-and-night-out arsenal. For anyone with acne-prone skin like mine, I prefer it over gua sha or other sculpting tools that use oil as the gliding agent, as oils can be tricky for me and wreak havoc on my skin if I'm not careful.