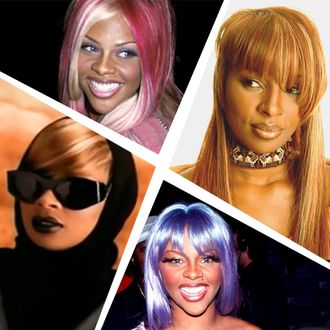 Photo-Illustration: by The Cut; Photos: Getty Images, Youtube
Think back to Lil' Kim's purple pasties jumpsuit at the 1999 MTV Music Video Awards, worn with her frosty lilac lipstick and long lashes, or her green glitter lips in the "Crush on You" music video. Or perhaps Mary J. Blige's sultry black lipstick in her "Not Gon' Cry" music video soundtrack for Waiting to Exhale. All of those glamorous cornerstone moments of our culture were done by Nzingha, the "It" Girl makeup artist in the '80s and '90s. The looks you see on mood boards today are inspired by Nzingha's work. She's known for glamming some of the most famous faces of our time and introducing beauty trends like glitter lips, bleached brows, exaggerated top and bottom lashes, and glossy trends when everyone else was playing it safe. She's worked with Diana Ross, Janet Jackson, Prince, Celine Dion, Mariah Carey, Lenny Kravitz, Beyoncé, Destiny's Child, Angie Stone, Erykah Badu, Brandy, Mary J. Blige, Maxwell, Christina Aguilera, Sean "P Diddy" Combs, Missy Elliott, Faith Evans, Lil' Kim, and more.
Born in the "home of hip-hop," also known as the Bronx, New York, Nzingha was partially raised in the U.K. and the British Virgin Islands. She grew up in a family full of artists. In the '60s, her father, Charles Peaker, was the leader of the African Nationalist Pioneer Movement, along with her uncles Bob Gumbs, one of the first Black graphic designers, and Kwame Brathwaite, a famous photographer who took historical photos in the '60s that began the "Black Is Beautiful" movement. They all formed a group called "AJASS," the African Jazz Arts Society, to advance the community; their impact was so vast that there will be a street named in the Bronx to honor their organization. Her godparents are Max Roach, Miles Davis, and Abbey Lincoln. Her mom, Jean Gumbs, was a working model. "I didn't know anything else; I had to be an artist," Nzingha tells the Cut. Nzingha went to an audition-only performing-arts high school called Talent Unlimited in Manhattan. She had classmates like famous singer Lisa Velez, whom she used to sing with, and Kadeem Hardison, who went on to act in A Different World. While in school, Nzingha tried everything from playing music to vocals and majoring in dance. She also had a part-time job in Bloomingdale's working at Shu Uemura Cosmetics. She always loved makeup, but never saw it as a full-time career. That was until she saw a behind-the-scenes video of Michael Jackson's Thriller music video, showcasing the zombie makeup looks. "That's when it clicked. Like, oh, this is a thing. I can do that."
Here, the artist shares the inspiration behind her vision that has shaped the history of glam over the last 25 years.
When you started pursuing makeup full time, who was the first famous face you did? 
Freddie Jackson, who was an R&B artist and had the No. 1 song at the time. The first hip-hop artist was LL Cool J — I did a lot of male grooming in the beginning. The first female hip-hop artist that I did was Boss (famously coined as one of the first female gangster rappers). She's really hard, and you never saw her face — you only saw her mouth. I think a lot of girls back then were in hiding because they had to compete with the men and come hard. Otherwise, you wouldn't be respected in the industry. And hip-hop was predominantly a Black-male-dominated industry. So the early stages of women were on the rough side. Full glam was not a thing. You had to look like an "around-the-way girl." And the "around-the-way girl" may wear her lip gloss with a black eyeliner going around the lip and some eyeliner. And that's pretty much it.
Some of your most famous looks are on Lil' Kim. How did you both meet, and what was it like working with her? 
Kimberly was affable. When I first saw her, I was at the Source Music Awards, which was a huge thing at the time, because there was the East Coast, West Coast beef going on. She was with the Junior M.A.F.I.A., but she stood out because she was the only female rap artist that performed that night. I looked at her and I said, "That girl is a star." I could see it all over her. She owned the stage. And the next morning, I called Sean, a.k.a. Puffy — I didn't know him, but I called him, and I said, "I'm going to make her a star. Give me the keys." For Kim, I pulled from pop culture. I was always a fan of comic books and Marvel characters. Kim reminded me of Storm from X-Men, Marilyn Monroe, and Betty Page.
In terms of the glam in hip-hop, Kim was the blueprint. And then there was Foxy Brown. Kim and Foxy were neck and neck. But her makeup artist stayed in a certain realm with her. A lot of the artists at the time were copying me. And I'm somebody who's always played the background. Like, I don't need to be famous because that's a hard life. I like my space where I can be in the ghetto in the afternoon and be on the red carpet at night. You see, I like that dichotomy. I like to keep myself in a space of anonymity to a certain degree, but I believe what's happening now is I'm being revealed, and I'm okay with that. God wants this to happen.
Take me back to the day of the 1999 MTV Music Video Awards when Lil' Kim wore that iconic purple look. I loved her frosty lip and those long lashes. What inspired that glam? 
Where the hell did I get those lashes? It's so funny you say that. You know what I did? I built them because certain things weren't available at the time in the beauty market, so a lot of the colors that you saw didn't exist. I had to create them. I built those lashes by stacking them on top of each other. The lip started out as a dark-purple color, and then I mixed it with a silver metallic — the craziest colors you would see back in the day in beauty is silver lipstick. So when I mixed the purple and silver together it came out to be this frosty lilac. And I put a lip gloss over the top of it, and there it was.
And that glitter lip in Lil Kim's "Crush on You" video is epic. How did you create that look? 
The glitter lip was dangerous back then because I used art-grade glitter and metals, which technically might be bad for the skin. But I'm an artist, so I thought they were beautiful. Glitter lips didn't happen back then. When we did the "Crush on You" video, she was actually wearing a green glitter lip with gloss on top. But the glitter was so chunky — it wasn't a fine glitter, like what's available now. It was a chunky glitter made for a canvas, and I put gloss on top. The gloss that I used back then was the Elizabeth Arden Eight Hour Cream; it was so thick. I was scared she wasn't going to be able to sing. But it gave me the highest gloss I could find.
You also worked with Mary J. Blige, and she wore a super-vampy dark lip in her "Not Gon' Cry" video. Where did that idea come from?
The song was a part of the soundtrack for Waiting to Exhale. I read the script, and the song was meant for Angela Bassett's character who was divorcing her husband; it was a bitter battle. I thought about the whole concept of marriage, divorce, and mourning, which inspired the color. I am also very fascinated with the culture and the history of beauty. I found the OOBE Tribe in Africa, and the lip look comes from their culture. The men paint their faces and wear black and blue lips. The symbolism of the blue and the black lip was to show how white their teeth are, and the whiter your teeth are, the more wealthy you are in that culture and marriage material, so that was my inspiration.
I read that you often had to fight back with major music labels over your aesthetics, especially with neo-soul artists like Erykah Badu, who wore a headwrap that was considered avant-garde at the time. What was that experience like?
I started the whole neo-soul beauty movement, which to me was an opportunity to be a part of the reiteration of my family lineage who were a part of the natural-hair movement. I worked with a lot of neo-soulers with natural hair and curly Afros like Maxwell, Jill Scott, Erykah Badu, Angie Stone, and even D'Angelo with his braids. The record labels they worked with at the time didn't understand it. They're corporate. They challenged the headwrap of Erykah Badu. They challenged the braids and beads of Alicia Keys. They challenged the Afro of Angie Stone. All of these things were a part of the culture. Their looks weren't new. In the '70s, Stevie Wonder had braids, Patrice Rushen had braids — it was a huge hairstyle. But if you don't know the culture, and you don't come from the culture, you don't understand it. So this was my argument to them. And as usual, I always come with receipts. So usually I come with stacks of books for reference photos.
Did you have any close friends or colleagues in the industry at that time? 
My sister who I absolutely love is Pat McGrath. We came up around the same time — she was mostly doing fashion, and I was strictly in the entertainment and music industry. She worked with Vogue and Harper's Bazaar a lot. And they would call me when they would have music people on the cover. I was well known as the "It" Girl.
Your makeup looks are often still referenced today by a lot of young artists. 
And I sit back, and I laugh my Black butt off. You know, the girls' interpretations tickle me because they have certain things available now that, like I said before, didn't exist. You know, when you are born into it, you take it for granted. You think that it was always like that, and it wasn't. As a Black makeup artist, I was a rarity on that level. My influence is still here.
And speaking of influence, describe a look that you see coming back today that you developed. 
I mixed my own makeup products to create looks like glitter lipstick, rhinestones as eyeshadow, glossy eyelids, spikey top and bottom lashes, various colored lipsticks, highlights on the inner corners of the eye, nose, and temples, and more. It's all coming back full circle. The only thing that I don't see are brows. The brows that are done today are slightly different because they're a bit thicker. For lashes, my inspiration at the time was Diana Ross. I still love Diana Ross and her looks in the movie Mahogany.
I saw one of your newspaper features from the '90s and you made mention of certain brands and products, like M.A.C Chestnut Lip Liner. 
Yes, that was purely classic '90s.
You also mentioned brands like Shiseido and Revlon. What were some of your favorite brands back in the day?
There was a brand that was called Stage Light Cosmetics. The colors were meant to be worn in Studio 54 because they were holographic colors. M.A.C was also one of the biggest brands at the time. And in the early '90s, there was Urban Decay. And at the time there was a lipstick called Roach Vice. I took offense to this, but the color was beautiful; it was a metallic brown. They also had another sky-blue, frosty lipstick color that I loved. Mary wore that in her "I Can Love You" music video with Lil' Kim. I put another gel on top of the lip to make it look even frostier, like a blue frost.
What about the other female rappers, like Boss and Queen Latifah, who weren't as experimental with their makeup? What was it like doing their glam? 
Different. It was more neutral the way that I would do their makeup. And I would usually do nudes, which were very popular at the time. The most popular nudes came out of Ultima II Cosmetics (discontinued) and Lancôme. I would usually apply a flesh-colored lip with a slight frost shimmer to it. And I would give them a light blush so they wouldn't completely fade out in the camera.
How would you describe your signature look? 
I was never afraid of color. Kevyn Aucoin, who was a very good friend of mine, we actually worked together and collaborated on the makeup for the Janet Jackson tour. But everyone was doing a nude lip with a lot of contour on the eye. And then I kind of flipped it and put a white pencil on the inside of the eye as a liner to open up the eye a bit more. And then I started bleaching the brow so you could actually see the color and shape of someone's eyes without the brow being a distraction.
Do you feel like you've received the flowers that you deserve in the industry? 
No, I want more flowers. I want specific flowers. I like Casablanca lilies, Stargazer lilies, green-goddess lilies, which are huge and gigantic. And you can mix those in with a few orchids and some Bells of Ireland, which I love. Those are the kinds of flowers that I like. Don't give me a simple rose. That's basic.
What does your world of artistry and makeup look like today? 
I work in film and television now, which is something I've always wanted to do. My first project was working on The Sopranos. Then I did some more films. I worked on I Am Legend with Will Smith. I did the movies Snap, Iron Legends, Spider-Man, and American Gangster with Denzel Washington. And then I switched over into doing television. I work on shows like The Get Down, which was about the beginnings of hip-hop in the Bronx, Empire, and now, Power. And I've been with Power for ten years now, all six seasons. I also work on Ghost and just finished doing Wu-Tang, season three.