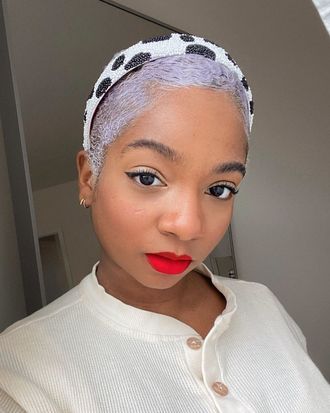 Photo: Courtesy of Ryan Norville
These days, Ryan Norville runs Oat Cinnamon, a Brooklyn-based flower company with a pretty pastel aesthetic. But she used to work for La Mer, so when she calls herself "a recovering beauty product junkie," you're inclined to believe her. Norville was thrilled by the commitment to quality ingredients and beauty education that she saw across the company. But as the job exposed her to other luxury brands, she became jaded. "I saw products that were $400, even $1,000+, either make no difference in my skin or work just as well as products that were a fraction of the price," she says. "People were buying into an idea of luxury more than the quality of products themselves."
Now, she takes a less-is-more approach. "I'm currently getting to know what is best for my skin from the inside out with as few products as possible, because I don't have the time for all this nonsense, and skin care mostly feels like it's about your own personal genetics."
This means focusing on one or two areas at a time. And while she says she struggles with uneven texture and enlarged pores around her nose, her eyes are always at the top of the list, especially now that she isn't sleeping very much with a one-month-old baby at home. "I feel like I've gotten so much conflicting advice on eye cream: Does it work? Does it not work? Is it only preventative? Can it actually make my under-eye area less dark or puffy?" she asks. "It's the skin issue I'm most insecure about because I hate looking tired — even though I always am — and I don't know anyone who has seen much success in reversing any damage underneath their eyes." She turns to La Mer here.
Below, take a look at Norville's high-low routine, including the moisturizer she's been using for almost a year, the sunscreen that gives her a glow, and the $8 face mask she swears by.
The Cleanser
"Primarily, I wash with Sulwhasoo Gentle Cleansing Foam. It's lightweight and requires just about a half pump to fully cleanse my skin. My skin has always been ultra-sensitive and pregnancy only heightened that — I developed pregnancy-induced eczema, my allergies to synthetic fabrics became more intense, and I would break out in hives and develop irritations a lot more easily. I like that this formula isn't heavily fragranced. It has a light organic smell, like when you walk through one of those organic healthy supermarkets, and doesn't dry my skin out after use.
I committed to Sulwhasoo by accident. I received a gift set from them, and when I was home more during quarantine, I started to try out the set when I ran out of a previous cleanser. I'm not too picky on cleansers, though, and probably will try a new one when this runs out."
The Serum
"Next, I use Sulwhasoo First Care Activating Serum. I typically buy into routines where I am using a couple products from one brand or product range at a time. I know it's kinda boring, but I am convinced the products work better together. Also, if one product works for my skin, I tend to believe that others in the same family will produce similar results. I feel like my toners or serums work more efficiently for specifically smooth and glowing skin when I use this, and often pair it with the Essential Balancing Water, which is packed with antioxidants and nutrient-rich ingredients such as goji berries and purslane, if I want some skin-care bonus points."
The Eye Cream
"My under-eye area is my main skincare concern. I used to over-treat it like crazy, and then my skin got red, and I got little irritations around my eyes. Now, I stick to an eye cream I love, quality sleep, and lots of water. I have a newborn, so the sleep part isn't happening very much right now, but I love using the La Mer Eye Concentrate to combat dark circles and puffiness. I keep it in the refrigerator to maximize the cooling effect upon application."
The Moisturizer
"Finally, I apply a moisturizer to seal everything in. And — you guessed it — I'll finish the routine off with the Sulwhasoo Concentrated Ginseng Renewing Cream. After consistent use, I've personally found my skin to be smoother and more vibrant over time. I received it around last Thanksgiving so I've been using it for almost a year now."
The Sunscreen
"My last non-negotiable product is sunscreen. I prefer anything lightweight and that dries with no white cast. I have been using Supergoop's Everyday Play Lotion with SPF 30. It never appears white on my skin and adds just a bit of glow, as well."
The Face Masks
"The Golde Clean Greens mask is an absolute game changer. I am so impressed by its effectiveness combined with its simple ingredients. It helps to keep the texture even on my skin and has an overall nourishing effect. It puts life back into my face — and if there's anything 2020 has done to my face, it has definitely drained the life out of it."
"I switch off between Clean Greens and a weekly application of the famous Aztec Clay Mask made of bentonite clay. I love a clay mask for shrinking pores, and I love that this product is no-fuss, can be used in so many different ways, and is simultaneously one of the most powerful products I've ever used as well as the most affordable, accessible, and long-lasting."