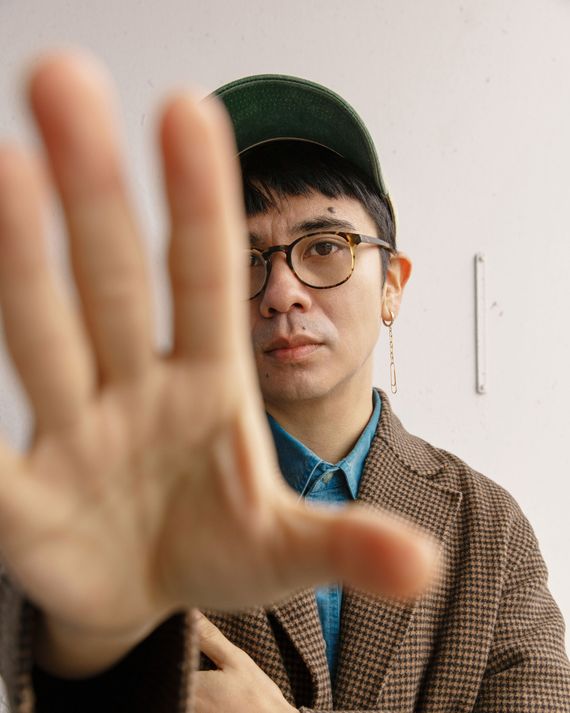 Photo: Gioncarlo Valentine for WSJ
I just have that octave that doesn't cut through anything," says Ocean Vuong when I find him sitting perfectly upright in a booth at the back of the wood-paneled lobby of the Marlton Hotel near Washington Square. The poet, novelist, and certified MacArthur "genius" tends to shy away from anywhere too boisterous, and not only because he's so soft-spoken. He'd suggested we meet up here to discuss his exquisite new book of poetry (everything about Vuong is a bit exquisite), Time Is a Mother, a lyrical follow-up to his widely acclaimed 2019 best-selling novel, On Earth We're Briefly Gorgeous, in part because the writer Alexander Chee had told him it would be quiet. But I can barely hear him over the rattling of cocktail shakers.  
Vuong is wearing nerdy-sexy glasses and a maroon beanie from which his short black bangs peek out. A long earring dangles off one ear; he says it's something of a nod to his mother as well as a declaration of his queerness. Then he keeps unpacking. "This is just like a thesis of myself," he says. "I'm always off-kilter." In other words, the earring is, in his complicating and diversionary thinking, something else: a metaphor. Vuong spins metaphors for almost everything, including his ambition, which he prefers not to talk about too directly.
"I told myself when I sold the novel, You could be like a Murakami and just disappear forever and write your books," he says. "But I've always felt that these, uh, publicity things are means of getting the work out there." So far, so good: Briefly Gorgeous, an autofictional letter from a gay Vietnamese American boy living in rural Connecticut to his nail-technician mother, became a much-discussed must-read for easily bruised queer boys and their delicate-sensibility allies. He even made an appearance on Late Night With Seth Meyers. "I did the thing that will get the work read," Vuong says. "Right?" Again, he retreats into a metaphor. "I'm setting it on the raft and it goes downriver, but I don't go downriver. I stay on the shore, and I think it's a lot of compartmentalization but I don't see it as a material success."
At 33, Vuong is probably the most accomplished poet of his generation, a fact he is clearly still metabolizing along with the experience of literary celebrity that accompanies it. (A line from the new book: "I used to be a fag now I'm lit.") Briefly Gorgeous was a finalist for the PEN/Faulkner Award for Fiction and longlisted for the National Book Award, was translated into 36 languages, and is being developed into a movie by A24. The specific reason he's in the city right now is that he's a visiting professor at NYU. He says he's being recognized by passersby more often than he had expected, as if he were an actor or something: "I don't see the fame until it pounces on me, which literally happened the other day: A white woman slapped my back in the street and said, 'I love your work.' And I have trauma, you know? So I'm just like, My God."
And so back to the metaphors. "How we see the world reveals who we are. And metaphors explicate that sight," he once wrote on Instagram in a sort of tutorial, which, predictably, turned into a persnickety food fight on literary Twitter over things like whether a simile is a metaphor, with identity-politics subplots. With me, Vuong calls poetry his "chariot," the "DNA of a selfhood on paper." He compares managing his drug addiction to playing Jenga. He describes Time Is a Mother — even the title is a metaphor — as a "calcified fossil"; publishing it this April, and never being able to revise it, was "nailing Jesus on the cross." (Later, he clarifies that it's "about the trepidation of publishing as a resigned, fretful act, wherein artistic agency ends.")
Vuong is fundamentally a thinker, a man in his head. You sense that it's how he protects himself. As any reader of his work knows, he has lived through more than his share of hardship and seems to have taken on that of the people around him. His grandfather had been an American soldier during the war, and Vuong's family moved to the U.S. in 1990 when he was 2. Growing up as a very smart, queer immigrant kid in rural Connecticut, with an absent father and a mother with her own struggles, came with its own problems.
So he became an intellectual. "The only place I can control is the page," he says. Literary theory (he loves to quote Roland Barthes, for example) is "good soil," and his own books are the "flowers." When he talks about returning to poetry, he brightens: "The fiction is very managerial based, and poetry is all about pleasure. I think that's why it's so queer to me. It's all about the glitter. Glitter and no time where fiction is like a lot of time. A lot of time and space, very little glitter." Between sips of his ginger mocktail, he cites the "gay weirdos" who have inspired him — Judith Butler, Gertrude Stein, Arthur Rimbaud — and gives me mini-lectures about everything from "heteronormative systems" to Napoleonic colonialism and the Shakers (he would love to write a novel about gay Shakers). He swirls his hands in explanatory circles when he says words like power dynamics, and the conversation begins to feel like batting highly intellectualized ideas off your favorite college professor. Eventually, he even suggests some reading: an academic essay comparing his "asociality" with that of the Japanese American pop star Mitski.
Indeed, Vuong is most confident and relaxed when he talks about teaching — he's on the faculty at the University of Massachusetts Amherst — and extolling the community he's found and built in Northampton with his younger brother and his longtime partner. He describes it as a "simple life" where all of his friends are queer and many of them are farmers and nobody cares, supposedly, that he's a famous writer. "It's like Portlandia, but real and even more absurd," he says.
Although Briefly Gorgeous is dedicated to his mother and addressed to the mother of the narrator, Little Dog, it's also a coming-of-age book. It not only renders Little Dog's family history but also gives an account of his relationship with a white boy he meets while working on a tobacco farm, making the book just as a much a commentary on masculinity and the experience of being, as Vuong calls it, "country queer." He emphasizes how important it is for him to tell queer stories outside the nightclubby gay big city.
"The trope has been that the narrative ends with the metropolis rescuing the queer subject," he says. "I think I'm still trying to orchestrate an alternative because so much of queerness is about alterity. I really want to build a world where queer folks are so outside of what's legible." His own experiences with contemporary gay culture, he tells me, have rarely had anything to do with the "mainstream narrative." "My idea of queer is just hanging out together in a basement reading poetry," he says.
Vuong's literary reputation has often centered on trauma — the legacy of the Vietnam War, colonialism, bullying and coming out, the opioid epidemic and the working class. But Time Is a Mother contains a number of lighter, even humorous moments for Vuong, even as it takes on additional heartaches: his struggles with addiction, American disorder, and losing his mother to breast cancer just as Briefly Gorgeous came out, which inspired him to complete this book, in part to grieve that loss. Although Vuong has become something of a poster child for (as a Gawker critique called it) the "tender-queer," he tells me this doesn't really bother him. "My job is to look at every aspect of life and joy and the horror and then see how they live side by side," he says. "I think I would describe my work as, like, badass emo."