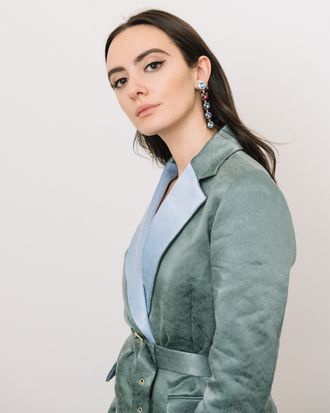 Photo: Courtesy of Olivia Perez
As the founder of Friend of a Friend, Olivia Perez has made it her job to seek out the best in New York City with her "millennial, highly curated Yellow Pages." Three years after its founding, Perez is also the co-founder of System of Service, a community that strives to provide impactful service opportunities. But still, ask her for a recommendation, from restaurants to workout studios, and she'll name at least ten places at the drop of a hat. The same goes for skin care.
She says, "I firmly believe that you should change your routine every month because your skin gets used to what you're putting on and needs to adapt, whether it's to different parts of your routine or even just the weather outside." This is especially true if, like Perez, you spend a lot of time on planes and adjusting to different environments. Add in oily skin and Hashimoto's disease — an autoimmune disorder that attacks your thyroid and causes inflammation — into the mix, and you're bound to become an expert at switching up your routine.
As far as skin-care recommendations go, Perez has one fail-safe tip: Get acquainted with Barbara Sturm. "I'm a superfan. I love her brand energy and ethos. I think that if you can try even one of the serums, you absolutely should."
Below, a look into her morning routine, which aims to reduce inflammation, and yes, includes plenty of Barbara Sturm.
The Cleansers
"When I was in Paris for Fashion Week, I visited Dr. Sturm's pop-up, and she spoiled me with travel sizes of all her amazing products. Since I'm literally on a plane every other week, you can imagine how quickly I went through the products. I quickly learned that the Sturm Cleanser is the perfect first step to any morning, especially mornings where I'm feeling on the drier side after travel. It's light, foamy, and packed with aloe vera to soothe and refresh the skin. I also love to put it on a cotton pad and remove my makeup before my evening cleanser."
"Dr. Lancer is one of the most famous dermatologists and is widely known for his celebrity clientele in Los Angeles, and for good reason. His Benzaderm face wash is literally my hero/savior/best friend. It's basically benzol peroxide and works wonders. I started using Lancer's Benzaderm two years ago after I had a serious hormonal breakout, and it cleared my skin up in a week. I would just use it once a day at night if you're trying it out for the first time and in the winter months."
The Toner
"I fell in love with Caudalíe a few years ago for their all-natural ingredients. This toner always clears up any red spots I have on my skin and gives me a great, even complexion."
The Serums
"I was born and raised in California, so I'm big on sun care. I apply a thin layer every morning, and yes, it smells like hot dog water. Worth it. This serum helps protect against UVA/UVB rays, which can really damage your skin."
"I'm a Sturm superfan and use all of her serums. I've never seen better results on my skin from any other product line. Since I have oilier skin, I love to pack on serums because they can also act as a hydrator without having to put on a thick layer of moisturizer. The Hyaluronic Serum is packed with long and short-chain hyaluronic molecules that provide hydration to the skin. It also has a super booster to prevent wrinkles. After using this twice a day, my skin has never been plumper or smoother. You can literally feel it seeping into your skin."
"Barbara Sturm's Glow Drops are another one of my oily skin solves. The drops are anti-aging and filled with hydrating ingredients aimed at making the skin glow and your pores shrink. I mix a drop of it with my foundation, and it's like I've made my own tinted moisturizer. It's not too oily or sticky, but gives you great coverage and a natural glow."
The SPF
"The most important part of my skin-care routine is Dr. Barbara Sturm's Sun Drops. The drops provide SPF 50 protection for the skin in a serum form, so you're not stuck with white residue or a heavy sunscreen on all day. I drop some of this into my glow drop/foundation mix to finish my DIY tinted moisturizer. People think you can apply SPF 30 every day but SPF 50 is really where it's at."
The Mist
"My favorite part of my skin routine is getting to mist. La Mer has some of the most luxurious products on the market and makes my skin feel fresher than ever. This mist is formulated with marine botanical extracts and has a live internal magnet that constantly charges the ingredients inside. I always mist after I cleanse, but I like to keep it in my purse during the day for when I need some extra moisture."
The Moisturizer
"I use Dr. Barbara Sturm's Face Cream every night before bed. Although it looks thick, the cream is actually incredibly light and doesn't stick to your face overnight."
The Foundation
"This is one of my favorite foundations ever. It's water-based so it won't produce excess oils throughout the day, and is perfect when mixed with your own moisturizer. The foundation is lightweight with a matte finish which helps me stay covered all day."
The Cooling Mask
"I was diagnosed with Hashimoto's disease a few years ago, so inflammation is my worst enemy. If I eat or drink one thing that irritates me, I'm swollen within an hour. Most of my diet and skin-care regimen revolves around combating this, so icing is crucial to my routine to calm my skin and inflammation down. I found this mask on Amazon and put it on for ten minutes every night at the end of my routine."
If you buy something through our links, New York may earn an affiliate commission.