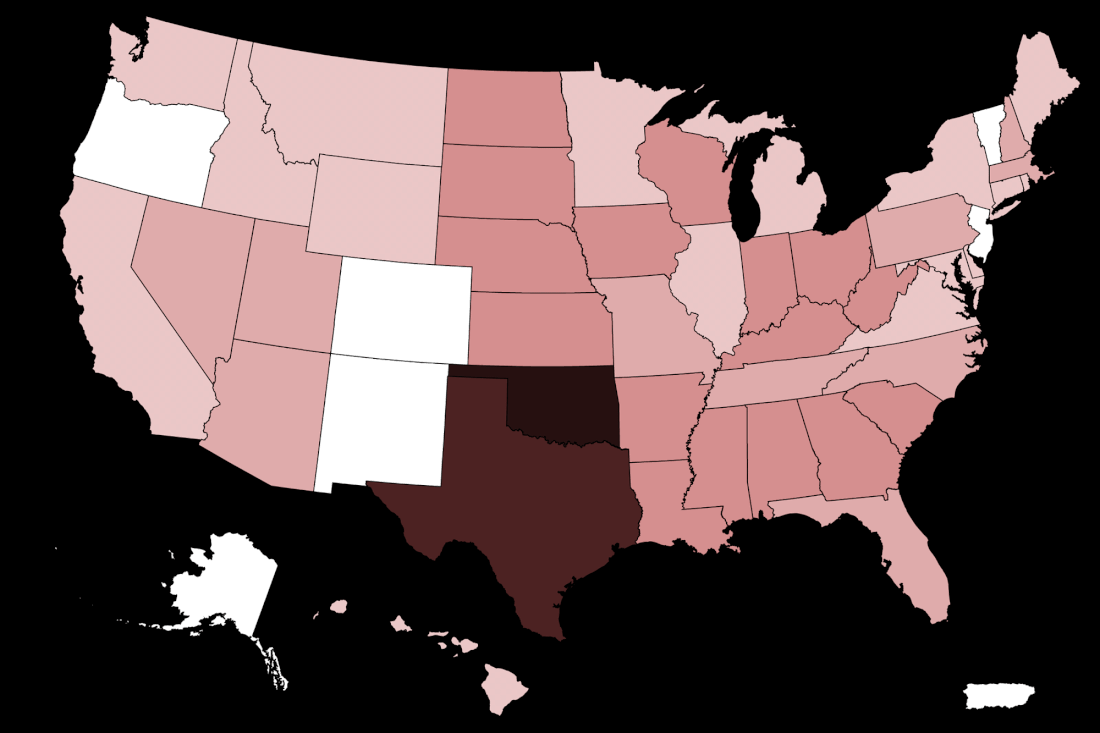 The overturning of Roe v. Wade has unleashed immense harm and suffering across the nation in the past year. It's been historically challenging to track how many people have abortions in the United States, and quantifying abortion seekers' and providers' experiences is now complicated by new legal risks and heightened fears of prosecution. The small slice of figures we do have access to helps us understand how many people have been affected by abortion bans and what barriers they've run up against while trying to get care.
But those numbers can't capture the complex medical and logistical situations pregnant people have faced or the lasting physical and mental-health consequences of being denied care. They can't account for how many people are self-managing their abortions outside the health-care system or the impact on communities that lost their abortion clinics and, with them, access to low-cost, quality reproductive-health care.
It is essential to create a record of the human cost of the Supreme Court's decision: the 10-year-old rape victim who was forced to travel from Ohio to Indiana for an abortion, the pregnant women who have become septic and maimed after being denied lifesaving care, the people who have been forced to continue their pregnancies because they have no other option. This is our attempt, incomplete by nature, to marry those stories with the trends that researchers have measured and account for what we've lost in the first year after Roe.
One Year Without Roe
➼ Today's abortion-access landscape
➼ 25,000-plus fewer abortions
➼ Where patients are traveling
➼ Confusion over shifting laws
➼ Clinics pivot or close down
➼ Violence against abortion providers
➼ The rise in telehealth abortion
➼ Patients and providers fight back
➼ The invisible costs of Dobbs
Fourteen
states
lost
nearly
all
abortion
care
The landscape of abortion access has changed over the past year in a series of whiplash-inducing fits and starts. A small wave of trigger bans took effect immediately after the decision in Dobbs v. Jackson Women's Health Organization, while others were delayed by waiting periods or legal challenges only temporarily. Legislators introduced deeply unpopular new abortion restrictions, some of which, such as measures that would prosecute abortion seekers for murder, thankfully didn't pass. Others, like a 12-week ban in North Carolina, became law after being framed as a reasonable compromise even though they are transparently not.
Altogether, at least 14 states have banned nearly all abortions. Another dozen could follow in the near future, and there's always the possibility that if Republicans emerge victorious in the 2024 presidential election, they could pursue banning abortion at the national level. But with every new threat, there have been efforts to protect and expand abortion access: 20 states have passed new measures to enshrine the right to abortion, shield patients and providers from prosecution, or invest millions in funding for abortion care.
Missouri was the first state to ban nearly all abortions after Roe fell. In March, a mother living in the Kansas City area whom we'll call Anna found out her second child was diagnosed with fetal lower urinary-tract obstruction, a condition that is almost always fatal. She had to travel to both Washington, D.C., and Kansas to complete her abortion.
"I was very anxious for the anatomy scan; I was 20 weeks and four days pregnant. The whole drive there, I was on the verge of tears. After the scan, my doctor said, 'I'm sorry — it's not good. But I'm going to take care of you.' I lost it. She told us that the baby's bladder was very enlarged; he had very low amniotic fluid. The concern was that it was due to lower urinary-tract obstruction (LUTO), something blocking his bladder from releasing. She never mentioned termination.
My follow-up was the next Monday. The night before, I had been reading medical journals and found parents on Instagram that had babies born with LUTO. If he had it, the most humane thing we could do for our child would be to terminate. I had a discussion with my husband, saying, 'I want to be on the same page when we go into maternal-fetal medicine.' He was like, 'Things are going to be fine. We don't need to have that discussion.' It was the only time through all of this that I yelled at him. I said, 'I need to know that if it comes to it that you would be willing to do that with me.' He said he would.
The maternal-fetal specialist confirmed that the baby had LUTO. The prognosis was grim. The specialist was trying to give us honest answers but choosing her words incredibly carefully. My gut was that she didn't know where we stood on abortion and didn't want to get in trouble. Once she said termination was a possibility and I tried to convey that it was the decision that we were going to select, she was more open. She said that within a month or two, he would die naturally — he would be old enough to feel pain.
If we elected to terminate, I could try the Kansas side of Kansas City. Given my gestation, it would be iffy that they would even be able to get me in on such short notice. That procedure would be a dilation and evacuation, but I couldn't do it. I had been feeling him kick, we bought nursery furniture, we had been looking at names — he was already part of our family. The other option was to receive an injection to stop his heart and then I would be induced and give birth vaginally. We would have to travel farther for that. My doctor was going to call her contacts in New Mexico. The maternal-fetal-medicine specialist had a contact in D.C. That's how they talked about them: contacts.
We decided that we were going to terminate in D.C. They told me it was going to be $792 for the procedure, but given the state that I live in, they recommended that I don't use insurance so that it didn't create a paper trail. They asked when we wanted to schedule; it seemed like such a simple question, but really what it meant was, What day do you want your baby to die? They could get us in as quickly as the next Monday.
My mom would stay with our 4-year-old. A family member had a lot of airline points, so they could get us to Baltimore for free. Another wrote my husband a $1,000 check to pay for the procedure. We had all the support in the world and it was still alienating. It really felt like I was navigating the black market like some sort of criminal. I'm grieving the loss of my child, and I'm having to remember what doctor I can talk to. Okay, we're on a recorded line, so I need to really carefully choose my words and inflection and pauses so that they can get what I'm saying without the actual words coming out of my mouth. I didn't want to put anyone who was trying to help me in harm's way. I didn't want to put myself in harm's way.
Our flight was early on a Wednesday. We got to Baltimore; we got our rental car; we got to the hospital. Then we just sat there for a second, looking at each other in the garage. This is it. We gave each other a kiss, and we walked into the hospital hand in hand. The maternal-fetal resident said she was sorry. She did an ultrasound to confirm what my doctors had seen. The specialist came in, put iodine on my belly. I'm on the exam table; my husband is up by my head, holding my hand. They are down at my abdomen with the ultrasound machine, and they stick the needle in. It felt like a normal shot. Once they inserted it through my uterus, I felt tingles go all the way down my legs. I lay there with my eyes closed, trying to stay as still as humanly possible and to breathe. It was about a two- or three-minute procedure. They removed it and said that they got right where they needed to be and for us to go have lunch, then to come back to confirm the fetal demise.
We went and had Panera and then we decided to walk the grounds. Then we went back, and they told us that it didn't work. About 95 percent of the time, it works within two hours; but it is a time-delayed medicine, so while they're confident it would work eventually, they couldn't send us back to an unfriendly state without confirming fetal demise. They weren't sure what would happen to me if we got back to Missouri and there was still cardiac activity.
They gave it another 30 minutes before the specialist decided that we needed another injection. This one hurt much, much more. She had me lie on the table for another 30 minutes, and when she came back in, she still couldn't confirm it. But she said, 'At this point, one or two beats per minute is low enough that I feel comfortable sending you back. Plus you need to go get on your flight.' She gave us a hug and told us she was sorry that this was happening. We landed in Missouri and then drove 45 minutes back to our house. All in all, it was about a 21-hour day, flying halfway across the country and flying back.
On Thursday, I lay on the couch most of the day. I had minor contractions every ten-ish minutes. We hung out with my parents and had a lazy day while waiting to go to the Kansas hospital on Friday. There would be less red tape and questions that we would have to maneuver there. When I checked in, I said, 'Hi, my name is Anna, and I'm 23 weeks pregnant.' And then I started crying and said, 'We couldn't find the baby's heartbeat this morning.' It makes me angry that we had to have some sort of story.
We confirmed fetal demise and waited for a while. The nurses were wonderful. Eventually, it was time to deliver. His skin was red, but he just looked like a baby, not fully formed yet. His eyes were still fused shut, and the bones in his head were very soft and easily moved. But you could see his arm muscles; you could count all of his fingers, his little mouth. The only thing that looked different than what you would expect was his abdomen. It was huge and discolored. My medical records state that there was no amniotic fluid, and if there was, it was indistinguishable from my blood. He was about to die regardless of what we did.
The hospital has a thing called a 'cuddle cot,' which is a bassinet with a cooling sheet underneath it. It slowed the decay down so that we could have as much time as possible with him. On Sunday, the nurse came into the room, and I wrapped him up into his blanket. I put his hat on, kissed his forehead, and told him I loved him. Then I laid him back in his cuddle cot, put on my coat, and was wheeled out.
One of the aspects that we had to weigh very heavily was, What about our other living child? What kind of life is it for him not to be able to go to school some days because he risks picking up a minor childhood illness and bringing it home to his brother on immunosuppressants for a kidney transplant? What kind of life is it for him never to see Mommy and Daddy together and always see us stressed? What would it do to our marriage for one of us to always be at the hospital, one of us having to give dialysis 12 hours every night? Abortion is often looked at as a selfish choice. It would've been more selfish to continue with the pregnancy and to make this unborn baby fight so hard every day just to stay alive."
More
than
25,000
fewer
abortions
were
reported
#WeCount, a research project coordinated by the Society of Family Planning, has been tracking abortions in real time in an effort to better understand the impact of the shifting access landscape after Dobbs on abortion seekers. There were 25,640 fewer abortions in the first nine months post-Dobbs compared to April 2022, according to the most recent report; there were decreases in the number of reported abortions in the U.S. in seven out of those nine months with January and March 2023 experiencing an increase. The researchers noted that seasonality, abortion providers increasing their capacity to serve patients, a decline in stigma around abortion, and an increase in funding and practical support might have contributed to those spikes.
The Brigid Alliance, a national organization offering practical support, helped 30 percent more clients in the first nine months after Dobbs compared to the same period before the decision. "Our clients are traveling farther. They travel an average of 1,300 miles round trip to get their abortion care," said Serra Sippel, the organization's interim executive director. Not including the cost of the procedure, she said the average cost of an itinerary for each client is around $1,400.
States
that
allow
abortion
couldn't
absorb
all
the
need
from
states
that
banned
it
There were around 93,575 fewer legal abortions in states that banned the procedure in the first nine months following Dobbs, while that number rose by around 69,285 in states where abortion is allowed, according to #WeCount estimates provided to FiveThirtyEight. While these figures signal that most patients were able to access abortion within the health-care system, it's unclear if the remaining 25,640 abortion seekers were forced to continue their pregnancies or accessed abortion in another way.
Providers in states where abortion remains legal have done their best to absorb the overflow of patients from out of state — which has pushed appointment wait times in certain areas out to four-to-six weeks — and some clinics have relocated from hostile states to places where they can continue offering abortion care. But the need is simply too great: #WeCount's data shows the increase in abortions in states where it's legal has not made up for the huge decrease in abortions in states that banned the procedure.
Kelly Flynn oversees four abortion clinics, three in North Carolina and one in Florida, as CEO of A Woman's Choice. The clinics have served as critical access points, but that could change soon: Starting July 1, North Carolina will ban abortions after 12 weeks, and Florida's six-week ban is expected to go into effect pending a state–Supreme Court decision this summer.
"It's been a logistical nightmare. We had 1,500 calls in one week from patients in Georgia when their six-week ban went into effect. We're trying our best to keep up with patients' needs and offer the quality care that they deserve by increasing our staff numbers, increasing the hours that we're at the clinic. We've been at the clinic till midnight, one o'clock. Our physicians are tired. Our staff are tired. There's a big burnout happening, but they understand the value behind it.
Patients are going to find a place to go, but it's so unfair that they have to travel so far. We had a patient that drove 16 hours recently. Another drove to our Greensboro office; they left late at night, coming from Alabama, so she could make her appointment at nine o'clock the next morning and so her boyfriend could get back to Alabama that night so he could get back to work. That was a ten-hour drive. In Florida, we will — if it's sustainable — stay open and see patients according to the laws. So many people don't know that they're even pregnant at six weeks. That's the scary part, where you've got your young people, your poor people, the people that are like, Oh, shit. Now what? Then by the time they get to the clinic, they could be right at that line and it's like, 'Shoot. Well, tomorrow you'll be six weeks. I can't see you.'"
Unclear
abortion
laws
made
it
harder
for
people
to
get
care
In the absence of Roe, abortion policy is in the hands of state courts, which has sown chaos for patients and providers in some states. In Indiana, a near-total abortion ban was in place for a week before it was blocked, while in Ohio, a six-week ban was in effect for three months before it was put on hold indefinitely. In Wisconsin and Arizona, confusion over whether abortion bans dating back to the 19th century could be enforced added a new layer of turmoil. #WeCount found that states that had a lack of clarity around whether terminating a pregnancy was legal experienced a steady decline in abortions, even after the situation became more settled. In Arizona, for example, there were 1,410 abortions in April 2022. That number declined to only 230 in July, and by December, weeks after the state attorney general said he wouldn't enforce a near-total ban, there were 870 abortions — about half of those provided pre-Dobbs.
Erika Christensen is a longtime abortion advocate who specializes in helping patients who, like her, had an abortion later in pregnancy. The 42-year-old Arizona resident found out she was pregnant during the fall, when the state's abortion laws were in disarray. Unsure whether she'd get the maternity care she'd need to safely continue her pregnancy in Arizona, Christensen opted to terminate in California. 
"We were taking a surprise trip with our 5-year-old to Disneyland. We took the seven-hour drive from Arizona. Then I started to throw up, and I was like, Oh, no. So I bought a pregnancy test. In the bathroom at Disneyland, sure enough, I learned I was in fact pregnant.
I was sitting by the pool, Googling prenatal care in our area in the middle of Arizona, which is pretty rural. We don't have a hospital close by. I have a history of high-risk pregnancies: I need an OB; I need a maternal-fetal-medicine specialist for my health. In Arizona at the time, our abortion laws were a shitshow. It was chaos. People didn't know what the law was. We thought maybe it was a near-total ban from 1864; maybe it was a 15-week ban that lawmakers had passed. There were cases running through the courts. There were terrible waiting times at clinics because some weren't providing care while others were. I also wasn't sure that I wasn't over 15 weeks. I had discovered a pregnancy previously at 16 weeks, so I didn't assume I was early in my pregnancy. We decided that taking all things into account — where we are, what we're doing, what our lives look like — we would go forward with an abortion.
I searched clinics in California where we were. People don't know this, but Disneyland is surrounded by abortion clinics. We told our kid that I had to go see a doctor on our way home. I got to the procedure room, and I had a moment with the doctor and the anesthesiologist where I said, 'Hey, I have to go back to Arizona after this. I have a history of retained tissue, just because of the way my body is shaped from pregnancy loss. Please make sure you get everything because I have nowhere to go if you don't.' And they were like, 'We get it. We see people from Arizona all the time. We're going to take care of you.' I went to sleep. Fifteen minutes later, I woke up not pregnant anymore. After that, I drove home for eight hours with my family, and that was it. It definitely was not lost on me that I traveled for an abortion before Dobbs and I traveled for an abortion after Dobbs. Traveling for an abortion in the third trimester didn't feel more reasonable and righteous than traveling for one in the first trimester."
Dozens
of
clinics
stopped
offering
abortions
…
In the first 100 days following Dobbs, at least 66 clinics in 15 states stopped providing abortion care and 26 closed down entirely, according to the Guttmacher Institute. Once an abortion clinic closes down, reopening later is a herculean effort. Just look at the aftermath of HB 2 in Texas a decade ago: After lawmakers imposed onerous and unnecessary requirements on abortion providers, 22 of the 41 clinics in the state shuttered. By the time the Supreme Court struck down HB 2 in 2016, only four of those providers returned.
Many abortion providers also offered other types of low-cost reproductive-health care to their communities, and it's unclear who will fill that void. Crisis-pregnancy centers — sham and unregulated anti-abortion organizations that offer free pregnancy tests, ultrasounds, and counseling — are likely to take advantage of this landscape. Even prior to Dobbs, CPCs outnumbered abortion providers three to one. There are providers that have chosen to stay put and pivot to offering other health-care services even though the financial and logistical challenges are steep.
➼ Read more about Dr. Yashica Robinson and the Alabama Women's Center here
…
As
violence
against
abortion
providers
increased
Violence against abortion providers had been rising in recent years, but those threats worsened in the aftermath of Dobbs, particularly in states that protect abortion, according to a report from the National Abortion Federation. The attacks have continued into 2023: In Illinois, a man firebombed a Planned Parenthood clinic because a former girlfriend got an abortion against his wishes, and a new independent provider was damaged twice in the span of a few weeks — first when a man repeatedly rammed his car into the property and later when another person tore down the temporary repairs.
A Planned Parenthood clinic in Kalamazoo, Michigan, was targeted last July by an arsonist who had a history of calling abortion "genocide" on social media. The incident caused about $30,000 in damages, and the man responsible was sentenced to serve five years in prison. The clinic had been set on fire by an arsonist once before, in 1986, causing about $750,000 in damages. "It was a very different time, when there were also high levels of harassment against abortion providers," said Dr. Sarah Wallett, chief medical operating officer for Planned Parenthood of Michigan. 
"When you hear there's a fire, people don't automatically assume that it was arson. But given the work that we do, that was the only thing I could imagine it would be. We were really lucky that this happened on a day when our health center wasn't open and there weren't staff and patients in the building. There was damage to some of our non-patient care areas and some smoke in the building that we had to mitigate, but we were able to reopen to patients a couple of days later. Since the Dobbs decision, we have seen our number of patients from out of state significantly increase; we see patients from as far away as Texas and Louisiana and Florida and every other place you can think of that now has abortion bans or very significant restrictions in place. Sometimes Michigan is the only place that they can get to.
The harassment and violence has gotten worse over time, as public figures have talked about abortion negatively and in really stigmatizing ways. It makes the staff and patients worried for their safety. Harassment can also happen on a smaller level: mail to people's homes, the inability to talk about your work in a way that people who have other jobs can. It's really important that we keep telling everyone that this is not normal. It is not normal for health care to be criminalized. It is not normal to have to leave your state to get health care. It is not normal to be forced to continue a pregnancy. We do this despite the harassment because we know how crucial this is for the patients we take care of, that the work that we do helps people achieve the futures that they want."
More
abortion
seekers
are
getting
pills
online
Dobbs accelerated a shift in abortion via telehealth that began at the start of the COVID-19 pandemic. Back in 2020, there were no virtual clinics providing medication abortion, according to a new report from the University of San Francisco's Advancing New Standards in Reproductive Health (ANSIRH). But in 2021, 32 virtual-only clinics cropped up; that number jumped to 69 in 2022 with telehealth providers offering abortion care in 23 states and D.C.
These virtual clinics offered about 9 percent of all clinician-provided abortions in the nine months after Dobbs, an increase from 4 percent in the two months preceding the decision, according to #WeCount. That number does not include people who have sourced pills from outside the formal U.S. health-care system to self-manage their abortion. According to research by the Self-Managed Abortion Needs Assessment Project (SANA) at the University of Texas at Austin, Aid Access, an international abortion-pill provider, received roughly 3,000 more requests for pills in July and August 2022 — more than double the typical rate prior to Dobbs. SANA does not publish the number of prescriptions filled owing to legal risks, though, so those figures don't translate into actual abortions.
Melissa, a mother of seven living in Arizona who asked that we use a pseudonym, self-managed an abortion that isn't reflected in these statistics. She'd long opposed abortion — until she learned in April that the child she was expecting had trisomy 18, a rare genetic disorder that is usually fatal. Arizona has banned terminations for genetic reasons since 2021.
"In February, I found out I was pregnant. It was planned. I have seven kids; my 11-month-old is a twin, but we lost his twin, a little girl, at 15 weeks. And I was like, 'Well, I want to try again.' I had my first doctor's appointment in March, and I found out it was twins again. But there was a smaller sac, and that second baby had a weak heartbeat. We went back at seven weeks, and that baby had passed.
I started seeing a maternal-fetal-medicine specialist because of my history of pregnancy loss. At about nine weeks, they found a third baby, but it had also passed inside the same sac as my live baby. I couldn't do a noninvasive prenatal test for genetics because it might pick up their DNA instead of the live baby's. At 12 weeks, they wanted to do a scan to check the nuchal fold on the baby's neck. At that visit, they told me my baby didn't have a nasal bone. I thought I would keep the pregnancy. This baby was going to be different. After, I went in to have a chorionic-villus-sampling test, where they take a sample of your placenta. Then they called me to say that the baby had trisomy 18, which is incompatible with life.
I used to work as a patient-care tech in a hospital in the mother-baby wing. I had a mom who delivered a trisomy 18 baby. The baby, I thought, would not live past the first shift that I worked. I worked three night shifts in a row, and the baby was still alive. But it was struggling to breathe, struggling on its own fluids because its esophagus didn't connect to its stomach. It was tragic. I'm just somebody from the outside going in to check the mom's vitals, and I saw how bad this was.
When the doctor on the phone was like, 'Your baby has trisomy 18,' I was like, 'Okay, so what can you guys do? I cannot have this baby. She's going to struggle.' And then they were like, 'We're sorry. Arizona doesn't allow us to help end the pregnancy for genetics, no matter what stage you're in.' I was shocked."
➼ Continue reading Melissa's story here
Patients
and
providers
fight
back
in
state
court
Reproductive-rights groups and abortion providers have often taken the fight for abortion rights to the courts, and that strategy has intensified post-Dobbs. As of early June, 40 cases had been filed in state courts against abortion bans. Most of those challenges are still making their way through the legal system. Among them are plaintiffs who have sued several states on the grounds that abortion bans violate their religious beliefs. And in the first case of its kind, 13 women who were denied abortion care (and two doctors) sued Texas over its trio of overlapping bans, which outlaw terminating a pregnancy except in narrowly defined medical emergencies. People who have had an abortion, or been denied one, may shy away from coming forward with their stories due to stigma and fear of prosecution; speaking out in Texas, where those who help abortion seekers can face steep legal and financial consequences, is a bold act of bravery.
Samantha Casiano, a 29-year-old mother of four who is one of the Texas plaintiffs, was forced to continue her pregnancy after her daughter Halo was diagnosed with a serious birth defect. Halo was born at 33 weeks in March and died four hours later in her father's arms. 
"We were all Team Girl. At the 20-week ultrasound, I found out we were having one. I was excited. The lady was checking my belly, we were conversing great, and then it went quiet. I don't even remember when the doctor came in. She told me, 'Your daughter has anencephaly.' The first thing that comes to my head is, Okay, she's going to need surgery. I'm thinking maybe she has a cleft lip — something like that. But then she told me that my daughter's skull and her brain is not fully formed and that she would pass away shortly after birth.
I felt like I was dreaming. I went up to see my OB and I was crying. My OB told me she was sorry. She hugged me. I couldn't even catch my breath. I asked her what my options were. She said, 'Well, you don't have any options. You're pregnant.' And I looked at her like, Wait — what? And she said, 'I'm sorry. Because of the new law, you have to go on with your pregnancy.' I immediately called my husband, and he was at work and didn't understand anything I was saying. A lady came in and said she was my social worker. She handed me a paper that said Funeral Homes on it. I spoke to my sister about other states where you're allowed to have an abortion. I called a few people, but I was already at 20 weeks. Either way, how am I going to go do this? I had to work. I didn't have babysitting. It was a lot of money. I'd have to get a rental car. We'd have to get somewhere to stay. It was just a lot. Having to come up with that much money at one time was mind-blowing. We were not able to do it. I felt like my hometown should have been able to provide that for me. I live here; I'm born and raised here. I feel like Texas failed me.
After that appointment, everything was horrible. I had to go to work and then people asked me about my baby, my belly, 'How far along are you?,' 'What are you having?' My daughter was in prison inside of me, and I couldn't help her. What did we do that was wrong, that we had to get punished? I would not wish it on my worst enemy, to go through the pain that I had to go through. To wake up in the morning, feel my daughter's kicks, and know that it's just her nerves. I'd have to wake up and spend my whole day knowing I'm carrying my daughter who's just going to die.
She came early, and we were not prepared at all. I will never forget how she was gasping for air and her eyes were bleeding. I felt she was in so much pain. The doctors were telling me she's not in pain, yet they gave her morphine. Halo went through way more than she needed to go through. It was cruel. It was torture.
I joined the lawsuit because other women shouldn't have to go through that. Other babies like Halo shouldn't have to go through that. Every day, I had to tell myself, Samantha, just take a deep breath. It's not going to fix anything, but it helps. I got on antidepressants. It's not going to fix me, but it's going to help something. My kids took it hard, but they understand that Halo is in Heaven now. My husband has to go back to homes that he's worked on and they're like, 'How is your wife? Did she have the baby?' And then he has to tell them, 'Oh, Halo's passed on.' I told my husband I couldn't do that ever again. So I went ahead and got my tubes removed — that's one decision that I can make for myself that Texas can't take from me."
The
invisible
costs
of
Dobbs
We're still light-years away from understanding the totality of how the overturning of Roe has impacted people's lives. Dr. Katrina Kimport is a qualitative medical sociologist at ANSIRH who focuses on gender, health, and reproduction. After Dobbs, she's been thinking about the less obvious consequences of anti-abortion laws that may prove impossible to measure. "When we're looking at some sort of tally around demand or need for abortion, it's harder to capture at what cost," she says. "We expect people who have very few resources to survive on what we can tell is an inadequate amount of resources and to experience the emotional strain of having to do the impossible. There's a lot less attention paid to that."
The emotional cost of traveling for an abortion: Kimport previously interviewed patients who traveled to get an abortion later in pregnancy. What her team found serves as a preview of what to expect in a post-Dobbs world. "A lot of people have never left their home state. The places that people are traveling to for care are very different from the place that they live in already. That could be totally unfamiliar and very stressful. You're away from your support networks," she says. "People have talked about how stressful it was to be away from their children. Some people have to disclose their abortion decision earlier than they might have liked to or to people whom they might have kept it private from otherwise. People also felt explicitly cast out by their home state: These laws are drawing a line between you and what you need and your community."
How delays in getting an abortion impact patients: Anecdotally, the post-Dobbs patchwork of laws has been forcing patients to obtain care later in pregnancy than they'd want. "There's some very practical physical experiences of that. Some people have really serious morning sickness, including clinically diagnosed hyperemesis gravidarum," Kimport says. She also wonders how being denied care could have longer-term health consequences on abortion seekers, similar to how the strain of racism and microaggressions affects physical and mental health.
How many people are choosing not to get pregnant: While she's not sure how a researcher would measure it, Kimport suspects people are choosing not to get pregnant out of fear that, should something go wrong, abortion bans would deny them the care they need. "I think this is likely to affect the population of people who anticipate high-risk pregnancies — maybe somebody who had a previous pregnancy that resulted in preterm pre-viable rupture of membranes (PPROM). Or people who have concerns about having a serious fetal health issue and whether they would be permitted to seek abortion care in that case," she says. "I think there are a lot of people who are going to judge that pregnancy is no longer a risk that they can take on. This is how people are going to manage the uncertainty: One way is to opt out."
How Dobbs will shift people's politics: As was the case with Melissa, having to seek an abortion can fundamentally change the way someone thinks about abortion rights. In Kimport's interviews with patients who had abortions later in pregnancy, she was struck by how a large portion of them identified as activists and pointed to their abortion experience as the catalyst. "They had this horrible experience of not only having to travel and whatever ways people react to them but the cost and all of these burdens. Then to turn around and see politicians talk in ways that were so disparaging of them, their family, and their choices … They just have very strong reactions to that," she says. "Now we're seeing a shift in how vocal some people will be in support of abortion rights, even in states where it's been banned."
The Cut offers an online tool that allows you to search by Zip Code for professional providers, including clinics, hospitals, and independent OB/GYNs, as well as abortion funds, transportation options, and information for remote resources like receiving the abortion pill by mail. For legal guidance, contact Repro Legal Helpline at 844-868-2812 or The Abortion Defense Network.