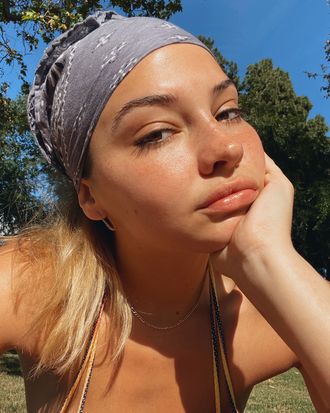 Photo: Courtesy of Madelyn Cline
Pogues for life! Outer Banks, Netflix's treasure-hunting murder mystery, is officially on for a second season. And like her co-star Caroline Arapoglou, Madelyn Cline is anticipating more 12-hour days filming in the humidity of Atlanta.
Cline plays Sarah Cameron, one of the show's main characters. When she was cast, the 22-year-old realized she would have to drop the clindamycin and retinoid she's been using for cystic acne since she was 13. "Retinoids and sun exposure do not mix," she says. But she didn't want her acne to return. "My skin was incredibly oily and problematic, and I would get large painful cysts all over my face and my back," she remembers. The experience was made worse by "prettily packaged salicylic acid acne products" that promised relief but instead irritated her skin even more.
So she set about creating an alternative plan. "I focus on the active ingredients in a product," she says. "For cleansing, the active ingredient that has been most effective for me is benzoyl peroxide. For pigmentation and anti-aging, I look for hyaluronic acid and vitamin C, and for dryness, I look for vitamin E." She generally avoids heavily scented products, though she'll use products with fragrance if she finds they don't aggravate her skin. Exfoliating products with "granules" or "beads" are also a no, as they've been known to cause micro-tears in the skin.
The other half of her skin-care routine is simply just being grateful for her skin and reminding herself that breakouts are perfectly normal. "It's obviously never fun to have stubborn acne onscreen — especially on Outer Banks when I'm wearing heavy makeup for 12 hours every day in 100 percent humidity," she says. "But at the end of the day, everybody gets pimples. Breakouts don't diminish your beauty, baby."
Read on for her current routine, including her favorite acne stickers, the face oil that doubles as a good base for makeup, and the pricey vitamin C serum that's "100,000 percent worth the hype and the splurge."
The Cleanser
"I've been using this product for years. It was recommended by my dermatologist for cystic acne, and I've been incredibly happy with how effective it has been even into adulthood. I would much rather use this versus a gentler face wash because I know that it's deep cleaning my skin. After I use it morning and night, there is a notable difference in the size and oxidation of blackheads on my face. Warning: It is very drying, and it took me several weeks to adjust, but once my skin acclimated, it really helped to keep most of the breakouts at bay."
The Essence
"I haven't been using this essence for too long, but I have already noticed a difference in the brightness of my skin tone. It's basically a superfood for your skin. It's a great base for your serums and moisturizers because it enhances your skin's barrier functions, which helps it retain moisture. So far it hasn't caused any irritation, and its ingredients are noncomedogenic. 10/10."
The Vitamin C
"This is 100,000 percent worth the hype and the splurge. It's fantastic at protecting against UVA/UVB rays and environmental pollutants, which is why I started using it in the mornings before I moisturize. I've noticed that since I've started using this — I've been using it for about two years now — my skin doesn't scar from breakouts like it used to, and it smooths my skin tone. I love it so much that I can even get past the fact that it smells like bacon."
The Face Oil
"This is also a product I started using relatively recently. It's a wonderful gentle oil with no harsh ingredients, and I've noticed that my face has become so much softer as a result of using it. All of the oils — virgin rose hip, argan oil, apricot oil — are lightweight and noncomedogenic, and I find that it is a great base for makeup. It's not too slick at all. A little goes a long way."
The Moisturizer
"This is an anti-aging moisturizer that helps build your skin's protective barrier up with the help of little miracle workers called lipids. Even though this product is labeled anti-aging, I figure why not reinforce my skin's barrier while I'm young? Especially because we spend a lot of time in the sun for Outer Banks, and the subsequent sun damage that comes from that, I use this product religiously as the last step in my nighttime routine to keep my skin's barrier as strong as possible — I know moisturizer last is a divisive topic."
The Mist
"I. Love. This. Spray. I spritz it on my skin throughout the day, on top of my makeup, or over the top of my moisturizer morning or night. This is especially a life saver for me living in L.A., because the climate is so much drier than the climate I grew up in. I'm used to humidity providing moisture for my skin, so this gives me a substitute for that with the added benefit of aloe and green tea. The aloe provides added hydration and the green tea gives an antioxidant boost. It also smells great, and even though it is scented, it has never irritated my skin."
The Spot Treatment
Photo: Ji Sang Chung/@essostudios
"Whenever I get a nasty breakout, these are my go-to spot treatment. I primarily wear them at night, but you can absolutely wear them during the day. What's great about them is that they are slightly translucent so when you put them on, they kind of blend into your face and blur the appearance of a pimple. They're great as an anti-inflammatory, and after wearing one for an extended period of time, you can see the stuff that comes out of your pores — gross but also satisfying."
The Lip Balm
"Again, I've been using this product for years. I've tried so many lip balms but I always come back to this one. It's a skin salve meant for cracked or extremely dry skin so I figured I would try it for lip balm, and it's wonderful. I like to use it as a lip-gloss alternative because it gives my lips a high sheen. It isn't fragranced, and it's effective."