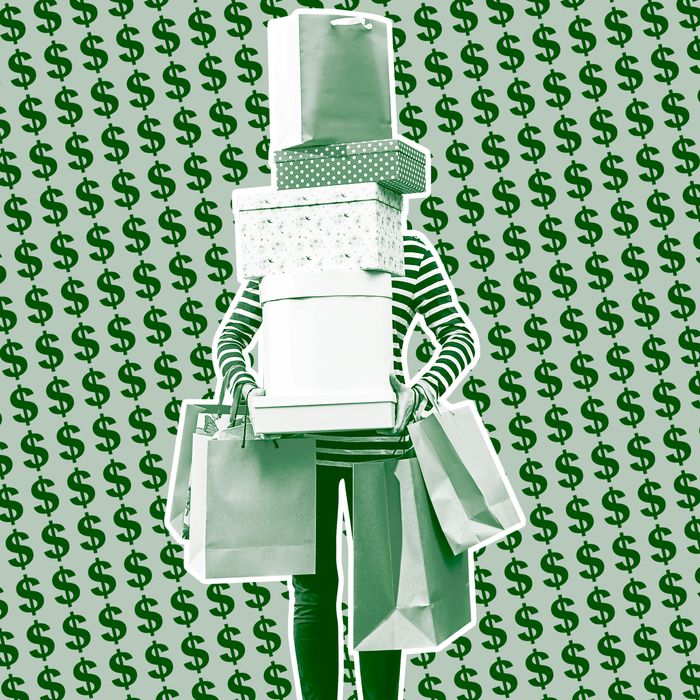 Photo-Illustration: by The Cut; Photo: Getty Images
BNPL services ("buy now, pay later") took off in the early days of the pandemic when people were buying everything from Pelotons to office chairs to groceries online. The appeal was obvious: With so much economic uncertainty, why would you part with a chunk of cash when you could spread out payments over a period of time with little to no interest? I remember considering the downsides of buying an air fryer with Klarna; there were none I could think of.
I wasn't alone. Between 2019 and 2021, the number of BNPL loans in the U.S. from the top five lenders (Klarna, Affirm, Afterpay, PayPal, and Zip) ballooned by nearly 1,000 percent, according to a 2022 report from the Consumer Financial Protection Bureau. Since then, other fintech giants like Apple Pay and Shop Pay have jumped onboard too.
Each BNPL platform has a slightly different system, but the core business model is basically the same as an old-school layaway loan — you hand over your financial information and pay for a purchase over a fixed period of time. Many people regard these as lower-cost alternatives to credit cards and find them easy to use. But sometimes they're too easy. Research has found that customers who use BNPL tend to spend more than those who don't. And with a growing customer base comes growing delinquency rates as well.
What happens if you can't make your payments? Here, three people talk about how they've managed their BNPL habits and what they've learned along the way.
"I know it was irresponsible of me, but I just tried to put the payments out of my mind because I was already under so much stress." —Mia, 22, restaurant server in Texas
Last fall was a rough time in my life. I was working a couple of jobs as a restaurant server, but my shifts kept changing. I've never been great with money, but it's hard to keep track of my income because it comes from different places and it isn't consistent. Then my apartment got bedbugs in October and I had to get rid of my bed and mattress and everything. It sucked.
I still don't have a real bed, but I needed to buy a new mattress so I had somewhere to sleep. I saw that I could pay for it in monthly installments over a year. I was so relieved because I wouldn't have been able to afford it otherwise. The bedbug thing was so awful that I just sprang for it without thinking that much. I think the mattress cost a little over a thousand dollars, including delivery. So the monthly payments worked out to be a little over $100, which didn't seem that bad at all at the time. I know they are charging me some interest. My credit score wasn't good enough to qualify for no interest.
I missed my first payment about three months later, after one of the restaurants where I worked closed. I was so stressed looking for new work that the payment was the farthest thing from my mind. I got texts and reminders about it, but I just ignored them because there wasn't anything I could do. They kept trying to take the money out of my bank account automatically, but there was nothing in there.
I finally got a new job, but then it was the holidays and things were slow through the winter, so I wasn't making much money. I know it was irresponsible of me, but I just tried to put the payments out of my mind. There was nothing I could do about them. I'm sure it has hurt my credit score. To be honest, I'm too nervous to check.
I did start making payments again this month because work has been picking back up. I put in $200. I still owe more than $1,000 because of the interest, which is frustrating. But I missed about five months and they didn't charge me any late fees. I'm going to try to pay it off as quickly as I can. Would I use one of these platforms again? Probably, but I don't think they'd let me. I'm not sure how much this has hurt my credit, but it might take a while to recover. I don't know what else I can do about it.
"They help you buy things that feel really out of reach. But that's also unsettling — it's almost too easy." —Julia, 23, researcher for a television network in New York
About a year and a half ago, I really wanted this ridiculous jacket. It was this small pink Moncler coat that wasn't even warm, and it cost about $900. Then I saw the Bergdorf website had a buy-now, pay-later option. I had never heard of that before, but it allowed me to buy the jacket and pay for it in installments of about $50 a month. That's not nothing, but it was doable.
After that, I didn't use it to pay for anything until I graduated from college. I got a job and moved into an apartment with a roommate, and I used Afterpay to buy all my furniture. Honestly, it was great. I love all my furniture, and I wouldn't have been able to afford it otherwise. I bought a table and a couch from West Elm, a bed from Wayfair, and some other stuff.
I think of my payments as a really expensive subscription, like a gym membership. At the peak, I think the total balance I owed was about $4,000, which was a lot. I remember seeing that number and being like, Oh my God. I don't make a ton of money — about $50K a year — and I live paycheck to paycheck, so I felt bad about that. I was paying about $250 a month toward it. I never missed a payment, but sometimes I got very down to the wire. I didn't have anything automated because I wanted to control when I was paying what and sometimes moving money around to do it. Sometimes I would try to pay things off faster just because it was too stressful to owe that much money.
My parents do not know about my Affirm and Afterpay alternate life. That's another reason I want to pay it off — because they would be horrified. After I finish, I don't think I want to use these platforms again. It's not that they aren't helpful, but it just stresses me out too much. I still owe about $1,000, and I should be done by the end of the summer at the latest.
The good thing about these platforms is that they help you buy things that feel really out of reach. But that's also unsettling — it's almost too easy.
"There are a lot of unknowns if you can't pay, and you don't know what the punishment is until you get in trouble." —Shannon, 57, freelance writer in Oregon
I've tried all the buy-now, pay-later platforms — Afterpay, Affirm, Klarna — mostly during the early days of the pandemic when I was out of work and still needed to buy stuff.
The first big expense was an indoor rowing machine, which I paid off over six months with Affirm. When I signed up, they asked for my debit-card number and a bank-account routing number. I gave them both, but I wanted to pay out of my bank account, not the account that's attached to my debit card. Then they charged my debit card instead. After a few months, I realized that I owed several hundred dollars' worth of overdraft charges. It was bad. I had to call my bank and explain it to them, and they refunded the fees. But when I called Affirm to try to fix the issue with their customer service, they didn't have anyone on staff who was qualified enough to understand and address it. It took a lot of time to straighten it out.
When the pandemic started to lift, I did what everyone else did and went to Sephora and got a bunch of new makeup and beauty products. I paid for it with Klarna over four installments. It was a couple hundred dollars, so each payment was about $100. There was one time when I had to miss a payment because one of my freelance clients was late in paying me. When I realized I wouldn't have enough money, I alerted Klarna and they were great about it. They just tacked on an extra payment, and they didn't penalize me or anything. But you have to give them a couple days' notice and be proactive.
I've used it for a couple of other big things, too. When we had those brutal heat waves last summer, I had to buy a new air conditioner, but I didn't have the money in my account so I financed it with Affirm. Then last October, I got a really great new work assignment, but it meant I needed to get a new computer. I'm still paying for it; it's about $50 a month.
I do think the BNPL platforms are a better route than credit cards because the interest rates are generally lower. But you really have to monitor it. I put all the payment dates in my Google calendar so I can see when they're coming up and make sure the money is in the right place. There are a lot of unknowns if you can't pay, and you don't know what the punishment is until you get in trouble. These things can bury you if you're not careful, and they will report to your credit bureau and try to collect if you don't pay. If you try to close your bank account, they'll keep coming after you. You can't really game the system. You have to think about whether you want to buy something that you're going to keep paying for for a year.
The Cut's financial-advice columnist Charlotte Cowles answers readers' personal questions about personal finance. Email your money conundrums to mytwocents@nymag.com.