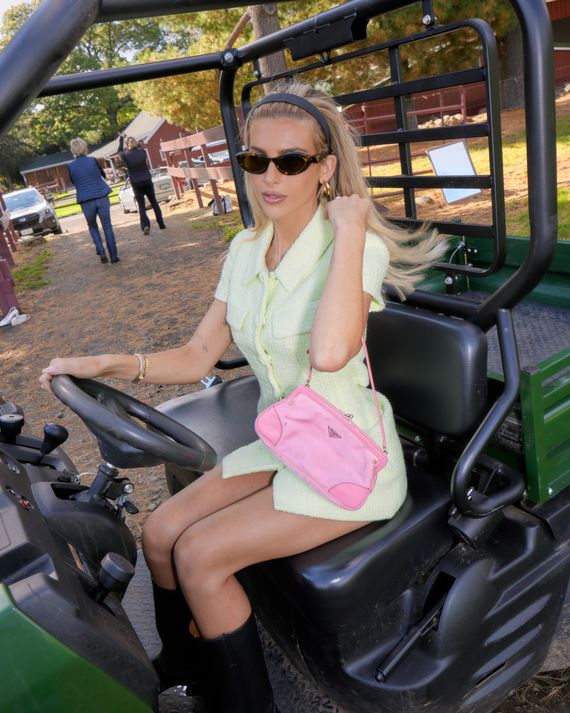 Photo: David Brandon Getting
The Connecticut tourist board should cut Paige Lorenze a check. "Getting me into Manhattan is like pulling teeth," the 25-year-old influencer and founder of the lifestyle brand Dairy Boy told me as we sank into the cloudlike couch in her home. Last year, Lorenze moved from New York to Southport, Connecticut — a suburban enclave right on the edge of commuting distance to Manhattan. The yards are big, the trees old, the driveways large enough for her Chevy and her Porsche. Gone are the days of partying in the back seats of Ubers. Her Instagram page is now an endless scroll of coastal-country porn — riding her horses, Navy and Louie, through the woods; stacks of chocolate-chip pancakes on a checked tablecloth; her silky blonde hair tied up in all kinds of bows.
Lorenze is from a small suburban Connecticut town much like the one we're in now, about a half-hour's drive north on I-95. After high school, she moved to New York to attend the New School and worked part time at the now-defunct boutique LF. "Some photographers in Soho reached out and wanted to shoot my outfits," she told me. By posting those pictures alongside more mundane images of her daily life in the city, Lorenze gained followers — about 15,000 to start, she estimated. "And then I started dating a hockey player" — Kasperi Kapanen, whom she met in 2019 — "and he was in Toronto and he had a really gorgeous apartment." Lorenze began using the home as a set for the Paige Show, and her audience liked it — her numbers shot up into the tens of thousands. After the two broke up, she began seeing Armie Hammer, who introduced himself over Instagram. (In 2021, Lorenze was one of several women to accuse Hammer of abuse.) After they split, she posted an Instagram Story with her new boyfriend, country star Morgan Wallen, backstage at Madison Square Garden. Soon after that: one with The Bachelorette contestant Tyler Cameron, whom she met at a bar. "Famous men want me — don't get it mixed up," Lorenze said on a recent episode of the podcast Sofia With an F. (The Post has described her as "the female Pete Davidson.")
Her proximity to these famous men helped her social-media following continue to grow, and by the time she started her YouTube channel in early 2020, still documenting her life in the city (a possible gluten allergy, dinner plans falling through, hangovers, sponsored fashion hauls and trips), hundreds of thousands of people were watching her videos. Lorenze was happy to make content, but she wasn't enjoying doing it in New York. "I was spending money, and I kept getting a nicer apartment and nicer furniture, but nothing was doing it for me," she said. "I mean, I know why now. I like being outside. I like horses. I like to cook." After posting some vlogs from a summer trip to Nantucket, she noticed an uptick in engagement. Returning to the city after that virality was difficult: "I was like, What do I do now?" A friend's real-estate agent happened to send her a rental listing in Connecticut a few weeks later. "I was like, That's my house. I didn't even think twice about it."
Once she moved, Lorenze's content changed overnight. She bought a pickup truck and the horses and started renovating the house. These new videos, for which Lorenze has recorded herself living an exceedingly normal life in an exceedingly suburban town — making lasagna, driving to the grocery store, ordering a Pumpkin Spice Latte at a local Starbucks — made her views soar. By the summer of 2023, she had amassed more than 500,000 followers on Instagram, 250,000 on TikTok, and 121,000 on YouTube. There's something soothing about the Connecticut content, her viewers seem to feel — aspirational but realistic. She's a tradwife but without the husband or kids. She's the girl next door but with Russian lip filler. "I love her home videos," reads one recent comment. "Seeing you change from a fast-paced life to settling down and enjoying the little things and romanticizing the little moments in life is precisely what I need to do." Says another, "I feel like I'm watching Gilmore Girls. I can't wait for more cozy fall videos!"
Recently, she has begun to parlay all those cozy good feelings into something a little more tangible. In 2021, Lorenze launched a lifestyle brand called Dairy Boy, named for her fondness for whole milk. The "About" page on its website initially described the brand as a reflection of "Paige's beloved journey as she's transitioned from the fast-paced, chic city girl back to the western-esque, wholesome woman she is and has always been." In practice, this means the site sells a $40 baby tee "attempted by many, perfected by few"; a $55 Coastline candle, "the perfect addition to your beach house"; and Lorenze's pride and joy, $165 unisex jeans. "The denim history in America is really cool to me," Lorenze told me, taking me upstairs to see the closet she's renovating. She's wearing the jeans, and inside the half-finished closet are about 100 more, each carefully hung up. "I ride in this denim. I hang out in this denim," she said. "My dad wears denim. Everyone wears denim."
This past summer, Lorenze hosted a Dairy Boy denim pop-up in New York. The timing aligned with the U.S. Open, which Lorenze's current boyfriend, tennis player Tommy Paul — whom she started dating about a year ago and who frequently makes appearances in her content — just so happened to be playing in. Despite its being one of the hottest days of the year, the line for the pop-up wrapped around several Soho blocks. Most of the women waiting to get in looked jarringly like Lorenze herself. "We invested over $100,000 in the pop-up," she told me as one of her friends turned employees came into the living room to check on what she wanted for lunch
(a grilled-chicken sandwich and a ginger ale). Almost everything at the pop-up sold out. Around the same time, Dairy Boy hats debuted at Urban Outfitters. Her team told me she's making eight figures a year from Dairy Boy alone.
In a YouTube video she posted after the launch, Lorenze brought her followers along to drink Honey Deuces at the U.S. Open. From the stadium, she took them to Carbone with Paul to celebrate after one of his matches. A few weeks later, she filmed from Paris, for a brand trip with Revolve. She and Paul recently moved into a house in Boca, where he'll be training for the winter. Which is all to say, lately she's been spending more time out of Connecticut. Something that could potentially pose a problem for someone who has created a very effective one-person reality show out of living in Connecticut. There has already been criticism. "A thing that I get is, 'How can you wear cowboy boots and be with your horse one day, then go wear Self-Portrait at Wimbledon the next?'" she said. "And I'm like, 'Who the fuck said that I couldn't?' That's a slay. That sounds like my ideal life. Or people will even say, like, 'Oh, you're fake country.' I'm like, 'If this is fake country, I want to be fake country forever.'"