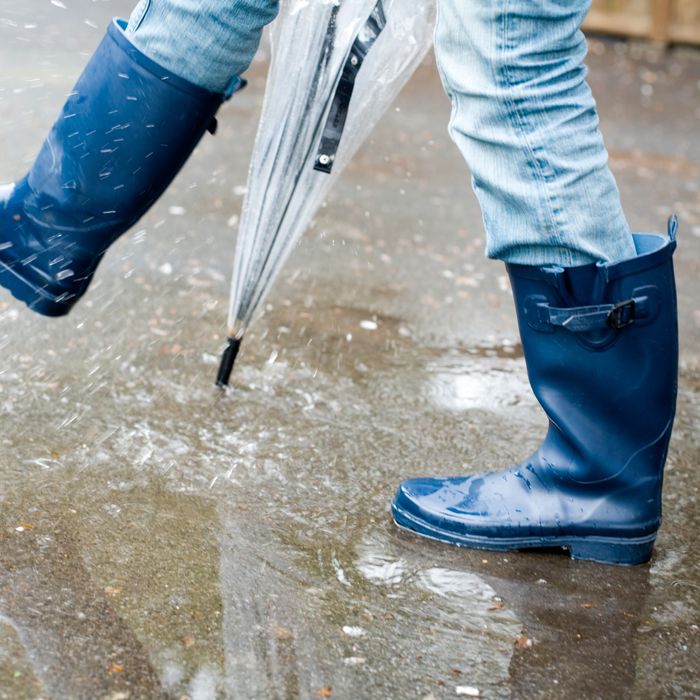 Photo: Life Boat/Getty Images
To some, my shapely, muscular calves are a blessing — I've had several guys tell me they love them — but to me, they're a curse. All my life, I've struggled with them, especially when it comes to buying a pair of boots that actually fit. The circumference of my calves runs at about 16.5 inches — too big for any conventionally sized styles, so I usually have to shop in the wide-calf department. The selection is lacking: few resemble something I want in my wardrobe.
Now that it's spring and the weather's unpredictable, I'm looking for a reliable pair of rain boots to keep my feet and legs dry through heavy downpours. I'm also planning to hit up a few music festivals and I want something that looks decent while slogging through the mud. I know I'm not the only one who finds shopping for wide-calf rain boots a tedious endeavor, so I took the liberty of trying on as many as I could for all you wide-calved women out there. Read ahead for my favorites.
These are a nice, simple rain boot. The only downside is that they were a little bit snug around the top, but if you want something minimal, these are a good choice.
The top of these boots feels a bit like a beer cozy, but that's okay because they come with Neo-Tech technology that'll keep you warm up to negative 40 degrees. They fit nicely, keeping you not just dry but warm as well, so you can wear them throughout winter.
The One That Doesn't Look Like a Rain Boot
If you want something you can wear all day at the office, these looked like the least like rain boots. The faux leather front coupled with the harness have an equestrian feel. The back is what really makes them work for wide calves: It's elastic, so there's enough give to fit most women.
While they're on the pricier end of the rain-boot spectrum, they certainly felt like the highest quality of the bunch. The back allows for a bit of stretch while the top strap has an adjustable buckle. The best feature is the Wool-Plus cushioned insole. It makes the boot very comfortable to walk in and it has odor technology, which is a godsend for stinky feet.
The One If You Like Fun Patterns
If boring black makes you miserable and you need something flashier, then these are the boots for you. The adjustable buckle on the side lets you adjust the width, and reviewers with wider calves than mine adore them.
Hunter has always been my go-to for rain boots, and for good reason: Their wide-calf versions fit excellently, and they're chic. If you're looking to spend a bit more, these are a classic choice that'll work for years to come.
Not everyone can spend $160 on rain boots, but that doesn't mean you can't still get a pair of Hunter boots. The brand partnered with Target on an affordable version of their Wellies. These zip up at the back but I can close them around my calves. Plus, I like the little asymmetrical detail at the top — it gives it added edge.
If you buy something through our links, New York may earn an affiliate commission.