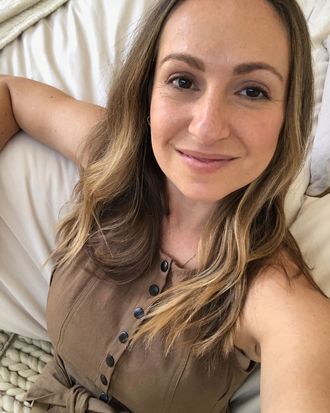 Photo: Courtesy of Ariel Kaye
Want more skin care? Join our Facebook Group, the Beauty of It All.
Ariel Kaye has the same fear as a lot of us when it comes to skin care: "That I'm doing it all wrong!" It was only two years ago that the founder and CEO of home essentials brand Parachute Home developed a routine for healthy glowing skin, in part due to her upcoming wedding. "I started getting very regular facials and learning from my facialists while paying attention to what I was seeing online," she says. Then she became pregnant. "My routine went out the window. I'm trying to bring it back!"
Over the years, Kaye has dealt with "a bit of everything." Dryness, cystic acne, clogged pores — the list goes on. She keeps close tabs on the ingredients in her products, hunting down "bad" ingredients — like parabens — using the Think Dirty app, which verifies "clean" products and brands. "I check to see how products rate on the app before I buy them," she says. "I'm definitely looking for clean beauty with quality ingredients, but also products that work. I want my routine to be simple — the easier the better. I've never been someone who enjoys a long, drawn-out skin-care routine."
Read on for the moisturizer that has improved the tone of her skin, the oil that has minimized her fine lines, and her favorite lightweight sunscreen.
The Micellar Water
"Micellar water helps my skin feel fresh and removes any residual makeup left from the night before. It both cleanses and tones and always leaves my skin feeling hydrated. I love that it's so light and gentle and doesn't have to be washed off like a makeup remover. I apply a few drops to a cotton pad, and sweep the product all over my face."
The Cleanser
"This cleanser is super creamy and makes my skin feel really soft. I apply it to dry skin, rinse, and gently blot my face with a soft towel. It leaves me feeling refreshed after a busy day. I had heard the buzz on Biologique while researching skin-care regimes leading up to my wedding. I had to see if it was worth all the hype, and it did not disappoint. Note: It does not foam."
The Moisturizer
"I've noticed that the overall tone of my skin has improved since using this product and it leaves me feeling moisture rich. I started using this product before my wedding as well and love that it absorbs so quickly — it's like I'm wearing nothing at all."
The Face Mask
"When I need a little pick-me-up and have time to treat myself, I apply Caudalíe's Instant Detox Mask. I usually leave the mask on for about 15 minutes. It's a mini-spa session! The natural clay formula evens out redness on my cheeks. I love that it tightens my pores and gives my complexion a nice glow. I truly appreciate that Caudalíe produces clean, environmentally friendly skin care."
The Mist
"I'm really into hydration these days, and this product smells amazing. The smell is very herbal and has a hint of chamomile. You have to try it! I spritz my forehead, each cheek, and the center of my face with the mist, and then take a deep breath to enjoy its relaxing scent. The mist leaves me with a dewy glow."
The Face Oil
"Osea is one of my favorite brands and is based in L.A., just like Parachute Home. We've also collaborated with Osea on products including our Sleep Time Bath Salt and Rest Linen Mist. I love that their products are really clean, and are made with natural ingredients like seaweed. I apply a few pumps to my hands, and then gently blot the oil into my skin. It's very hydrating and also has minimized some fine lines. I let everything soak in for about five minutes while I get dressed and catch up on my emails."
The SPF
"Before I leave the house, I always top everything off with a layer of sunscreen. I live in L.A., in Venice Beach, and it's very sunny every day — I can't leave home without it. It's lightweight and doesn't have a sticky feeling like some sunscreens. I always feel protected — perfect for afternoon strolls with my daughter!"
The Body Wash
"I like to shower in the evening to unwind and relax. Showering literally washes away the stresses of the day. I use Necessaire's The Body Wash in Eucalyptus. The smell is intoxicating and the rich formula always leaves my skin feeling refreshed."
The Body Lotion
"After my shower, I apply Necessaire's The Body Lotion. I like the smooth texture and that it doesn't leave me feeling greasy. Some lotions can be irritating, but I've only noticed my skin feeling more toned with a nice glow. I had been hearing good things about the brand and love that there are more and more sustainable, clean products on the market."
The Bath Salts
"When I am feeling like I need a little extra 'me' time, I take a bath with our Sleep Time Bath Salts. It was so fun to collaborate with the team at Osea and I'm so happy with what we created! The lavender smell and a warm soak ensures I will get an amazing night of rest."