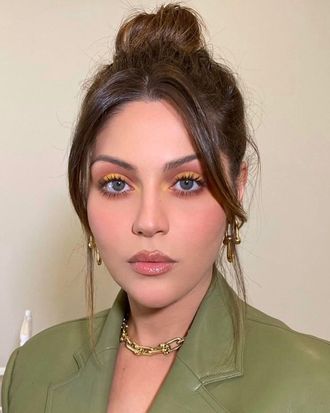 Photo: Rima Minasyan/Instagram
Makeup artist Patrick Ta is famous for his glowy monochrome looks that have appeared on celebrities like Kourtney Kardashian, Olivia Munn, James Charles, and Addison Rae. He's also known for his namesake makeup line that specializes in monochrome beauty bundles and glow-inducing mists and balms. But he wouldn't have been able to do it all without an old friend, Rima Minasyan.
Minasyan met Ta in 2013, when she found him on Instagram and hired him as a makeup artist. "Patrick made my skin look so flawless, and our glam sessions were always educational for both of us," she says. "I taught him the importance of good-quality products in both skin care and makeup, and he taught me how to perfectly apply them." Six years later, they joined forces to create Patrick Ta Beauty.
Even as a makeup expert, Minasyan believes skin care comes first. "Without a clean canvas, makeup can only do so much," she says. It's a lesson she learned only when she began seeing a dermatologist. "When I was younger, I would just purchase any new 'It' product that claimed it would solve all of my skin-care problems — mainly acne and hyperpigmentation. I tried everything from Neutrogena to Chanel skin care," she remembers. "Now, I know the importance of researching your ingredients to make sure they will be effective for your skin type." For her skin, which skews oily to combination, Minasyan loves vitamin-C serums to brighten and even out tone, and low- and high-molecular weight hyaluronic acids to smooth and plump. She also believes in applying her products from the thinnest to the thickest consistency: cleanser, toner, essence, serums, moisturizer, and face oil.
If you're unsure where to begin with skin care, her fail-safe tip is to find a good aesthetician. Her favorite is L.A.-based skin specialist John Tew, whom she lovingly calls her "skin wizard." "He uses a combination of ancient herbs with his one-of-a-kind treatments and techniques, which have truly kept me from needing any injectables," she says. "When I see him, I'm there for three to four hours — frankly, it's a beyond facial treatment that can't really be explained, only experienced. I leave learning something new every time."
Below, a look at Minasyan's intense routine, including the treatment that "dramatically" reduces the look of her pores, her "secret weapon" LED mask, and the serum she uses to diminish hyperpigmentation.
The Double Cleanse
"I love double cleansing to ensure I get all impurities off of my skin before I apply the rest of my skin-care products. I use the Elemis Pro-Collagen Cleansing Balm, an oil cleanser, first. I massage it into my skin and wipe away the balm with a warm, damp cloth.
Starting with an oil-based cleanser breaks down makeup and excess sebum without completely stripping my face of all of the good oils we want. The warmth of the face cloth opens my pores, while the cloth itself physically — but gently — wipes away the broken-down makeup and oils. My aesthetician first introduced me to this concept, and it has kept my skin balanced and glowing without irritation since."
"The second step in a double cleanse is to use a more traditional water-based cleanser. This is to provide a deeper cleanse, removing the rest of the sweat, dead skin cells, and impurities from the skin. The Fresh Soy Face Cleanser has a light, refreshing cucumber scent and keeps my skin soft. This cleanser is pH balanced, which is so important in maintaining a healthy skin barrier. I also love that it's formulated with amino-acid-rich soy proteins, which help maintain skin elasticity and texture, and cucumber extract and rosewater, which both soothe skin."
The Peel
"Twice a week, I exfoliate with Éminence Organic Arctic Berry Peel & Peptide Illuminating System. It's a three-step peel that brings out the skin's natural glow using organic ingredients.
The first step is to use the Arctic Berry Enzyme Exfoliant scrub all over my face for one to three minutes and rinse. This product uses a combination of chemical and physical exfoliation to remove dead skin cells.
Then, I spread a thin layer of the Advanced Peel Activator MA over my skin. This product is self-neutralizing, which means it doesn't have to be rinsed off. It uses a 10 percent concentration of mandelic acid to remove layers of skin to reduce fine lines and hyperpigmentation.
Lastly, I finish by applying a generous layer of the Peptide Radiance Cream, which is meant to target collagen loss, prevents signs of aging, and seal in moisture."
The Toner
"I tone with the Patrick Ta Beauty Dewy Milk Mist. It's weightless on the skin and features rose-hip-seed oil to moisturize, black-tea ferment to even out tone and texture, and witch-hazel extract to calm skin. It leaves skin looking dewy, so I keep this with me during the day whenever I need a little refresher.
Toners are used after cleansing and before serums and moisturizers to balance the skin and prepare it for other products, whereas this face mist can be used in conjunction with other toners, or at any time throughout the day to freshen up my skin or makeup."
The Mist
"I love a mist. I use this to even further moisturize and prep my skin before the serums and creams. It's a moisturizing and oxygenating mist that contains high concentrations of vitamins A and C as well as edelweiss extract, which has anti-free-radical properties."
The Serums
"I use a cocktail of different serums, oils, and acids daily to make sure I'm giving my skin exactly what it needs. After cleansing and toning, and right before my other skin-care products, I use my SkinCeuticals Phloretin CF with ferulic acid, which is great for combination and oily skin. Compared to its CE Ferulic, this one has a lower concentration of active ingredients like l-ascorbic acid and ferulic acid, so it's more gentle and better suited for people that are prone to breakouts. It also includes 2 percent phloretin, which will help the ingredients penetrate deeper into the skin, instead of vitamin E — that the CE version provides — which is an anti-aging agent.
I have struggled with acne and discoloration for years, and I have tried SO many products, from professional to drugstore brands, and have never found anything as amazing as Phloretin CF. It's helped immensely to even out tone, texture, and discoloration."
"This stuff is amazing! It's a highly concentrated niacinamide (vitamin B3) serum that tightens and dramatically reduces the look of pores, rough bumps caused by sun damage, and post-blemish marks."
"This is a powerful rehydrator for dry skin. It gives my skin a youthful-looking glow with hyaluronic acid and vitamin-rich strawberries and rhubarb. I use two to three drops and gently press into the skin with my fingertips. It smells delicious and has a thicker consistency, almost oil-like."
The Eye Cream
"For my eye cream, I'm loving the Cosmedix Opti Crystal Liquid Crystal Eye Serum, which is meant to reduce the look of dark circles, fine lines, and crow's-feet. It has a copper complex (that encourages the appearance of firmer skin), spin trap and alpha-lipoic acid (to fight free radicals), and liquid crystals (for hydration). After using it for four weeks, I have really seen a difference around my eyes."
The Moisturizer
"I recently started using the Environ AVST Moisturiser 1 after my aesthetician recommended it for my skin during the dry months in fall and winter. It contains low levels of vitamin A and C and E, resveratrol, and beta-carotene, which softens fine lines and improves uneven skin tone and the appearance of sun-damaged skin."
The Face Oil
"I prefer a face oil versus a cream for my skin to really lock in moisture and give it that lit-from-within glow, and one of my favorites is the Éminence Rosehip Triple C+E Firming Oil. The formulation includes jojoba oil, which heals issues with sebum and soothes dry skin, and sea-buckthorn oil, which is full of antioxidants that promote skin hydration and elasticity."
The Sunscreen
"My last step, and probably the most important: SUNSCREEN. SUNSCREEN. SUNSCREEN. The best way to avoid signs of aging and dark spots and something everyone should use daily to protect your skin! Before I apply makeup, the Kaplan MD Beverly Hills Daily Moisture SPF 30 Concentrate is amazing. It hydrates, combats free radicals, smooths fine lines and wrinkles, and offers sun protection all in one.
I don't reapply sunscreen throughout the day. I just put it on in the morning before I apply my makeup, but I'm crazy about the sun, so when I'm out and about, I use a UV face shield."
The Lip Mask
"To finish, I apply my favorite lip balm, the Patrick Ta Softening Lip Masque. It's beautiful on the lips and stays with me all day every day. Plus, I love the light, minty scent that comes from the peppermint oil."
The LED Device
"A secret weapon. The Omnilux Contour FACE is an at-home device that uses two wavelengths of LED light — red (633 nanometers) and infrared (830 nanometers), which are both delivered in a single session to provide the full anti-aging benefits of both proven wavelengths. I use this three to five days a week for 20 to 30 minutes with its Hydrogel Mask, which is designed to maximize light penetration into the dermis while simultaneously cooling, firming, and hydrating skin.
My aesthetician recommended this device since I needed a new at-home treatment while in quarantine. Over the past six months, I have seen a huge improvement in my skin's firmness and an overall more chiseled appearance."