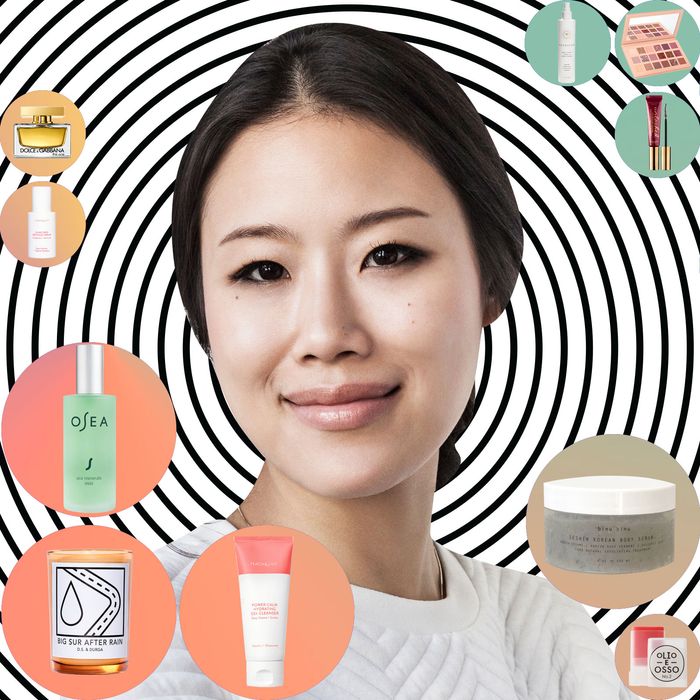 Photo: Courtesy of Alicia Yoon / Peach and Lily; Image by The Cut
On the Beauty Group, a Facebook community co-founded by the Cut and the Strategist, people chat all day long about the products they love — the ones so good they'll make you hit that little "auto-refill" box at checkout. Below, we asked one of our favorite beauty pros to share her own selections.
Any good entrepreneur will tell you: Identify and occupy a gap in the market. When Alicia Yoon followed this advice, she found herself effectively transforming one of her biggest insecurities to one of her greatest assets. Yoon grew up with severe eczema which she tried to soothe with every imaginable home remedy, bleach baths included. "There were times I felt hopeless about my skin," she remembers. She spent years poring through clinical studies, ingredients, and product formulas while chasing a solution to her "itchy, weepy skin" in aesthetician school in Korea. Eventually, she succeeded (here, she detailed her three-prong approach to eczema, inflammation, and anti-aging for the Cut.) She also wound up founding Korean beauty emporium Peach & Lily, which launched in 2012, and creating her own skin-care line under the same name.
The Harvard Business School graduate has high expectations for anything that goes remotely near her face. "My approach [before aesthetician school] was guesswork when it came to my skin; now it's hyper-methodical," she says. "I take note of every last ingredient, keep up with studies, analyze what worked, what didn't, reactions, how something felt one hour later versus one week later — foundational both for myself and for creating products for others."
The products that she loves — and that have earned a coveted spot on her beauty shelf — have an extra emotional pull. "They change more than the appearance of your skin or your hair, it's downright uplifting using them," she explains. Among them, you'll find Omorovicza's Firming Body Oil ("It's so luxurious going on, leaves skin baby soft, but there's no sticky or heavy oil left behind"), Rootree's Mobitherapy UV Sun Shield ("Literally the best sunscreen I've tried — zero white cast, so lightweight, and doesn't irritate"), and Eco Your Skin's Meso Ampoule ("When it comes to targeting texture concerns, this gives me visible results really quickly"). And though they may live in the kitchen, she readily lists sardines as a beauty shelf must-have. We are what we eat, and "healthy skin requires healthy food full of omega 3's, vitamins, and minerals." She recommends King Oscar sardines drizzled in extra virgin olive oil. Throw them over a bowl of quinoa, she recommends, and you're on your way to glowing skin.
The latest addition to her vanity — and Peach & Lily's latest launch — is a precursor to a growing K-beauty trend. "Protecting your skin from daily stressors, including pollution, is a big topic because SPF only filters out UV rays and not all the other stressors that can actually look a lot like sun damage," she says. "Beauty innovation on anti-pollution is exciting in Korea!" The Skin Shield Blurring Primer acts as both a complement to SPF and a primer for make-up, using a proprietary ingredient complex called VoluSmooth™ that is 100 percent plant-based and filled with protective antioxidants. "It not only serves as your skin's bodyguard, it leaves a beautiful smooth, blurred finish — without a drop of silicone."
Scroll on for more of Yoon's skin care, makeup, and hair essentials, including "the best thing" for swollen mosquito bites, the conditioner that guarantees frizz and tangle-free hair, and the brightening eye masks that actually help with dark circles.