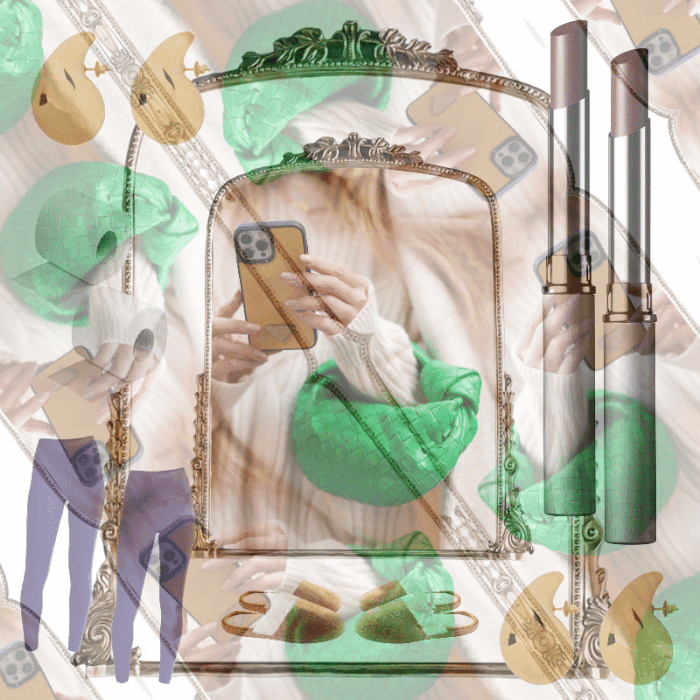 Photo-Illustration: the Cut; Photos courtesy the retailers
"Peak Dupe" is a series about the end of authenticity as we know it.
In retrospect, the mirror was always ridiculous. Bordered in faux gold and crowned with Baroque molding, Anthropologie's Gleaming Primrose Mirror is seven feet tall and costs $1,600. And yet the moment I saw it on TikTok, I was possessed by the overwhelming urge to own it immediately. I couldn't afford the real thing, so I followed one commenter's advice and searched for a dupe — a cheaper alternative that should, in theory, look as good as the original for a fraction of the price.
A brief search on TikTok revealed dozens of Gleaming Primrose dupes. The most popular video recommended one from Sam's Club for $150, but it was sold out. I kept scrolling. Overstock dupe? Also gone. Ikea's wouldn't arrive until August. The Lowe's version was $175 without molding (so just a regular mirror?). An influencer sent me to Amazon, where the mirror was available for $125.99. I was about to check out when I realized the item in my cart was an inch tall — a creepy little dollhouse mirror! Other videos suggested I make the mirror for $20 before lobbing me back to Amazon, where I finally bought a dupe from the affiliate page of someone named Juliana, who has 2 million followers. It was $100 and arrived last week. It's the wrong size and looks awful. The glass is distorted, and when I stand in front of it, I look like I'm in a fun house.
Not too long ago, my search might have been successful, back when dupe was still a catchall term for earnest, money-saving product recommendations. On TikTok, the hashtag and its mutations — doupe, doup, doop, give or take a few vowels — have amassed billions of views, comments, and likes. Influencers have built enormous followings shilling dupe recommendations in every product category, from makeup to electronics to food, and when a dupe goes viral, both it and the original product often sell out. But as dupes have taken on a life of their own, all sense of what makes a good one seems to have been lost. Today, the dupe itself is more valuable than the original, and the quality alternatives have been eclipsed by a tsunami of trash. This is Peak Dupe, when the basic rules of spending and quality no longer apply.
When the word dupe emerged from the cosmetics world in the early 2000s, it just meant duplicate. There were far fewer cosmetic brands then, and people wanted products that resembled sold-out, limited-edition, or discontinued products from M.A.C, which was the brand everyone was buying at the time. Dupe as a term "just kind of caught on," says Christine Mielke, a longtime beauty influencer and founder of Temptalia, a beauty-product review site that has been curating a "Dupe List" for the past 13 years.
The definition of dupe as a cheaper alternative came a little later, around the 2008 recession. "People would say, 'If you can't afford the M.A.C 239 brush, get the Sigma 239 brush,'" Mielke says. When the first wave of beauty YouTubers in the 2010s started making tutorials, they made accompanying dupe videos, too. It wasn't long before the concept caught on more broadly. One former influencer remembers Lululemon's $100 Align leggings, released in 2015, as the first non-cosmetic item to get widely duped. Soon, dupes took over clothing, shoes, and home goods — items without ingredient lists.
It's easy to procure dupes of some luxury products, such as these globular Bottega Veneta earrings. Other dupes, like super-fake designer handbags, take some know-how or — if you're okay with a crappy copy — an understanding of how online marketplaces like DHgate.com work. Of course, many of these dupes are just knockoffs, though no one wants to call them that. The term dupe "has less negative emotional baggage than counterfeit or knockoff even though the word encapsulates counterfeit goods and products that look like other products," an IP lawyer tells me. As another lawyer put it: "Nobody wants to be like, 'Yeah, I got this awesome knockoff.' But 'I got this great dupe' — you sound savvy."
What's weirder is that now there are knockoffs of knockoffs. Ostensibly, the dupe shopper's goal is to save money on expensive products, but scrolling through the hashtag on TikTok, most dupes are for products that rarely surpass $100. The most commonly duped products are from midrange brands such as Skims, Aritzia, and Lululemon. UGG slippers, which cost around $100, have spawned a cottage industry of look-alikes, available anywhere and at any price point, from Amazon ($70) to Walmart ($20) to the Chinese e-commerce site AliExpress ($12). Just search for fake UGGs, or FUGGs. Many duped items are totally banal, like cleaning sponges or toilet paper.
Lots of dupes don't even save you money — sometimes only a couple bucks. Some are even more expensive than the original, including this Revlon dupe of a M.A.C lip liner, this LaCroix dupe, and these dupes for Bath & Body Works candles. There is a whole corner of TikTok devoted to "fast-food dupes," where users buy and prepare groceries, a more expensive, laborious, and time-intensive process than going through a drive-through. Sometimes there is a moral argument to help justify the price: The dupe is fur free, cruelty free, or ethically made. Maybe it wants to free Palestine or is from a small brand that deserves your money — even if it's more than the original, even if it doesn't even look like the original! Such is the curious case of bootleg Nike sweatshirts, custom-embroidered items that use bastardized branding, take months to ship, and run customers over $70 apiece. Ultimately, just deeming something a dupe seems to generate demand, even if no one can really agree on what a dupe is.
I found the best dupe" is the standard opening line of millions of dupe videos on TikTok. Delivered in a conspiratorial tone, the phrase suggests that there is some special science behind the dupe-hunting process. Emily Wainwright, an interior-design influencer, is often asked to find dupes for Restoration Hardware products, a brand famous for its Cloud Sofa, a $6,000 down-filled couch owned by Kylie Jenner and several popular YouTubers. Wainwright uses Google: "I'll type the name into Google Shopping, then I'll go to the shopping tab, and then I'm kind of sifting through page after page."
If something looks like a close match, she'll click in. This will take her to more tabs — Home Depot, Wayfair, and Overstock — which she'll comb through until she finds a close enough match. Then she'll read reviews and check things like color, dimensions, and materials. Because many furniture stores purchase their products wholesale, she can even check whether the dupe is made by the same company as the original's. "It's time-consuming," she says, "but it's really just persistence." The whole process takes about 15 minutes.
For Sarah Adekola, finding a dupe "literally takes less than ten seconds." "Most platforms — ASOS, Zara, or Amazon — have a reverse image-search. It's a little camera icon. You can upload a screenshot of any luxury product, and these platforms are going to search across their products to find you a match," she says. In other words, the platform finds the dupe for you, and just about anyone with a computer and the patience to scroll can find a good dupe. They don't need an influencer, but maybe they just want to be influenced. Although Adekola is a finance influencer, she's pivoting to style to share her dupe-hunting methods. "People are like, 'Oh, do more content on this.'"
Most dupes that people tout as smart buys on TikTok are just random things they find on Amazon. The company has an affiliate scheme that encourages influencers to plug Amazon products on their socials and direct audiences to their Amazon Storefront to buy those things. When someone buys, the influencer gets a cut. "I'm always skeptical when I see #ad, #sponsored," says an influencer who recently shuttered their Amazon Storefront. "Now everyone is just taking sponsorships to make money and forgetting about their audience."
It's no wonder that when a product goes viral, you'll suddenly see 50 different content creators telling you to stop what you're doing and buy this dupe — from their Amazon Storefront, from which they earn a commission, or from this website, from which they earn a commission. Don't walk — RUN are the words superimposed on thousands of videos. The urgency works. "The products are almost always shitty," my 22-year-old sister-in-law said when I asked her about shopping Amazon Storefronts. "But you always buy. You always get influenced."
Now, even mainstream brands are embracing dupes. L'Oréal recently tapped multiple sets of twin influencers (get it?) to make ads for one of its shampoos, a dupe for a "high-end" item that looks just like one of Olaplex's. In January, the official Whole Foods TikTok posted a #DupeAlert video about the "dupe snacks" it sells: organic and gluten-free versions of Oreos, Coca-Cola, and Cheez-Its. Last month, Lululemon invited customers to a "dupe swap," where they could trade in their copycat leggings — that is, a "qualifying dupe product" — for a pair of real ones. "We saw it as a really fun way to play into something that is a real part of our culture," Lululemon's chief brand officer told CNN, "but in a way that really puts the focus back on the original."
My experience with the Gleaming Primrose Mirror wasn't unique. There are now dupes of dupes of dupes: A Shein dupe is a Zara dupe is an Aritzia dupe is a Jenni Kayne dupe is a Khaite dupe. The gulf between the Shein item and the Khaite one is gigantic — so much so that the idea of a dupe has become a joke. Someone on TikTok holds up a crappy Walmart purse: "Prada doooooupe," they'll cry, pronouncing the word in a ridiculous accent, dissolving into giggles. McGill is a Harvard dupe. The beach, dogs, and gel pens are therapy dupes. The backlash to this meme is already under way. "The dupe jokes r not funny anymore," wrote one influencer. "I find this trend super annoying," wrote another. People seem sick of dupes more generally; there's a nascent "anti-dupe" movement on TikTok, where some influencers are urging their followers to just buy the original.
"Don't get me wrong — I love a good dupe. Don't come for me. But …," one user explains in a recent video. "I spent more time and money on trying to find the most perfect dupe than I did if I were to just buy the real thing."