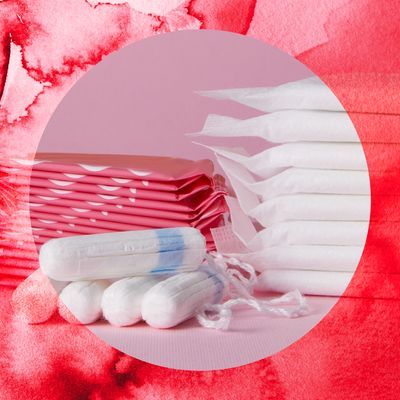 Photo-Illustration: by The Cut; Photos: Getty Images
Period products are expensive. By one estimate, they could cost you up to $18,000 over the course of a lifetime. And they aren't getting any cheaper: Thanks to inflation, the price of both tampons and pads increased 10 percent just in the past year. On top of that, 21 states still tax menstrual products as luxury items, rather than as basic necessities.
Of course, this leaves menstrual products unaffordable to millions who need them. One 2021 study found that two in five people in the U.S. who menstruate say they've struggled to afford period products at some point in their lives. (Additionally, 35 percent of Black women and 36 percent of Hispanic women reported struggling to afford these products at some point in the past year, compared to 23 percent of white women). And research has found that one in three low-income women have reported missing work, school, or social outings because they don't have access to the products they need.
"At a time when nearly one in four U.S. students can't afford period products, there is something we can all do to take action to address this issue in our communities," says Damaris Pereda, the national programs director for PERIOD., a youth-led nonprofit dedicated to combating period poverty. Here are four ways you can help.
Donate to these organizations
While donations of period supplies can be helpful, Lacey Gero, the director of government relations for the Alliance for Period Supplies, recommends donating money instead, since organizations tend to have a better sense of exactly what kind of products are needed and can distribute them accordingly. "For example, a program will be able to use those funds to stock certain specific products that may be low, like regular tampons, which may be a product in high demand in their community," she said.
Her organization is a good place to start: It works with more than 120 community organizations around the country that distribute products in their area. The Alliance's website has a helpful map of these partners, so you can look up local organizations near you.
Host your own drive for donations
Every year, PERIOD. distributes millions of menstrual products to grassroots organizations around the country. Check out the organization's step-by-step guide to set up a product drive in your community, in-person or virtually. (They can also help connect you with local organizations that need donations).
Help get menstrual products to incarcerated people
While federal prisons now provide period products for free, most state prisons — which house nine out of ten incarcerated women — don't do the same. In many cases, incarcerated people have to purchase pads and tampons from the commissary, where they often cost more than they do outside of prison.
"Thousands of women and girls are incarcerated in this country, yet only seven states have a clear policy to provide these products to those who need them, free of charge," says Dr. Rita Jalali, who studies gender inequality and water and sanitation deprivation as the resident scholar of American University's sociology department. "Just like soap and toilet paper, menstrual products should be free and easily accessible in prisons, homeless shelters, schools, workplaces, and public bathrooms."
One of the few organizations working to get menstrual products to people in jails and prisons is the Thurman Perry Foundation, which works with the Orleans Parish Justice Center, East Baton Rouge Parish Prison, Louisiana Correctional Institute for Women, and Bedford Hills Correctional Facility. You can make a one-time donation, or set up a recurring one. (And for more information on policies around menstrual products in U.S. prisons, check out the ACLU National Prison Project's Menstrual Equity toolkit, and the Prison Flow Project.)
Get involved in repealing the 'tampon tax' in your state
Minnesota became the first state to end the "tampon tax" in 1981. Since then, 24 states have followed suit — five of them just since 2022 — but there's still a long way to go.
Alabama, Arizona, Arkansas, Georgia, Hawaii, Idaho, Indiana, Kansas, Kentucky, Mississippi, Missouri, North Carolina, North Dakota, Oklahoma, Rhode Island, South Carolina, South Dakota, Tennessee, West Virginia, Wisconsin, and Wyoming still charge a tax of between four and seven percent on menstrual products.
"If your state does still tax products, it's important to bring this to the attention of your elected officials and ask that they introduce or support legislation to exempt period products from sales tax," says Gero of the Alliance for Period Poverty. "Exempting period products from sales tax is important in recognizing that these items are basic necessities, not luxury goods." Gero also suggests going to state capitals when "tampon tax" bills are being considered and calling and emailing your elected officials. "This is especially important for elected officials that sit on the committees that make the decisions on these bills," she says, like the ways and means, revenue, finance, and appropriations committees.
Pereda, the national programs director for PERIOD., suggests buying period products in states where they're taxed and then submitting a refund request to your state government; this lookup tool from periodlaw.org provides specific, state-by-state instructions for how to do so.
She also notes that the second Saturday in October is the annual Period Action Day (which falls on October 14 this year). Check this handy list of events taking place in your state, where local organizers may be planning donation drives or letter-writing campaigns to elected officials.