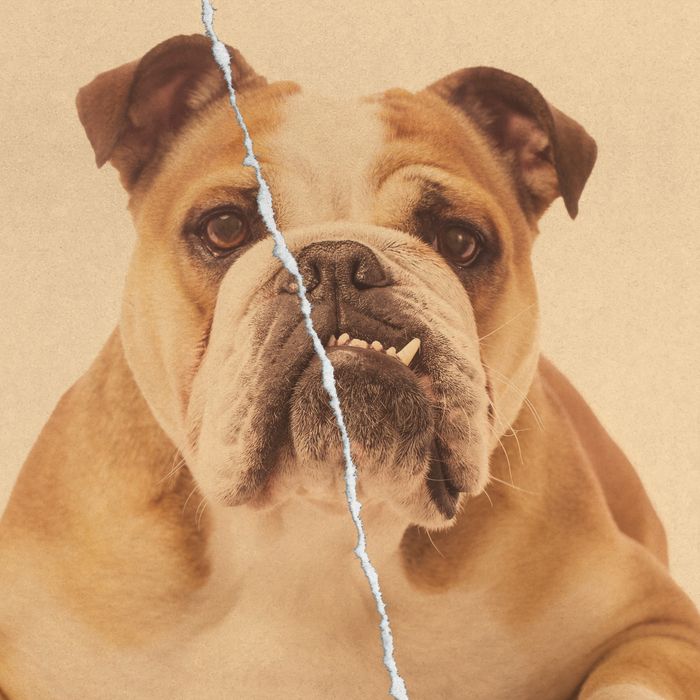 Photo-Illustration: by The Cut; Photo: Getty Images
When I got married, I finally understood what unconditional love was — thanks to my bulldog. I was hopelessly devoted to that chubby, wrinkly pup since we brought him home a month after our wedding. Everything Charlie did delighted me: his butt wiggles, the way he skidded across the kitchen to inhale crumbles on the floor, his insistence on gnawing the walls of our apartment. The same could not be said of my relationship with my husband. Only two years after our wedding, I found myself tearfully asking my soon-to-be-ex for shared custody of our dog. To my surprise, he said yes. It was one of the few things we'd ever agreed upon.
I realize the words shared pet custody sound ridiculous — a childlike request at best, a manipulative psychosexual game at worst. But I couldn't fathom my life without Charlie. I had no family in the United States, my friends in Chicago were few since I had only recently moved there, and this bulldog was my entire support system. Yet depriving my ex of his dog felt petty and mean. Then there were the practical considerations: Could I afford to have Charlie on my own? Who would watch him while I worked, traveled, or got a bout of influenza? Thus began my dog's life as a latchkey kid. Every other weekend and any time my ex traveled, Charlie was under my care.
But what appeared eccentric in 2014 has recently become … normal? Since the pandemic, I've seen countless friends and colleagues announce their divorces. While I expected the usual gossip about marital woes and how the kids are faring, pets have suddenly become another source of tension in the aftermath of their splits. I can count at least five in my circle, and the more I talked about it, the more I heard of other pet parents squabbling. And it's not just my friends: In 2017, Alaska became the first state to require judges to consider the best interest of any animals in divorce proceedings and to explicitly allow joint ownership. New York, New Hampshire, California, Maine, and Illinois have followed suit. Back in my day, custody of Charlie was met with its fair share of skepticism. Today, we get not one but two pet-custody story lines on Vanderpump Rules.
When I ask friends and friends-of-friends about their decisions, I recognize many of the sentiments. Regardless of their resentment or pain, the idea of ripping away a beloved pet from an ex seemed cruel. "I knew my ex would feel a big gap if he didn't have the cats," says Nicole Christie, a podcaster acquaintance of mine from San Diego. "We agreed he would take care of them but I could visit them. I also had veto rights about where he would move, so the cats ended up going to a loft with a ton of open space for them to run." Others figured it would be a temporary situation given the pet's breed and age or the agreement. It was one of the few marital assets they cared about. I sympathize with every single one of those situations. I also can't help wanting to tell them I'm not sure it's worth it.
Reaching the agreement itself didn't prove stressful for me. Most shared-custody agreements are negotiated without a judge's intervention, though that doesn't necessarily mean the process goes smoothly. "One of the major issues is one spouse using the pet as leverage against the other, whether to extract other assets from the marriage or simply to hurt the other party, who they feel has wronged them," says Adam Citron from the New York law firm Davidoff Hutcher & Citron.
A man I know tells me the mediation to determine who got the cat was "stressful enough that I was sweating through my shirt." The trust between him and his ex-wife had broken down after she had an affair, which didn't help matters, and the discussions around who got to keep the cat quickly became contentious. Both gathered evidence to make their case: a fostering agreement under her name, the fact that he had cared for the cat since their separation. Finally, the mediator told them a summary judgment would be made if they couldn't come to a resolution. They agreed to have the cat switch homes every six months — even though he lives in the Midwest and she lives in the Sun Belt.
Even in less fraught circumstances, the lawyers I spoke with were wary. "I am not crazy about pet-custody arrangements. It keeps ex-spouses needlessly intertwined and often presents opportunities for conflict," says Colleen M. Breems, a family attorney in Chicago. One of her former clients had an arrangement that was going smoothly until one fateful day. "The client got the dog from his ex at a transfer. Shortly thereafter, the dog passed a used condom through his system," she says. "The dog was fine. The client was not."
For Breems, the ideal pet-custody situation is one in which the pets accompany the children of divorced parents. That's the main reason Pete Segall, a 45-year-old dad from Chicago, shares custody of his beagle, Leonard. "We knew our daughter was very attached to the dog," Segall says. "Instead of one of us taking him, we decided he would go wherever she went." The situation has been drama free, at least for the humans. Leonard is still adjusting to the transition with the help of the antidepressant Trazodone. "My ex and I happen to live across the street from each other, and it's really confused him. When I take him out for a walk, he'll look across the street like, Am I supposed to be over there?"
Leonard's stressful state was similar to my bulldog Charlie's, who was prescribed anti-anxiety medication while I continued to self-medicate with wine and Bravo. Shortly after my separation, he developed a habit of lunging at other dogs, sometimes aggressively. He would hyperventilate every time I had visitors. It's not uncommon for destructive behavior to surface in pets of divorce. Like many of us going through a major breakup, pets may lose their appetite, become more reactive, and pee in unexpected places.
There are ways to mitigate this, according to Dr. Paola Cuevas, a veterinarian and behaviorist consultant for Hepper, a pet-furniture company. "Consistency is the No. 1 best practice to remember," she says. "Animals need a sense of security and expectations for their behavior." This means being on the same page about house rules, walking schedules, and feeding — easy enough until you realize you're talking about couples with irreconcilable differences. "Pets will be most affected if the two people that share them cannot communicate effectively," Cuevas explains. Isn't that the case with most divorced couples?
In hindsight, my ex and I made so many mistakes with Charlie's care. I kept the same routine we had established before the split but never thought to discuss anything beyond that. We must have been a headache at the vet, who had difficulty keeping track of which one of us knew what. Having Charlie change homes every two weeks was too frequent; experts suggest at least a month's stay in each place.
Beyond the concerns I had for Charlie, I worried about what the custody agreement was doing to me, too. My ex and I communicated only about the dog, but our icy relationship never thawed. I'm a committed nondriver, so bringing Charlie home always involved a nightmarish web of Ubers and helpful friends. I dreamed of moving forward with my life and away from Chicago, but my love for my bulldog kept me rooted in place.
For years, I shared the same idea that Erin Watson, another friend from Chicago, has regarding how her shared-custody arrangement will end. The agreement is that they will keep sharing Basil until her ex adopts a new dog. That hasn't happened yet. "I don't know how this arrangement will continue to change," she says. If she ever does get Basil, Erin cannot imagine cutting her ex completely out of her dog's life. She imagines them side by side if the worst were to happen and he had to be put down. "I've always envisioned us both getting to say good-bye," she says. I would have said something similar after my first year of divorce. Six years later, I could no longer hold on.
Saying good-bye to Charlie was the saddest day of my life. After dropping him off at my ex's for the last time, I sobbed so hard and for so long my throat felt raw. During the most turbulent decade of my life, he had been my best friend, my loyal companion, my family. I hated to think I was abandoning him, but I could no longer hide the fact that by honoring this agreement, I was abandoning myself. I grieved over it. But I was also free. Free to leave Chicago, free to spend a year traveling the country, free to later settle down in Brooklyn.
One thing is for sure, though. Next time, I'm keeping the damn dog.