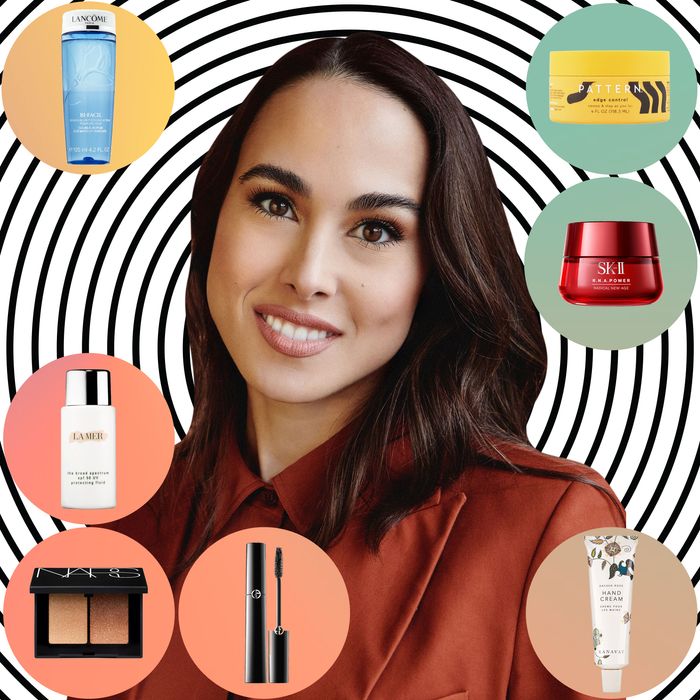 Photo-Illustration: by The Cut; Photos: Courtesy of Meena Harris, Retailers
On the Beauty Group, a Facebook community co-founded by the Cut and the Strategist, people chat all day long about the products they love — the ones so good they'll make you hit that little "auto-refill" box at checkout. Below, we asked one of our favorite beauty pros to share her own selections.
More often than not, you'll find Meena Harris completely barefaced, but it wasn't always like that. "I used to be one of those people who didn't leave the house without mascara, or something that I felt like I needed, like under-eye concealer," says the author, lawyer, and Phenomenal CEO. But during the pandemic, she began feeling exhausted by the idea of preparing for the camera — even if it was via Zoom. "I started to question the value of it. One of my philosophies generally around the pandemic is letting go — I've always talked about letting go of the things you can't control. Obviously, my appearance is something that I can control, but it was just another thing that I had to deal with. I was like, 'Is this worth the time and the effort and the mental space?' Ultimately, my calculation was, 'No, who the fuck cares? Take this off your plate.'"
Even when she is going for a full glam look, Harris wants beauty to be easy and accessible, so she tends to rely on the same tried-and-true products. She doesn't spend time on blogs or social media looking for the latest launches, and even when she does come across something new, she's not inclined to test it. "Unless you're like, 'This is the best thing I've ever used, it changed my life, and you have to use it,' I will use the same shit for literally 20 years," she says.
Below, Harris breaks down her essentials, most of which, yes, she's used for years and years. Read on for the fake lashes that actually look real, the eyeshadow that looks better the longer you wear it, and the eye-makeup remover she uses all over her face.
The Lashes
I'm terrible at lashes, and it's been a constant struggle for me. I broke down and finally got magnetic lashes, which actually worked quite well, but you have to put thick black liner with them. I wasn't sure about putting magnets near my eyes, either. So I was looking for something easier and found these, which are by Jenna Lyons. I'm a big fan of her — she is sort of an iconic person.
I like these lashes because they're really natural-looking, but putting them on definitely takes practice, and I haven't totally gotten there yet. I will say that I think the Loveseen Tool is key. You can really firmly lock them into place with it. If I'm going for something more subtle, I'll use the Troi lashes. If I'm going for something more dramatic, I'll use the Noor lashes.
The Edge Control
I used to use Murray's Edge Wax, which has been around forever and ever and ever. It's a drugstore product, and I had never used anything else, in part because I feel like getting good edge control is such a particular thing. To be clear, I use it on my daughters, not as much on myself — if I'm putting my hair in a bun or if I'm trying to pull my hair all the way back, I might use it. But I really like the Pattern one as a whole. It doesn't feel greasy or flaky, and it stays — that's the key.
The Hair Tool
I use this on my daughters. I'll use it on myself sometimes if I'm pulling my hair back or if I slick it down; I don't wear that style super often, but I have before, and it's useful for that. It's better than a toothbrush, which I think is normally what most people use. It's just superior and feels like several products in one. It has two sides. With the side that's pointed, you can part through the hair with it. The other side of the brush is made of boar bristle and also has a toothcomb.
The Mascaras
I don't put a lot of face makeup on, but I would say my focal point is definitely my eyes. And the key thing about this mascara is that I put it on my bottom lashes only, and it never, ever smudges. Every time I've used any other type of mascara on my bottom lashes, whether it's waterproof, whether it's "smudge-free," they always smudge by the end of the day — always, always, always. With this stuff, it doesn't budge. It uses tubing technology so you can wipe it off with water, which makes it so easy, and it just rolls off your lashes.
The Kevyn Aucoin Volume Mascara [above] doesn't give the volume, length, and blackness that I'm looking for on my top lashes, so I use the Armani viral mascara that everybody knows about. I like to have pretty dramatic top lashes, so it's my go-to. It's super black, and you can build on it a bit without getting balls on the end of your eyelash, which is a pet peeve of mine.
The Hand Cream
This is a South-Asian-woman-owned brand. It's just really beautiful packaging, and I love the hand cream itself. It's moisturizing and the scent is amazing — it kind of reminds me of India and my grandmother, which feels comforting.
The Sunscreen
I think any effective high-strength SPF is worth a splurge. If you're into skin care, you know that so much of what damages our skin is the sun. There's a lot of awareness around the importance of a nighttime routine, but SPF is arguably just as important. And I get it: Part of the reason people don't like sunscreen is it can feel oily or greasy, and I've definitely had that experience. Even with mineral sunscreens that I've tried, they don't feel oily and you can wear them all over, but there's something to them that makes my skin feel gritty, almost. But La Mer has been my go-to. It doesn't leave a white cast. I mean, you have to rub it in, right? But it's definitely not, you know, Coppertone.
The Eyeshadow
I almost entirely use NARS for my eyeshadow now. I think the No. 1 selling point is that the shadows blend so well. As you wear them over time, they settle in, and I swear, they look even better.
The Makeup Remover
I use this makeup remover all over my face. I don't think you have to do that; it's basically the equivalent of using an oil cleanser — I use those, too, by the way. It does such a good job of taking off heavy eye makeup, and then after, I will either do another oil cleanser or just go straight to my second gel cleanser. When I use just the oil cleanser and take off my makeup, I feel like it doesn't get it all off.
The Deodorant
This is a "natural" deodorant. I don't think it has any fragrance at all. I became more aware of deodorants during the pandemic. Like, I don't need to use full-strength deodorant. It's also South-Asian-women-owned — awesome founders. When I switched over, I didn't have that adjustment period that happens with aluminum-free deodorants (I also probably wasn't really paying attention). The switch was definitely a pandemic thing where I was like, "If I can do better with 'natural' stuff and not be as concerned with it, might as well."
The Face Cream
I don't know if I'm using this moisturizer correctly — I initially bought it as a night cream but then I liked it so much that I started wearing it during the day with SPF. It's moisturizing enough to wear at night, but it's not overly oily so I can also wear it during the day. It's sort of just a great transitional all-day cream. I love the feel of it — not too thick, but still super moisturizing.