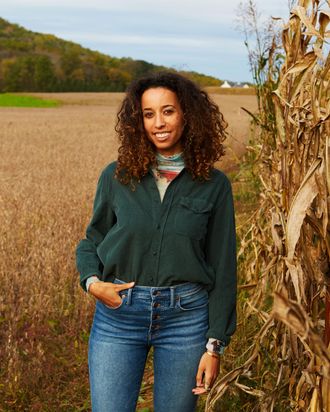 Photo: Courtesy of Jen Martin
When Jen Martin co-founded "mini popcorn" brand Pipcorn with her older brother Jeff and her sister-in-law Teresa Tsou in 2012, the founders had $3,000 in the bank. In the eight years since then, the entrepreneur has seen her brand featured on Oprah's Favorite Things four times and landed a $200,000 investment from Barbara Corcoran on Shark Tank. Martin's heirloom corn isn't just tasty; it's also packed with fiber, antioxidants, and vitamins, making it healthier than commercially grown popcorn. This better-for-you principle guides her own food choices and extends to her skincare, too — and it's precisely why she says she's a proponent of "clean" beauty.
Martin seeks out products made with organic and natural ingredients derived from foods, herbs, and botanicals. "I love an ingredient list that is full of seed and veggie oils, fruits, flowers, and aloe," she explains. "I hate seeing brands use a trendy ingredient on the front of a package for marketing, and then you flip it over and that one ingredient is at the end of a long list of chemicals and fillers that you have never heard of." It's also important to her that brands are transparent about the origins of their ingredients. "That is clean beauty to me because I have all the information to make the best decision for myself," says Martin.
Admittedly, learning her skin's preference for clean products came with a steep learning curve. "I remember going into places to get skincare and they would say it was normal for my skin to get irritated or break out when changing products because my skin needed to get used to them — and that was the worst skin advice I have listened to," she remembers. "When I've found a product that works, I've always known right away." All the products she uses now, Martin says, "instantly" calmed and improved her skin.
Below, a look at her current favorites, including the oil cleanser that provides a "squeaky clean feeling" without any dryness, the "absolute splurge" worth every dime, and the best moisturizer she's tried.
The Double Cleanse
"I'm obsessed with this cleanser. I never thought I could do an oil cleanser because I thought I would break out, but it truly changed my skin. I don't have little bumps anymore, and my pores feel tight! It has tea tree oil and salicylic acid so it keeps my skin clean and smooth, but it never feels like it strips me of the good stuff. I genuinely look forward to using it."
"I only scrub at night, and Tata's scrub is the best. It isn't too harsh so you can use it regularly. I've always loved the feeling of exfoliating my face, but this was the first cleanser I've found that didn't feel like it was destroying my skin. Truly a game changer! It's gentle but keeps my skin from getting congested, which is amazing while living in NYC."
The Toner
"I love witch hazel. This toner doesn't have any alcohol so it doesn't dry me out. Since I am getting super potent (and expensive) serums, I want something that will help my skin absorb them. I also think it makes me look dewier!"
The Serums
"It is an absolute splurge, but I'm obsessed. My skin has never been better. Elixir Vitae makes my skin look so bright and healthy. From the first time I used it, my skin instantly glowed. It is so potent that it doubles as my eye cream — it brightens and pulls everything up!
It is so hydrating and plumping and packed with herbs and antioxidants that make my skin so happy. The ingredient list is incredible with 100% of the ingredients coming from natural origins and filled with things like barley juice, rose water, borage oil, sea buckthorn, calendula, and willow bark extract, which is anti-inflammatory and antibacterial. Plus, it has hyaluronic acid."
"I love this vitamin C serum because the base ingredient is aloe. Other vitamin C serums have ended up leaving me looking really red, but I think the aloe helps calm my skin. It also contains rosehip, which is super high in vitamin C, and Aspen bark, which is a natural source of salicylic acid. The combo of those two things helps with discoloration."
The Moisturizer
"This cream is like magic. The whipped texture is super hydrating without feeling oily. You know how some moisturizers feel like they sit on your skin? When you put this on, it feels like your skin instantly begins soaking up all the super potent botanicals that Josh puts in his cream. It's packed with herbs and mixed in a base of aloe, mango seed butter, avocado oil, and jojoba. It's everything you want in a moisturizer, and you wake up and your skin feels so plump and bouncy!"
The Face Oil
"I put jojoba oil on my lips at night and in the morning after I brush my teeth, and over my moisturizer if I want a little more hydration. I also only use jojoba oil in my hair, because so many hair products make me break out. Jojoba oil is non-comedogenic so it doesn't clog pores but is super rich in vitamins like vitamin E, B, and C so it helps keep my hair healthy and nourished without irritating my skin."
If you buy something through our links, New York may earn an affiliate commission.