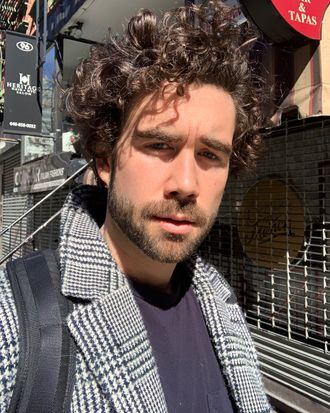 Photo: Courtesy of Gabe Kennedy
Want more skin care? Join The Beauty Group.
Gabe Kennedy is a "little bit of [skin-care]." The chef and co-founder of co-founder of plant and Cannabis wellness brand Plant People had a "mild addiction" to lip balm 15 years ago, quit cold turkey, and now fears being reliant on any sort of skin-care product. It's only been through the development of the brand's newly launched skin-care line, and with some help from his girlfriend, that he's dived into a personal routine.
He advocates for a plant-heavy diet with anti-inflammatory staples like wild-caught fish, nuts, turmeric, and ginger, and similarly turns to "health-oriented" products that avoid petroleum, sulfates, and animal-testing. Kennedy elaborates, "I look for packaging that pulls me in, and aroma and functionality keep me there." Read on for his current skin-care rotation, including a deep-cleaning yet gentle face cleanser, and the cannabinoid face mask that targets acne.
The Body Wash
"In the shower, I use Alaffia Body Wash. Not only is the product incredibly smooth on your skin and made with all-natural ingredients, but the brand has an incredible mission to support maternal causes, education, and reforestation. The body wash uses a really interesting ingredient: Azadirachta indica (neem) leaf, which is a staple of ayurvedic medicine. It supports in reducing inflammation — which has affected my skin much more since being in New York City — from the sun, heat, and of course, the foods that you eat. And while technically this body wash is unscented, you can smell the ingredients including coconut oil."
The Cleanser
"I actually didn't used to regularly wash my face. But this face cleanser is my ultimate go-to due to the fact that it's for every skin type and is highly concentrated so you never need to use too much. It's deep-cleaning but also really gentle. Not to mention, the grapefruit scent is really invigorating and helps to wake me up in the morning."
The Moisturizer
"I love Alder's approach to gender-neutral, skin-type, and age inclusivity and clean ingredients. This everyday face moisturizer is full of awesome vegan ingredients like oatmeal extract, aloe, and hyaluronic acid that help hydrate and protect my skin. While I'm not a full-time vegan, I do actively search out products that have a clean approach to ingredients and that are produced with real integrity and efficacy. This moisturizer is incredibly lightweight and also unscented. It's also great to support other New York–based small businesses."
The Face Mask
"At night, I am now a pretty religious face masker as we spent months formulating Plant People's new Restore Face Mask, and it became part of my ritual. My favorite thing about this mask, outside of it being beautifully green, is that it includes interesting plant-based ingredients that are sometimes seen in culinary applications, like songyi mushrooms and malachite, which help even out skin tone and protect against sun damage. It also includes CBC, or cannabichromene. For those that aren't familiar with this little-known cannabinoid, research shows that CBC has significant anti-inflammatory properties and can be a powerful acne inhibitor."
The DIY Deodorant
"I don't wear deodorant but rather choose to make my own aromatic oil. So one could say, I actually make my own deodorant. As I'm getting ready for the day, I apply my homemade recipe of sweet almond oil, peppermint, and cedarwood under my arms and a bit on my chest. It is refreshing and cooling, especially during the summer. I really like what Virtuvi is doing to elevate essential oils and scent as a form of healing and stress reduction. I use sweet almond oil as a base because it's mild, great for all seasons, gentle on skin, and balances out dry and oily areas of the skin. Peppermint oil provides a really nice smell, while improving circulation/tension in the areas of the body that react to it the most. Lastly, cedarwood, pachouli, or sandalwood is a great deodorizer, so it makes perfect sense to use within my homemade recipe."
The Face Tools
"As a great finale to my routine, I tend to steal my girlfriend Willa's jade roller that we keep in the freezer. Herbivore makes some great products, and this roller feels great on my skin after a long day running around New York City. Freezing the roller supports the depuffing effect and also just feels really good!"
"I'll also practice gua sha now and then to help circulate and release energy that may cause inflammation. Rose quartz, for the stone, is traditional in the practice, as it's known as the healing crystal."
"Whenever my facial hair needs tending to, I use the Primally Pure Old Fashioned Beard Oil. I love the ingredients, and it keeps my facial hair looking healthy, without looking greasy. Essentially, the mix of oils (bergamot and orange) helps to clean, moisturize, and tame facial hair, while healing the skin beneath. Similar to my skin, I've traditionally cleaned my beard with just water but prefer to use natural oils when it needs extra attention. As for my hair, I tend to only rinse with hot water and allow the natural oils to build up. If it is dry, I end up massaging some Argan oil into my roots."