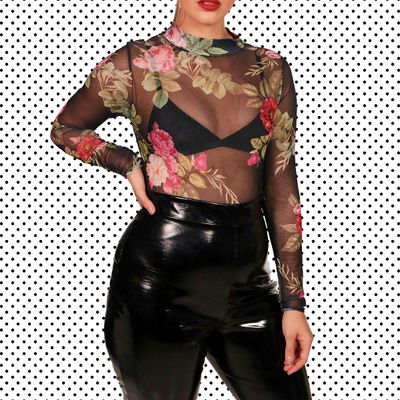 Photo: Courtesy of the Vendor
It's clear the '90s are back, and bodysuits may be the chicest and most controversial part of the revival. On the one hand, they create a sleek silhouette when a traditional blouse tuck won't cut it; on the other, unlike some floatier pieces, bodysuits leave no margin for fit error. And as usual, plus size bodies get the short end of the stick.
Luckily, the 32 plus-size bodysuits below are available well past an XL. From super sheer to office-appropriate to breastfeeding-friendly, I have a feeling you'll find just the one(sie).
A Bright Ballerina Option


Photo: Courtesy of the Vendor
Sure, you're not actually leaping in the air and executing pirouettes but that doesn't mean you can't wear something ballet-inspired. This highly rated option from Amazon has great reviews and is especially chic if you pair it with Mac's Ruby Foo.
A Grecian Goddess Suit


Photo: Courtesy of the Vendor
Looking for a summer turtleneck? Try this one, another highly rated Amazon option, in Mykonos blue. Extra points if you wear it with white sandals.
Photo: Courtesy of the Vendor
We really love this simple black number. It's a bit early to think about October, but it would be extra good for a last-minute cat costume.
A Onesie That's Perfectly Rosy


It's somehow sexy and Blossom-ish? If you need extra coverage, add a simple camisole, but if you want something worthy of a night out, take a cue from the model and try a simple black bra.
A One-Piece in Plush Pink


A No-Sweat Sleeveless Suit


Everyone deserves a simple summer staple and this sleeveless one has thick straps at the shoulders, so you don't have to worry about finding a special bra.
A Scoopneck to Top Any Silhouette


Photo: Courtesy of the Vendor
Skinny jeans, midi skirts, palazzo pants … the possibilities with this army green number are endless. Reviewers love how soft the fabric feels but the only caveat is that it can be a bit thin so don't forget a nude bra.
A Sleek, Sensual Suit


Into the hibiscus color but feel like you want something more revealing? Then this lacy bodysuit is calling your name. The updated lace has a nice peekaboo effect against your skin — the ideal for date night.
A Romantic Lace Plunge Suit


Like a 21st-century Marie Antoinette, this elaborate number is definitely for the woman who isn't afraid to be the center of attention. Try it with white wide-legged trousers for the most commanding effect.
Polka dots make this sheer bodysuit a playful layering option. Try it under a slip dress for a night out.
A Racy, Lacy Look


Photo: Courtesy of the Vendor
Consider this your LBD of bodysuits — wear it with trousers, a pencil skirt, or jeans. It'll look good with everything.
A floral, off-the-shoulder bodysuit combines nearly every popular trend of the last few years into one neat little package.
A Dangerously Deep Option


Let the twins out to play a little (and maybe invest in some double-stick boob tape).
A Suit for Smouldering Shoulders


The perfect supporting actor for serious statement jewelry (or fun statement pants like these).
A Foxy Foldover Suit


Photo: Courtesy of the Vendor
If Brigitte Bardot were a bodysuit, she'd be this sweet blush-toned piece. Don't forget a supportive strapless bra!
The Sexecutive Suit


Photo: Courtesy of the Vendor
Don't want to deal with extraneous buttons, zippers, or off-the-shoulder flaps you have to keep down? A bodysuit with a choker top is a low-fuss way to give an outfit some extra oomph. You may also feel like Sharon Stone in Basic Instinct.
A BDSM-Inspired Option


Photo: Courtesy of the Vendor
TFW sticks and stones may break your bones but chains and whips excite you.
A Suit for Those Hot Summer Days
This sleeveless, plunge-back style will keep you cool all summer long. The square neck also feels on-trend.
A Very Funky Floral Version


Photo: Courtesy of the Vendor
Subtle in the front, sexy in the back: rainy day music festivals, here you come. The denim cut offs and flower crowns come separately.
A Blooming Beauty


Photo: Courtesy of the Vendor
Dark, moody florals win extra points for their versatility. This bodysuit looks like a delicate watercolor painting — almost too pretty to touch.
Photo: Courtesy of the Vendor
The triangular cutout takes things from romantic to bold and graphic — you can show a little something without worrying about spilling out at the end of the night.
Photo: Courtesy of the Vendor
Even the most chic outfit looks bad with VPL. Here's a bodysuit you can use to layer underneath crew necks and blazers, while smoothing everything out in the process.
A Simple Sheer Base


Photo: Courtesy of the Vendor
Or for a versatile (but still edgy) outfit foundation that requires more coverage, try this.
The French-est Suit You'll See All Day


Definitely not your grandma's lace. Use the deep V-neckline to show off a fanciful necklace or those gold pendants everyone is wearing.
The One That Doubles As Lingerie
Some reviewers treat this bodysuit as a sexy cover up over a nice lingerie set. But it looks great with jeans, too.
An Option for Your Inner Animal


Sick of your basic black tops? Sheer, spotted, and split-sleeved — it's a triple threat that will shake things up.
A Babely Bright-Red Number
Photo: Courtesy of the Vendor
Baywatch 2k18 but without the awkward slow-motion runs on the sand. The black contrast seams will also create the illusion of a more defined waist.
A Shimmering Sequined Suit


Photo: Courtesy of the Vendor
Here's the bodysuit for when you want to pull out all the stops: It'll give you a flashy, million-dollar look for under a hundred.
A Suit Fit for a Queen


Photo: Courtesy of the Vendor
I thought Khloé Kardashian was Beyoncé in the thumbnail for this suit from her Good American line, so it's possible you'll look like Beyoncé in it too. Which is a pretty good sales pitch.
A Suit to Zip Up or Down


Photo: Courtesy of the Vendor
Zip it up all the way for a sporty yet office-friendly top, or zip it down for happy hour with the girls.
Photo: Courtesy of the Vendor
For the brave, this high-cut '80s-inspired bodysuit leaves little to the imagination — which is precisely the point. The thong cut also means you won't see it under trousers or jeans.
A Futuristic One-Piece


Photo: Courtesy of the Vendor
You may not know how to somersault in mid air like Aeon Flux, but at least you can channel the same energy in this sleek space age-y bodysuit.
Photo: Courtesy of the Vendor
Feels timely, and Mad Max did have great fashion. Layer it underneath a white tank for that Rihanna Coachella Gucci effect or wear a solid black bralette underneath for a festival-ready lewk.
A Precisely Paneled Suit


Photo: Courtesy of the Vendor
Since 100 percent sheer isn't for everyone, try a sexy bodysuit that still highlights your assets while leaving some for the imagination.
An Urban Cowgirl Version


Photo: Courtesy of the Vendor
More like Brokeback Meow-ntain. A denim shirt you won't have to constantly adjust for that perfect, relaxed-but-put-together tuck.
If you buy something through our links, New York may earn an affiliate commission.