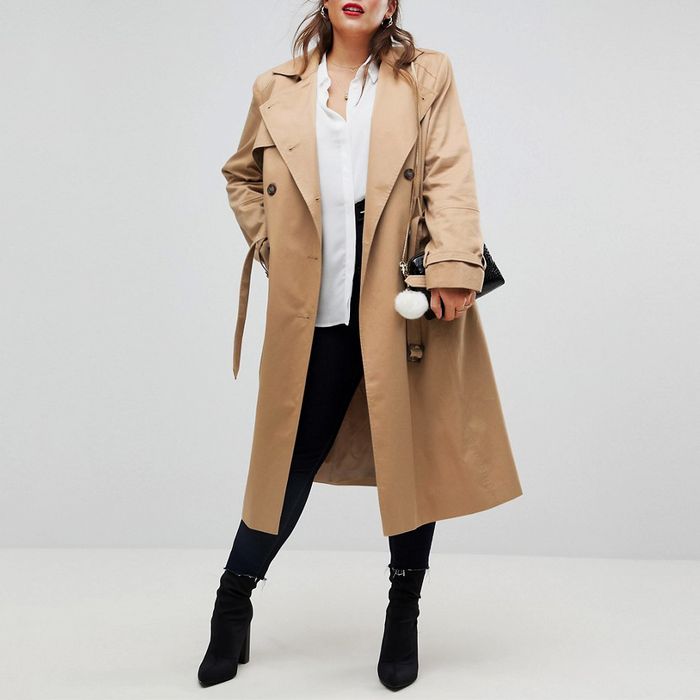 Getting dressed for work shouldn't be a bore. Welcome to Business Casual — here to make your weekdays easier.
An outfit that makes you feel confident can be a game changer, especially in the workplace — but if you're above a size 12, powerful pieces aren't always available. For years, plus-size professionals have been forced to make do with gaudy, cheaply made separates, sad sack dresses, and matronly suits — but not anymore.
Fortunately, these 24 plus-size workwear looks below are destined to impress in the boardroom and beyond. Add a few to your current closet, or create an entire work week's wardrobe by mixing and matching your favorites.
A Base to Go With Everything
A Runway-Inspired Blouse


A Tailored Menswear-ish Top


A stellar wardrobe staple, especially with a body-conscious cut.
A Silk Top With an Artsy Print
This one's cute, creative, and appropriate for most offices.
A Non-Boring Two-Tone Knit
Stark shades for the minimalist.
A Universally Flattering Blouse


This gracefully draped top comes in a slew of fine-tuned neutrals.
An Un-basic Black Blouse


This top's chic silk panel is meant to be worn untucked.
An Origami-esque Blouse


The graceful folded neckline looks gorgeous in slate, black, or cream.
A Boyish Black-and-White Blazer
Houndstooth and strong shoulders will sharpen up a blouse and trousers.
A Trench That Goes With Everything
Classic and super affordable.
A Versatile Shirt Dress


The perfect remedy for those "nothing to wear" mornings.
A Bright Dress With Biker Details
Yes, this dress looks great in black — but we think it's even better in orange or turquoise.
One Very Twisted Dress


An elegantly asymmetrical cut + super comfy jersey = pajamas you can wear to a meeting.
A Haute High-Neck Dress


This one's knotted-up neckline creates visual interest that you definitely won't spill out of. Everyday blessings!
A Simply Stunning Shift


This dress comes in a range of beautiful jewel tones, but more importantly, has pockets.
A Skirt to Wear With Anything
It's the perfect foundation piece (and check out that hardware).
A Hi-Lo Skirt That Doesn't Look Dated
Subtle texture and asymmetry set this beauty apart.
A Colorful Yet Conservative Skirt
When you're sick of wearing black to the office.
A Pretty, Pull-on Accordion Skirt


The Black One-Piece That'll Simplify Your Life


Soft, chic, and under $70.
A Dramatically Draped Jumpsuit


Equally gorgeous in black or Yves Klein blue.
They're our favorite silhouette to wear in warmer weather.
On-trend Wrap-Style Pants
For the woman who appreciates an edgier approach to workplace dressing.
Katharine Hepburn-esque and completely modern at the same time, especially with heeled sandals.
If you buy something through our links, New York may earn an affiliate commission.