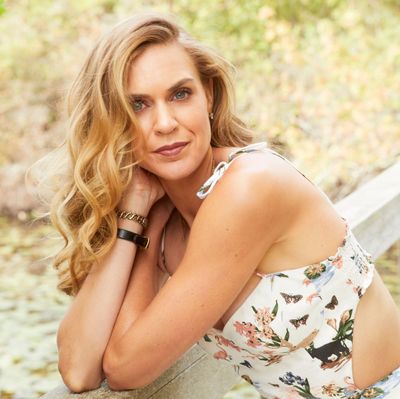 Photo: Courtesy of Emily Parr
If Emily Parr was the main character of a Baby-Sitters Club book, her "thing" would be skin care. "Growing up, I babysitted in our neighborhood and became fascinated by all the lotions and potions the moms had displayed in the bathroom. Honestly, I tried ALL of it when the kids went to bed," she confesses. "I started booking more babysitting jobs just so I could continue with my newfound love for skin care."
Parr, who also founded Poke PR, launched her own brand, HoliFrog, based on her philosophy of "situational cleansing," based on reacting and choosing a face wash based on her skin's daily needs. It's also personal for the founder, as she usually works out twice a day and cleanses her face three to four times. If it sounds like overkill, Parr assures that she scrubs "smarter not harder." All her cleansers are meant to be gentle and not harsh, purposefully developed with "little or no lather because the foamier they are, the more drying."
Parr also learned to read ingredient lists and literally understand what's fluff. She won't give a product the benefit of the doubt if the first seven ingredients don't have a purpose or function. "There are a lot of texture enhancers like silicones and acrylates that are automatic turnoffs for me because they're a cheap way of providing the feel of emollience or fluff," she explains. "If I see a ton of 'filler' in the earlier part of the list, I automatically know the product is either a gimmick or junk, and I have no tolerance for either."
Below, a full look at Parr's approved skin-care products and why she finally jumped on the eye cream bandwagon.
The Cleanser
Photo: Courtesy the vendor
"I wash my face a few times per day, depending on my workout schedule. What my skin craves and needs in the morning is different than what it needs after a workout or before bed. The reason I'm able to wash my face this many times per day without stripping my skin is because all HoliFrog face washes are formulated with a surfactant level of 7 percent or less. Surfactants are the cleansing agents, and most cleansers are loaded with about 30 to 40 percent surfactants, which is unnecessary and also extremely drying.
I definitely believe in using pricier cleansers because you get what you pay for: Cheap face washes are basically soap and water … harsh (literally) but true. I wanted to reimagine this entire cleanser category: What if we could take principles from other skin-care categories — hydration from creams, concentration from serums and oils, treatment actives from masks — and apply that to cleansers?
After a workout, I know that the Shasta cleanser is going to deeply cleanse my skin (from the chemical exfoliants) but still leave it replenished because of the rich combination of tamanu and rose hip seed oils. It's 5 percent AHA, with a mix of mandelic, glycolic, and lactic acids that exfoliate without irritation. I've even been able to stave off hormonal breakouts from using this cleanser. And honestly, I use it twice a day when I'm getting my period. It works like a charm!"
The Serum
"Vitamin C is one of the buzziest skin-care ingredients for good reason. It scavenges free radicals, helps with discoloration, and brightens skin. This is the highest percent vitamin C on the market and doesn't oxidize because there's no water in it. The industry standard for vitamin C is 15 percent, and while I'm not sure who set that bar (probably SkinCeuticals because their C E Ferulic is a cult serum icon!), I am always willing to up the ante. I had been noticing that my collagen production seemed to be slowing and the stress of running two companies was taking a toll! So when Allies launched the 35 percent waterless vitamin C, it was worth giving a whirl. A 35 percent vitamin C serum quite literally means that 35 percent of the formula is antioxidant. For me, this serum ensures that my skin is shielded from environmental damage at the base level but also very much keeps my skin looking bright on the superficial level. It's also helped even out any scar discoloration from pimple-picking in my 20s."
The Oil
Photo: Courtesy the vendor
"This oil is a beautiful combination of light (jojoba) and heavy (rose hip seed) carrier oils, so it gives me the perfect medium consistency. After I wash my face, I leave my skin slightly damp as I apply the Beauty Oil. I use this instead of a moisturizer right now because I have found t hat the high level of emulsifiers in most creams clog my pores. So until I find one that doesn't (or launch my own!), this oil does the trick. Also, there are no essential oils in the RMS Beauty Oil. I can't use any fragrance, either natural or synthetic, because it breaks me out."
The Eye Cream
Photo: Courtesy the vendor
"Eye cream is one of those products where you don't know until you know! I didn't jump on the eye-cream bandwagon until probably about three to four years ago and now feel naked without one. I used to think that it was just an unnecessary step because I was already covering my under eyes with face cream, and eye creams can't actually take away dark circles (that's what sleep and drinking enough water throughout the day are for). Restorsea was the first eye cream I ever tried (the brand was a client at the time), and it was immediately an 'I totally get the appeal' sort of moment. The trickiest part with eye creams for some reason is that while a deposit of deep hydration is the immediate payoff, many pill after a couple hours. With Biossance, I love the feeling of the extra padding layer this provides under my eyes, yet there is no pilling issue after the cream fully sinks in. It keeps this delicate area looking cushy, in a way where they're dewily hydrated — almost luminous without concealer — without looking greasy, because greasy eye creams are a whole other mascara issue!"
The Lip Balm
"Chapped lips make me feel unkempt. Working in the beauty industry, I feel like clear skin and hydration automatically make you look like you know how to take care of yourself, and lips are no exception! When I'm not wearing a balm of some sort, I tend to lick my lips which then leads to dryness. Kosasport LipFuel (I alternate between Pulse and Rush) literally makes my lips look line mine but better. It's the best daily tinted balm that gives me that effortlessly-put-together-without-trying-too-hard look. Most importantly, my lips have been nourished and chap-free since I started using this a year ago!"
The Sunscreen
Photo: Courtesy the vendor
"SPF and I have had a long, frustrating journey. Chemical screens break me out (you're probably finally seeing the pattern of freakish breakout behavior and paranoia I have) and non-silicone mineral screens usually just drip right off my face (thereby causing me to burn) because I'm a total sweater. Vive Sana is a waterless, oil-based SPF. Since the oils stick to your face and lock the mineral SPF on my skin, it neither drips off my face nor requires silicones to hold the mineral protection in place."