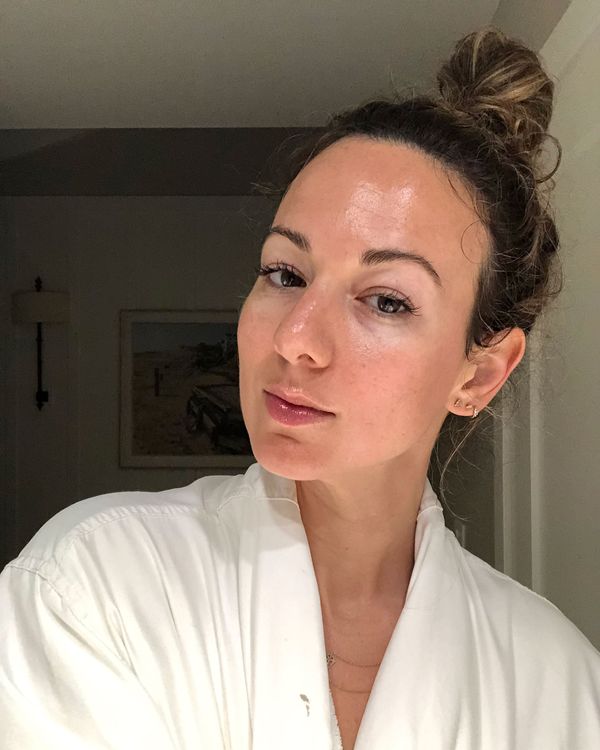 Photo: Courtesy of Ashleigh Hults
Want more skin care? Join our Facebook Group, the Beauty of It All.
Ashleigh Stone's straw Poolside bags are adorned with seashells, embroidered daisies, and rhinestones, but what goes inside them is even more important. For the founder and creative director, it's often skin-care products. "I think that I was about 12 or 13 when my mother introduced me to Clinique's three-step regimen — cleansing, exfoliating, and moisturizing," she says. "I remember exactly where we were when she explained the importance of getting into a good skin-care routine." And while Stone's moved on to different products, her devotion to skin care remains the same.
"Normally I either don't have time to apply makeup, or don't feel like it. So I really try to take good care of my skin," Stone explains. "As I get older, I do worry about wrinkles and fine lines. This is why hats and SPF are my best friends. I have never gotten Botox or fillers, so as I age, I try to sleep more, stress less, eat salads, work out, and drink water." She also relies on treatments like New York Ayurveda's "off-menu" facial massage, which combines aloe leaf and yogurt to calm and hydrate the skin.
Below, Stone explains her favorite cleanser, her go-to spa, and why she used to rub a lemon on her face after late nights.
"Gommage is a type of exfoliant gel or cream that you rub on your face. The derivation of the word is from the French 'gommer,' which means eraser. The motion you use and the result of a thin layer of skin coming off is reminiscent of erasing something. It leaves your skin very soft.
Sometimes in the morning, I will wash my face and then apply this gommage gel for a gentle exfoliation. Then, I wash it again after gommage and before the rest of the routine. I love this gommage specifically because it's not thick or granular, but instead, it is an easy-to-apply liquid gel. I massage it in little circular motions all over my clean face, and the dry skin lifts right off. I wash it off in the shower and then follow my normal routine. The result is an extra glow!"
"I was introduced to this brand when I did a partnership with them in my previous life working in fashion PR. Grace Kelly was one of their devotees, which really hooked me because she was gorgeous inside and out and seemed to have the best taste. Definitely an influencer in her time and beyond.
Ever since I started using this face wash four years ago, I have not gotten any pimples or breakouts. When the brand had their invite-only spa in Soho, I was offered a facial, and they even did microdermabrasion on my elbows. I'll never forget it. The only other cleansers that I use are Christine Chin Hydrating Cleanser for the a.m. (lighter) and the BeautyRx by Dr. Schultz Balancing Cleanser for the p.m. The Beauty RX cleanser is super foamy and feels great to remove makeup after a long day."
"I am a diehard Christine Chin girl. Even though I no longer live on the Lower East Side, I still make my way down to her no-frills spa on Orchard Street to see Wendy. This spa doesn't have a million fancy machines, but their facials and her products really work. It has a 'Mean Christine' reputation, but in reality they just give really deep cleansing facials with amazing extractions. It hurts, and I complain like a baby. I also always get microdermabrasion. I love that you can look up on the wall and see the gorgeous supermodels from the '80s and '90s who went to Christine Chin. So many spas have a million different types of lasers and injections and newfangled technology, but the fact is that Linda Evangelista was gorgeous, so if Christine Chin is good enough for her it's good enough for me.
I was preparing for my wedding and thought seriously about beauty preparation. I scheduled my facial at Christine Chin and I stocked up on her products. While the spa sells various toners, Wendy recommended the bio toner for me. It has time-released vitamin C and is great for dry skin. I love toners that come in spray bottles because they are so easy to apply by directly spritzing on your face, or onto a cotton pad. The other spray toner that I use is the BeautyRx by Dr. Schultz Clarifying Toner, but that's in my downstairs bathroom so I normally use it at night."
"I am prone to blackheads, and Wendy at Christine Chin told me that one way to reduce blackheads and shrink pores is to use their daily serum. I'm not 100 sure how it works, but you can feel it immediately tightening the skin. I also love this serum because it's supposed to help other products penetrate more thoroughly , and it allows moisturizer and SPF to go on very smoothly. The other product that I use to shrink pores is BeautyRx by Dr. Shultz Tetrafoliant 8% Peel Solution, but this is used at night. You use about three to four drops every day, and it lasts you six months."
"Using a jade roller after your serum is supposed to help it penetrate more fully into the skin. I keep my roller in the fridge, so it also wakes up my face. When I graduated from college and worked in finance, I would go out late and then have to wake up at 5 a.m. I would rub a lemon and then ice all over my face to brighten my skin, to depuff, and to wake myself up. Using a jade roller is the adult version of this. I don't have time to do this every day, but I love it!"
"This product is super luxe and emollient. I love that it comes with its own applicator (although I'm too lazy to actually use it). A tiny amount goes a long way, and I apply it with my pinky finger by dabbing and lightly spreading under my eye and on my lid. This cream feels delicious — there's no other way to describe it."
"This is one of those things where I'm not sure exactly what it does, but Wendy told me to use it. It's a set of three creams that are meant to help you with fine lines, UV damage, and brighter skin. I noticed a significant reduction in blackheads and clear skin. So I keep using it. You use two of the products once a day and one of the products twice a day. I always feel like the product that you use twice a day should come in a bigger container, but I try to make them all last for the same length of time."
"I love how soft and light this cream is, while still providing deep moisture. It's so expensive that I used to get samples at White's Pharmacy in East Hampton, and try to make them last forever. The good news is that it does last for a pretty long time! I place a small amount in my palm and sort of spread it around my hands and then press my hands on my face. I find that it's soothing to my skin and locks in moisture, especially when applied on top of toner and serum!"
"I pump this onto my finger tips and then spread it around my face. It's so light and easy to apply. I'm also convinced that it doesn't clog pores. I truly love many Garnier products, which work so well, last forever, and won't break the bank. I love their Soothing Facial Mist With Rose Water (which I included in my welcome gift bags for guests that are staying at hotels for my wedding) and their Whole Blends Leave-In Conditioner (which are a savior for curly haired girls like me).
I have two bathrooms (one on each level), so I have different products in each bathroom. If I'm in my upstairs bathroom, I will use Christine Chin Solar SPF 30, which applies very smoothly after using her serum and the La Mer moisturizer. If I'm rushing in the morning, or if my skin is feeling more oily that day, I will skip the La Mer moisturizer, and will just apply the SPF. This can be either the Christine Chen SPF or the Garnier SPF, but I find that the Garnier goes on super smooth and light — I prefer to use that on more of an every day basis if I'm rushing."
"I finish off my morning routine with Paw Paw to moisturize my lips. Randomly enough, I first discovered this Australian ointment in Marfa, Texas. I visited the store FREDA and purchased one tube of Paw Paw for $12 and a water color by Ally Hilfiger, which is hanging in my kitchen to this day. Since Paw Paw is not really available anywhere else in the states, I made that tube last for years. Who knew that, five years later, I would be marrying an Australian, thereby opening up an endless supply of Paw Paw at more normal drugstore prices. Every time I visit Australia, I buy a case. I have one in each bag and gift it to friends."
If you buy something through our links, New York may earn an affiliate commission.