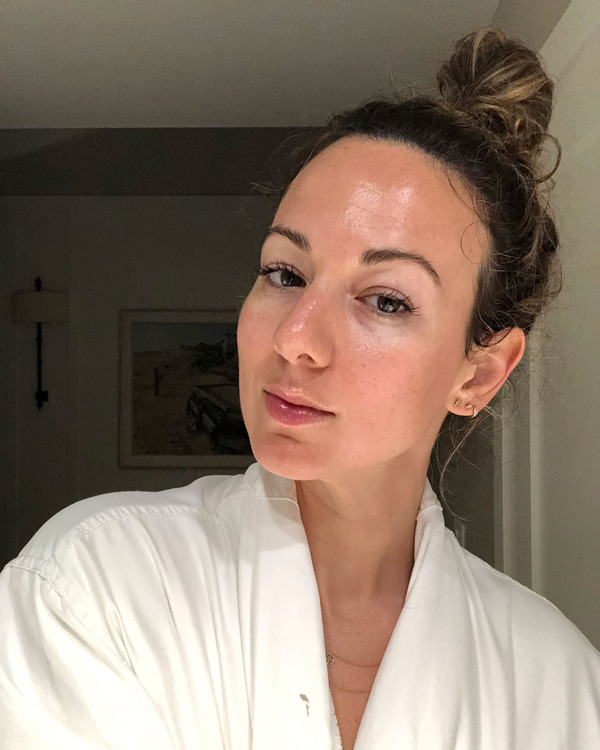 Photo: Courtesy of Ashleigh Hults
Want more skin care? Join our Facebook Group, the Beauty of It All.
Ashleigh Stone's straw Poolside bags are adorned with seashells, embroidered daisies, and rhinestones, but what goes inside them is even more important. For the founder and creative director, it's often skin-care products. "I think that I was about 12 or 13 when my mother introduced me to Clinique's three-step regimen — cleansing, exfoliating, and moisturizing," she says. "I remember exactly where we were when she explained the importance of getting into a good skin-care routine." And while Stone's moved on to different products, her devotion to skin care remains the same.
"Normally I either don't have time to apply makeup, or don't feel like it. So I really try to take good care of my skin," Stone explains. "As I get older, I do worry about wrinkles and fine lines. This is why hats and SPF are my best friends. I have never gotten Botox or fillers, so as I age, I try to sleep more, stress less, eat salads, work out, and drink water." She also relies on treatments like New York Ayurveda's "off-menu" facial massage, which combines aloe leaf and yogurt to calm and hydrate the skin.
Below, Stone explains her favorite cleanser, her go-to spa, and why she used to rub a lemon on her face after late nights.
If you buy something through our links, New York may earn an affiliate commission.