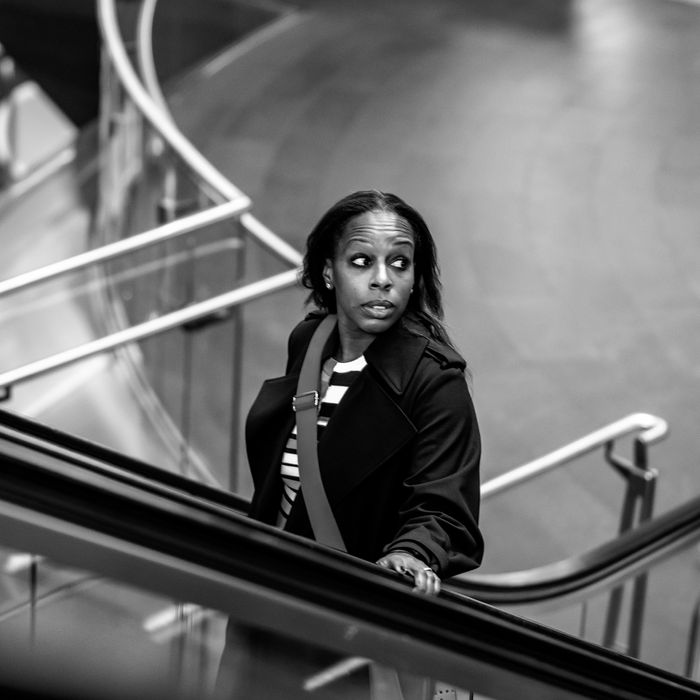 Margaret Anadu at the Fulton Street station on September 27.
Photo: Mark Peterson
You may have seen that we published a list of 49 exceptionally powerful New Yorkers whose names you've likely never heard. You can call theirs inside power, hidden power, stealthy power — but in every case, what they wield is a distinct, sometimes frightening ability to get things done in their respective universes. Here's a look at all the women on our list, from a City Hall string-puller to a public-housing czar to the young art collector whom all the megadealers are watching.
The Power To:
Turn
a
Celebrity
Into
a
Mogul
Could a regular publicist get you an LVMH deal? Amanda Silverman will.
Back when she was known as a mere celebrity publicist, Amanda Silverman represented many of the biggest: Rihanna, Lady Gaga, Pharrell Williams. She had a reputation for being intimidating — unafraid to shout down the phone at nosy reporters who were asking questions about Damon Dash's divorce or Queen Latifah's DUI.
But by the time Silverman left her longtime agency, 42West, the celebrity game had changed. No one was just a musician or just an actress. Her new agency, the Lede Company, founded in 2018 with four partners, would be a fully integrated one, bringing together "talent," with "brand" and "corporate," the better to play all sides of the celebrity equation. Silverman had long been pushing her clients to take advantage of the ripe possibilities of collaboration. She helped Rihanna launch her own lines in fashion, beauty, and lingerie, setting her on the path to becoming a billionaire. She positioned Pharrell as the most stylish celebrity and the most celebrated designer (of Billionaire Boys Club and Ice Cream), until, in 2023, he got one of the most coveted jobs in fashion: men's artistic director at Louis Vuitton. And Silverman, who had been at his side for years, got Vuitton as a new client for her agency's fashion division.
Lede's fashion roster grew as its competition faltered. Other agencies downsized during COVID; the Lede doubled its business, hoovering up Isabel Marant, Margiela, Kenzo, and Thom Browne. Silverman's partner Christine Su, an alum of Converse, runs fashion day-to-day, but with fashion and celebrity inextricably intertwined, the two sides work in lockstep. "We have access to the best talent. We have access to the biggest brands," Su says. "It doesn't necessarily mean that they're all Lede talent — but, you know, it's great if they are."
Silverman has softened a bit from her fierce old days, but she still falls back on the classics from time to time, meting out access as sparingly as she can. Would Pharrell have five minutes to explain to this magazine why she's the best in the business? "Nope," she texted back immediately. "Hahaha." — Matthew Schneier
The Power To:
Build
the
Largest
American
Luxury
Conglomerate
Fashion groups in New York have always been dwarfed by their Parisian rivals. A merger led by Joanne Crevoiserat might change that.
In August, Tapestry — which owns Coach, Kate Spade, and Stuart Weitzman — officially agreed to acquire its rival group Capri for $8.5 billion, adding Michael Kors, Versace, and Jimmy Choo to its arsenal of brands. While Europe already has conglomerates like Kering (Gucci, Balenciaga, Yves Saint Laurent), LVMH (Louis Vuitton, Givenchy, Dior), and Richemont (Cartier, Chloé), the U.S. fashion landscape is studded with individual brands. The acquisition of Capri, then, will be the largest luxury merger in recent American fashion history, and the person who engineered it was Joanne Crevoiserat, who worked on the department-store circuit and at Abercrombie & Fitch before becoming CEO of Tapestry in 2020.
Unlike Bernard Arnault and François Pinault, the billionaire CEOs of LVMH and Kering, Crevoiserat maintains a low profile. "She's not about the glitz and glam. She's about driving shareholder value," says a former colleague. "She's a CFO at heart." Even with the acquisition, Tapestry's roster doesn't have the prestige to compete for customers with European labels like Gucci or Chanel, but Crevoiserat probably didn't make the deal to become the doyenne of American fashion; instead, she had an opportunity to streamline supply chains and gain leverage. The combined revenue of Tapestry and Capri is roughly $12 billion, and the company will have the financial heft to more easily rent storefronts, attract top talent, and mount major marketing campaigns. "None of the brands are important from a fashion standpoint, but they're big, powerful brands from a volume standpoint," one fashion executive told me. This means that Crevoiserat has become extremely important to people like landlords, advertisers, and fabric suppliers. "In terms of American fashion CEOs," the executive said, "she's probably No. 1 now."  — Angelina Chapin
The Power To:
Make
the
Whitney
Less
White
Rujeko Hockley is changing the museum.
Rujeko Hockley was not hired solely to make the Whitney's collections less white. There was no job description that read "curator of contemporary Black art," says Scott Rothkopf, the museum's incoming director. But since joining the institution in 2017, Hockley has helped expand the artists of color acquired and promoted by the museum, advocating for people like Toyin Ojih Odutola, Julie Mehretu, and Dindga McCannon. "She's part of a group of Black woman curators who have laid the groundwork, quietly and without fanfare, that a lot of artists are standing on now," says the artist Simone Leigh, who was part of the 2019 Whitney Biennial, co-curated by Hockley, that showcased a majority of works by non-white artists.
Much of Hockley's success derives from her deftness. "It's not like a bulldozer of confidence but a more subtle kind of vehicle that's classy and stylish, like a Cadillac," says the artist Sadie Barnette. Since Hockley was hired, the Whitney has promoted more non-white staffers and now has four curators of color. But it has also been the subject of controversies around racially charged art, such as the inclusion of Dana Schutz's Open Casket in the 2017 biennial. Throughout heated staff conversations, Hockley displayed a knack for "meeting people where they are without making them feel stupid," Rothkopf says. Instead of arguing that museums need to include X number of Black artists in their collections to meet a quota, the artist Linda Goode Bryant says, Hockley encourages her colleagues "to be curious, and to explore things that may be overlooked and ignored." And artists trust Hockley's feedback. "There's a way in which the art world expects people to have a certain meanness," says Leigh. "Normally when people are razor sharp, they're just not able to be as kind as she is." — Angelina Chapin
The Power To:
Inherit
a
Megagallery
(Maybe)
Of the Zwirner children working in their father's empire, Lucas is front and center. Then there's Marlene Zwirner.
The eldest child of the art dealer David Zwirner is the best known of his three children, apparently because he likes it that way. Lucas, 32, has hosted the gallery's official podcast and fashioned himself as a publishing impresario, driving the gallery's underwriting of The Drift and overseeing its book series "ekphrasis." His square, action-hero jaw shows up alongside glamorous actresses (Sienna Miller, Jessica Joffe), and rumors about him and Dianna Agron led to more rumors about why the painter Harold Ancart, Agron's boyfriend, left for Gagosian.
By contrast, there's Marlene, 30. Even people who say they know "the siblings" admit they don't know "Mars" as well. She's been tagged in a grand total of three pictures on the party website BFA compared to Lucas's 23. Marlene does the behind-the-scenes labor that allows the gallery to function. As a sales director, she manages artists like Katherine Bernhardt, Joe Bradley, Roy DeCarava, Shio Kusaka, Josh Smith, and the estate of Noah Davis, and her power derives from their loyalty. The sculptor Andra Ursuta credits Marlene with the gallery's decision to take her on, though "obviously she would never take credit for it." This year, when Ursuta suggested a show in London, Marlene "immediately pulled out her phone to look at the schedule," and voilà: "She does everything with a light touch."
"People choose who they surround themselves with, and Marlene surrounds herself with artists," says her friend Ellie Rines, who runs the gallery 56 Henry. "She's like an artist whisperer." Josh Smith had been looking for a change when Marlene introduced him to her then-boyfriend, the Givenchy designer Matthew M. Williams. They collaborated on a collection that had the sculptor carrying luxury handbags and Kid Cudi wearing Josh Smith.
At the same time, Marlene seems careful not to mix work and play. Neither of her painter exes, Lucien Smith and Dan Colen, is at Zwirner; though she's now dating Matthew Brown, the precocious, 20-something gallerist, the two aren't snapped together on red carpets. "I've never met anyone like Marlene," says Josh Smith, who homed in on her rarest of qualities. "She doesn't like being the center of attention." — Adriane Quinlan
The Power To:
The megagalleries are always after Ellie Rines's finds.
The veteran art dealer Jeffrey Deitch is always on the lookout for young gallerists. "I heard about this woman in this tiny storefront and that she lived in the back of the gallery, and I was intrigued," he says. So a few years ago he visited Ellie Rines at her 450-square-foot gallery, 56 Henry. "I walked over and I saw this phenomenal show of Anna Weyant," who had just graduated from RISD. "I said, 'This is terrific. Can I buy one?' But everything was sold. Unlike other galleries, which ignore you or play games, shortly after that opening, she called me and said, 'I have a painting for you.' It was marvelous, and I acquired it for something like $6,000. And through that we made a rapport."
The 35-year-old owner of the teensy gallery — she no longer sleeps in its back room — has managed to find and launch the careers of Al Freeman, Nikita Gale, Cynthia Talmadge, and Weyant, among others. In a world defined by megagalleries, Rines punches above her square footage.
"Art bros try to seduce the artists I show into their programs with larger spaces or promises of more money," Rines says of the megas. Weyant and Gale have been lured away; others are being courted. "I often have to be on the defense," she says, "and do all this weird shit to keep the artists happy." Last year, she opened a second space at 105 Henry (it's 550 square feet) and now shows at the Armory Show and Art Basel Miami Beach. It helps that cool people like her; you might run into Maurizio Cattelan, Venus Williams, Cat Power, or Lily-Rose Depp in the bedroom turned VIP lounge at Rines's gallery. "She's really part of the whole process of how art enters into the culture," says Deitch. "The art world can't develop artists and collectors without people like Ellie."  — Michael Slenske
The Power To:
Win
Delivery
Workers
Minimum
Wage
Ligia Guallpa made elected officials finally listen to their demands.
Of course, it was the deliveristas who, in WhatsApp messages and crowded intersections, organized to call attention to their industry's low, unpredictable pay. But the person who was able to translate their experiences in negotiations with city officials and secure a mandatory minimum-wage law ($18 an hour, required to go up to $20 by 2025) was Ligia Guallpa, the executive director of Worker's Justice Project, the advocacy organization backing Los Deliveristas Unidos. In the first few months of organizing, Guallpa, the daughter of a day laborer, spearheaded a survey of delivery workers to determine the issues that mattered most — collecting damning data on their pay and working conditions. And as the primary intermediary between the workers and elected officials, Guallpa positioned herself as a trustworthy conduit. "I don't mean this pejoratively, but she really gets how to play the game on both sides," says Chansi Powell, director of policy and advocacy at Robin Hood. Brad Lander, the comptroller who sponsored the minimum-wage law, says Guallpa's preexisting ties to City Hall helped enormously in pushing through the legislation. "When she calls, you're always happy to answer," says Lander. "And that's despite the fact that you know she's going to have an ask or push you to do something." — Paula Aceves
The Power To:
The transplant process relied on a racist algorithm. Michelle Morse changed that.
Undergirding the daily operations of doctors' offices and hospitals, there are clinical formulas that tell physicians which patients are healthy and which are at risk. Are their organs functioning normally, or is something wrong? For decades, parts of the medical industry have been using a racist formula to estimate kidney function that assumes Black people have greater muscle mass than white people. As a consequence, Black patients have often received inadequate treatment and been forced to wait longer for kidney transplants. It's one of the reasons why African Americans die from kidney disease at especially high rates. The formula and others like it are bogus, but changing the practice is complicated, the institutional equivalent of removing a tangled brain aneurysm.
In New York, there has been a transformation. Over the past two years, half a dozen of the city's biggest hospital networks, including NYU Langone Health and Northwell Health, have stopped using these algorithms. And it's fair to say one woman has been behind the shift: Dr. Michelle Morse, the city's first chief medical officer.
The Philadelphia native, who spent years practicing medicine in Botswana and Haiti (and speaks fluent Creole), has been crusading on this issue for a while, including in Washington, D.C., as an adviser to the House Ways and Means Committee. In February 2021, the de Blasio administration created Morse's position and gave her a lofty assignment to "operationalize health equity." George Floyd's murder was still recent news, and Morse thought it was a rare moment to ram a change through. She recruited hospital executives to join a new group — CERCA (the Coalition to End Racism in Clinical Algorithms) — and commit to making substantive reforms. To hear insiders tell it, Morse isn't an arm-twister or master negotiator so much as she is the epitome of managerial competence. "She corralled everyone around a common agenda," says Dave A. Chokshi, who hired Morse when he was health commissioner.
Morse's group has had the most success on kidneys, but member hospitals have also been making progress on other concerns, including a formula that leads to Black and Latino pregnant people receiving unnecessary C-sections. The best way to work with Morse, says one former colleague, is to "do a lot of blocking and tackling — and then just get out of the way." — Nick Tabor
The Power To:
You might not know it, but you've probably been to a Gabriella Khalil property recently.
A few years ago, fashion designer Raul Lopez met with some hospitality executives in New York about potentially being involved with a new hotel in the Cayman Islands called Palm Heights. He was introduced to the "HBIC: the Head Bitch in Charge," he says, otherwise known as Gabriella Khalil, the hotel's reported owner, creative director, and face. "It was like a movie," Lopez recalls. "She comes out of the elevator with this long ponytail, wearing this chic white Jacquemus suit. I was like, Okay, whoa. So this is actually the boss."
Palm Heights first opened in 2019 but was closed to foreign visitors from March 2020 to late 2021. As soon as New Yorkers could get out of their apartments and down to the Cayman Islands, they began to flock there — in part because it was new and looked nice, but also because some of them were invited. ("Friends of the property," of which there seem to be many, reportedly receive discount rates, and artists can apply for a residency.) Who would say no? Bella Hadid has made multiple trips. And where do you think Gigi Hadid was going when she was arrested and fined for drug possession this summer?
To become a friend of the property, it probably helps to become a friend of Khalil's first. Originally from Philadelphia, she owns the hotel with her family, who also work in hospitality and real estate. In her mid-20s, she moved to London to get her master's in contemporary art at Sotheby's. Her husband is Matthew Gamal Khalil, who, with his brother, runs a discreet and substantial business-managing property in London. In 2022, the couple relocated to New York, where Khalil has quickly become someone a certain kind of city person is acutely aware of. And slightly confused by — why is she suddenly everywhere?
Khalil and her company, Happier People Management, seem to be in the process of expanding the Palm Heights universe across the city with at least three enormous projects: Scott Avenue Associates, located in a former industrial warehouse in Bushwick; Water Street Associates, which is spread across 31 floors of a high-rise building in the Financial District; and Happier Grocery, a two-story Erewhon–meets–Dean & DeLuca on Canal Street. The first two are slated to become members' clubs. At the moment, they are mostly bare-bones spaces — though she's using their under-construction-ness wisely. 154 Scott Avenue, for instance, is housing Habibi, a restaurant and hookah lounge. And WSA, which is quickly filling up with designer couches, is offering 700,000 square feet of programming space. It's all working. WSA is where Emily Ratajkowski decided to co-host a Met Gala after-party in May — a mere 11 months after Khalil arrived in New York in the first place. — Emilia Petrarca
The Power To:
Athletes, actors, and executives want the dominatrix Mistress Iris to break them.
Mistress Iris is not just for the stereotypical rich guy who spends his weekends in a rent-by-the-hour dungeon with his pants down getting spanked (though in her ten years as a professional domme, she has done some of that). There's a reason a religious leader, an Oscar-winning actor, an athlete, a military general, a senator, a top-dog Hollywood drug dealer, and a sampling of CEOs, tech execs, judges, attorneys, and finance scions beg to enter her world. She's exclusive — her client list is a very particular subset of the much wider variety of people who want to be dominated — she's expensive, and she's gorgeous. And she approaches domming with precision, surgically excising her clients' very deepest fears, desires, insecurities, and hang-ups, learning their minds inside and out, understanding how they wield power in their lives so she can take it away from them. "It's sexual mapping," Iris explains of her process. Her goal: to get them to surrender fully to serving her.
Her decade of experience helps guide her, too. Finance bros and their ilk have a particular defense mechanism. They might come with a list of demands and try to manipulate or bribe her, eventually throwing a tantrum and leaving when they realize they don't call the shots. "They usually come back a month later." Athletes are composed under pressure so they have a subconscious drive to be cracked open.
For the toughest to break, Iris knows she's got them once she can "leave them in a corner of a room and waste the entire time they paid for, and they are happy for me to do it." The conservative senator, it turned out, was a cuck. Hollywood's biggest drug dealer liked "being a little slut and wearing little lacy lingerie and getting pegged." The religious leader with the financial-domination kink "would just get on his knees in front of me and repeat, 'My will is strong. I will not bend today,' and I'd tell him, 'You're wrong. You're going to be groveling at my feet naked, denouncing your God. You're going to pray to me and only me.'" After many hours of enticement, he'd grovel at her feet naked, denounce his God, and give her all of his cash.
Because clients usually book multiday sessions and there are only so many hours of cock-and-ball torture one woman can administer, Iris often brings the power dynamic out of the bedroom as well. She might accompany them to a museum while the client wears a chastity device and she hangs on to the keys. Or dine with them at a restaurant, where they are instructed to eat only her scraps. "Behind every powerful man in recorded history," she says, "there's probably a domme who influenced him." — Allison P. Davis
The Power To:
Funnel
Money
Into
Affordable
Housing
Margaret Anadu helps investors understand the returns are not just altruistic.
Margaret Anadu is unusually effective at selling both altruism and the potential for high returns. At 41, she leads the real-estate division at Vistria Group, a $10 billion private-equity firm that presents itself as a provider of impact investments — ones that aim to deliver a broader benefit to society. It's a trendy, heavily marketed corner of finance, but Anadu has been at it longer than most. Having spent her early childhood in Nigeria, she moved at age 9 to Houston, then went to Harvard and spent 19 years at Goldman Sachs, the bulk of them in its Urban Investment Group. There, Anadu directed several billion dollars in funding to projects with affordable-housing components, including a National Urban League project in Harlem and Essex Crossing on the Lower East Side. When Vistria poached her in 2022, Goldman — which often turns its back on departing partners — helped seed her new fund with $100 million. Anadu's job now entails convincing pension funds, family offices, and other pools of capital that her projects from Baltimore to Detroit can outperform the stock market. "Her superpower is being able to connect with virtually anyone and understand what makes them tick," says Dina Powell McCormick, who worked closely with Anadu at Goldman. "She can tell a story and get people to move." — Jen Wieczner
The Power To:
Start a Bidding War for a Book
Now that she has secured deals for Clint Smith and Nikole Hannah-Jones, publishers trust Alia Hanna Habib's taste.
When a submission comes in from her, you stop what you're doing," says Doubleday senior editor Yaniv Soha of Alia Hanna Habib. The 45-year-old agent possesses the rare ability to start a bidding war just by sending over a manuscript.
The world of literary agents can be confusing for authors and editors both. There are powerful reps who can offer connections to film and television but who might be less interested in the literary potential of the text. There are boutique agencies that offer their clients more focused attention and passion but might lack the oomph to get their authors big deals. Habib is at a midsize agency (the Gernert Company), which means she has leverage in negotiations as well as an elite list of mostly nonfiction authors. This she managed by taking on clients early in their careers and convincing publishers to trust her taste. Sometimes on the basis of just one excellent article or small-press book, Habib started turning semi-unknowns into household names, like Clint Smith, Hanif Abdurraqib, Merve Emre (whom Habib has represented since her essay on female sociopaths was published on Digg), and Nikole Hannah-Jones, whom she nabbed pre–"1619 Project."
Random House's Hilary Redmon, who won the 18-bidder deal that brought in Smith's next three books, says Habib is on a shortlist of agents whose projects she prioritizes automatically: "She's one of the top-five people
I would read anything from immediately." Dan Gerstle, the editor-in-chief of Norton, agrees. "In the last five-to-seven years, she's become one of the few agents who is determining what people in this country read."
Her reputation pays off for her writers in other ways. "She's willing to do things like strongly request that we renegotiate a contract for an author whose platform has expanded since the book was acquired," says Soha. "She may not get what she wants every time, but you have to take the request seriously when it comes from her. You know what I mean? Another agent, you might turn it down out of hand — but this is Alia." — Emily Gould
The Power To:
Seat
You
Downstairs
at
the
Polo
Bar
Nelly Moudime decides if you make the cut.
The Polo Bar presents itself as open to all comers, but it is not. This is a private clubhouse in all but name, guarded by Nelly Moudime, a former model from Cameroon who came to Ralph Lauren's shrine to stitched leather and honeyed pine via Keith McNally's Minetta Tavern. She's seemingly affixed to the landing at the bottom of the restaurant's spiral staircase — so much so that on a recent night off, a stricken Clive Davis could be heard asking, "Where's Nelly?"
It is Moudime who mediates the Polo Bar's carefully guarded hierarchy of actors, editors, fashion moguls, and the extended Lauren family. Rumors persist that the classification system is as stratified as McNally's, though reps for the restaurant deny it. Established regulars won't say too much for fear of upsetting the balance that Moudime, a self-described control freak, curates within these windowless walls, but one did let slip that she becomes friends with many of the VIPs and "enters their orbit in a real way." Kehinde Wiley has painted multiple portraits of Moudime, and it's said she's constantly fending off poaching attempts, but for now, whenever, say, Steve Tisch, Marjorie Gubelmann, or Tommy Hilfiger wants a table, it's Moudime who decides where that will be — and whether any hoi polloi should be granted entry at all. — Ben Ryder Howe
The Power To:
Make (or Bury) a Career at the Times
Carolyn Ryan decides who gets a good beat, and who gets beaten down.
After the election of Donald Trump caught the New York Times by surprise, the paper reassigned its politics editor, Carolyn Ryan, to a new role: personnel czar. The move was technically a promotion — Ryan was now on the masthead — but to many it looked like she'd been sidelined. Turns out they got it all wrong. The Times, flush with new subscribers, embarked on a "Trump bump" hiring spree, and Ryan oversaw the recruitment of more than 400 people and a wave of promotions and reassignments. She also never entirely stopped editing; she'd "tear my columns up, and occasionally insult me, but always make them 30 percent shorter and 50 percent better," says Ben Smith, whose media column Ryan looked after. By now, a huge portion of the staff views her as instrumental to their career. Last year, the new executive editor, Joe Kahn, made Ryan one of his two managing editors, giving her broad power to shape coverage from business to culture to — once again — politics.
Ryan can choose who gets plum postings and order up new beats. Juicy assignments await the writers she likes. (One of her favorites, Matt Flegenheimer, recently co-bylined a story about Rudy Giuliani's drinking problem with Maggie Haberman — another early Ryan hire.) She knows how to dial up staffers' insecurities to extract good work, but if she decides you're a mediocrity, your career is pretty much on ice.
She remains inscrutable to much of the newsroom she helps run. The first openly gay woman on the masthead, Ryan has been responsible for hiring many of the more progressive young staff, and when this cohort gets upset over the way the paper is writing about, say, a trans youth clinic or the NYPD, Ryan will pop into a town hall to make everybody feel heard. She will rewrite headlines and ledes on sensitive stories, trying to keep them balanced, and has personally edited contrarians, such as Nellie Bowles and Michael Powell (who have both since left the paper). Because Ryan is apparently liked by the publisher, A. G. Sulzberger, and his cousin, Sam Dolnick — both of whom were cub reporters on the "Metro" desk when she ran it — she has unusual freedom to do as she pleases. —Shawn McCreesh
The Power To:
They all read Mara Gay's column.
At just about every Democratic campaign's first organizational meeting, a staffer is assigned "Mara duty" — a full surveillance of the social-media feeds of the New York Times editorial board's youngest member, Mara Gay. The paper's pronouncements still matter quite a lot — mayoral candidate Kathryn Garcia jumped 15 points in the polls after the Times endorsed her — and Gay is emblematic of its shifting interests. For politicians desperate for the Times' nod, her concerns are theirs.
Gay, whose remit includes city politics and government, brought the vantage of a Black millennial woman living in a rented apartment in Brooklyn to the board when she was hired in 2018. She helped housing affordability become the major issue in Albany this past session with Kathy Hochul unveiling the most expansive agenda of any governor in generations. In 2020, Gay was one of the leading voices advocating for the rezoning of Soho, and people involved in the battle say the board's editorial helped push it over the finish line. "Politicians tend to not want to do things," says one operative who pitches Gay regularly. "If you can convince Mara to write something, it gives them a bit of a nudge." — David Freedlander
The Power To:
Buy
a
New
High
Society
Life
Zhang Xin escaped China with her fortune. Now she's one of New York's most significant cultural philanthropists.
Over the past decade in China, as the Communist Party has reined in entrepreneurship in favor of Xi Jinping's gospel of "common prosperity," bad things have begun happening to the country's billionaires. The outspoken real-estate magnate Ren Zhiqiang is now in prison after calling Xi a "clown"; Jack Ma disappeared from the public eye for years. One prominent billionaire, Zhang Xin, along with her husband, Pan Shiyi, made a well-timed departure during the pandemic, moving a significant chunk of their wealth out of China and relocating to New York.
Upon arriving here, Zhang and Pan — who in the 2000s and 2010s developed some of the most striking shapes on the Beijing and Shanghai skylines — quickly became fixtures of Manhattan's cultural and philanthropic elite. Zhang had already donated millions to Harvard, Yale, and Phillips Academy to fund scholarships and athletic facilities, and she had also joined MoMA's board. In 2022, she started the production company Closer Media, which produced three films that debuted at the Toronto International Film Festival in September. (One project in the works is a film about George Orwell directed by Raoul Peck, which some may interpret as a jab at Xi's government.) Today, Zhang's apartment on Billionaires' Row and her house in the Hamptons are destinations for influential media figures and China watchers, and she's friendly with Wendi Deng Murdoch, Jamie Dimon, and Henry Kissinger. Superstar pianist Yujia Wang once played at her annual Chinese New Year party. It's certainly a better fate than a prison sentence from the Communist Party. "They truly dodged a bullet," says a friend of the couple's. — Christopher Beam
The Power To:
Propel
Comedians
onto
Netflix
Mike Lavoie and Carlee Briglia have charted a path from small theater to Broadway to beyond.
Roughly speaking, there are now two ways for a comic to break out of the New York scene. The first is to relentlessly post stand-up clips to social media until you build an audience big enough to justify a tour. The second is to workshop an ambitious solo show with a cohesive theme and theatrical-production value, hoping to turn it into a critical darling and, eventually, a highly paid special on Netflix. The latter track is more demanding and prestigious, and the producers who best know how to steer comedians through it are Mike Lavoie and Carlee Briglia.
"All people ever ask me about is 'How can I get in touch with Mike and Carlee?'" says Alison Leiby, who worked with them on her hit 2022 production, Oh God, a Show About Abortion. "They're so big and they're so important and nobody outside comedy knows it," says Alex Edelman, whose show Just for Us Lavoie and Briglia produced. Of the 18 shows Lavoie and Briglia have staged for extended runs, one has been turned into a major movie, three have advanced from Off Broadway to Broadway, and ten have gone on to become specials on Netflix and HBO.
Lavoie went to Georgetown with Mike Birbiglia, where they both performed on the improv team. In 2008, he worked as a producer on Birbiglia's pioneering solo show Sleepwalk With Me, and a few years later began teaming up with Briglia, a fellow Georgetown graduate. (They're aware that the similar names are confusing.) Their company, Mike & Carlee Productions, has backed hits by Neal Brennan (3 Mics), John Mulaney and Nick Kroll (Oh, Hello Live), Chris Gethard (Career Suicide), Jacqueline Novak (Get on Your Knees), and Kate Berlant (Kate), among others.
In their niche, Lavoie and Briglia have a reputation for low-key competence and profitability. They connect talent to investors, venues, and technicians; they also manage the comics' neuroses, so they stay at ease while running shows that are orders of magnitude more complicated than performing a set at the Comedy Cellar. "They have a wry sense of humor," says Colin Quinn, who has worked with the pair on at least five productions. "They're so used to being around the comedy space, and they understand that talking to comedians is different from talking to actors." — Hershal Pandya
The Power To:
Get
You
Past
the
Co-op
Board
Serena Boardman doesn't just sell you a $50 million apartment.
It's not uncommon to scroll a StreetEasy history for an East Side "social" building and find one name on nearly all of the recent listings. Serena Boardman dominates the exclusive uptown co-op market; she was on both sides of the $77.5 million sale at 834 Fifth in 2015, which remains the highest price paid for a single co-op. It helps that she was born into this world. Per one broker, "literally everyone knows her mom. Everyone knows her dad." (Respectively, the popular socialite Pauline Pitt, whose great-grandfather founded what would become Citibank, and hedge-fund pioneer Dixon Boardman.) Her sister, Samantha, a psychiatrist, is married to real-estate developer Aby Rosen, and Serena is married to a Greek shipping heir, John Theodoracopulos. The listing broker on the 14-room $48 million co-op at 2 East 67th that Jonathan Tisch bought? Serena. Aerin Lauder's $47 million co-op purchase at 960 Fifth? Serena.
Boardman also has a reputation as something of a co-op-board whisperer. A big component of an application is the reference letter, and "if you're a client of Serena's, it's like an additional reference," says one broker. And because she knows everyone on the board, she knows just how prospective buyers should phrase things to make their applications most compelling. "Another broker might look at a letter and be like, 'This is perfect,'" one tells me. Boardman would look at the same letter and give edits — rephrase this, rewrite this. Another tells me Boardman might also make a call if she felt it was appropriate. (She's also savvy enough to know when that kind of thing would backfire.) Boardman managed to get Len Blavatnik, who had previously been turned down at 740 Park and 927 Fifth, into Woody Johnson's penthouse at 834 Fifth, which Max Abelson once described in the Observer as "the most pedigreed building on the snobbiest street in the country's most real-estate-obsessed city." — Kim Velsey
The Power To:
Keep
Public Housing
Public
Nothing happens at the Smith Houses without going through Aixa Torres.
The 12 towers comprised by NYCHA's Alfred E. Smith Houses occupy prime real estate overlooking the East River between the Brooklyn and Manhattan Bridges. A decade ago, the Bloomberg administration took note, unveiling a high-profile plan to lease land at the complex to market-rate developers. In theory, the gambit was meant to raise funds for the cash-strapped public-housing authority. But Aixa Torres — the Smith Houses' uncompromising, well-connected tenants-association leader — saw the specter of luxury towers as an unacceptable lurch toward privatization and, from there, the eventual dislodging of her tenants. She led a legal counteroffensive that resulted in the complete abandonment of the plan. As the top staffer to one local politician says, speaking for many, "We try not to piss off Aixa."
The most famous recent "Aixa battle" involves the Smith Houses' trees, which Torres claims NYCHA contractors damaged while doing hurricane-resiliency work. She hired a consulting arborist, marshaled elected officials to intervene, and eventually forced the capitulation of NYCHA, which agreed to plant replacement trees (and reimburse her for the arborist). State Senator Brian Kavanagh, who represents lower Manhattan, marvels at Torres's ability to get him involved in such a small-bore conflict. "A local tenant leader got her senator to personally talk to the chair of the Housing Authority — who represents half a million people — to make sure the tree agreement was signed," he says.
With roughly 5,000 people living in the Smith Houses, Torres's endorsement in small-margin primary races is coveted. In the 2021 race for the City Council's First District, Torres backed Christopher Marte. When Carlina Rivera, a councilwoman from a neighboring district, showed up at the Smith Houses to campaign for Marte's opponent, Torres called her to ask what, exactly, she was doing there. "Like I tell NYCHA," Torres says, "nothing happens at Smith that I don't find out about in a minute." Marte won by 20 points. — Simon van Zuylen-Wood
The Power To:
As a bloc, they're moving rightward. Yiatin Chu is making Democrats pay attention.
Lee Zeldin, a proud Donald Trump supporter, seemed like the last candidate who could make a dent in New York's deep-blue electorate. But he did. This past November, with crime among voters' priorities, he fell just six points shy of becoming the first Republican to win a governor's race in 20 years. Zeldin ran remarkably well against Kathy Hochul in the Asian community, winning large swaths of Flushing and Bensonhurst.
This was no surprise to Yiatin Chu, president of the Asian Wave Alliance, a citywide political club that endorses Republicans and Democrats alike. Asian voters are drifting to the right, and Chu is forcing progressives to stop taking their vote for granted. "We can't look at just one party," she says. "A lot of grief we've experienced is because we keep voting for one party." Chu and AWA worked closely with Zeldin — registering Chinese voters, canvassing, and conversing with a large ethnic press that is little understood by English-speaking politicians. Many Asian voters were furious because they believed Democrats wanted to weed them out of specialized high schools by dumping the SHSAT and weren't doing enough about anti-Asian hate crimes.
Democratic candidates who might have once assumed that Asian voters would tend to support them will have to contend with Chu's opposition to various progressive causes, including bail reform and congestion pricing. Bob Holden, a conservative Democratic City Council member who endorsed Zeldin last year and has worked with AWA, says Chu and her group are harnessing a powerful new bloc of disaffected voters. "They're fighting back and saying, 'Enough is enough,'" he says. "They're very persistent, and they're very active. That's why I like them." — Ross Barkan
The Power To:
Enforce
the
Mayor's
Petty
Grudges
Ingrid Lewis-Martin "is the Adams administration."
Eric Adams and Ingrid Lewis-Martin are so close that she was the first person he thanked from the stage at his Election Night party. When he was sworn in on New Year's Eve in Times Square, she was at his elbow. Now, as the mayor's chief adviser and the so-called Lioness of City Hall — an appellation she has embraced — she roams freely, the lone aide without portfolio.
"I don't think you can say she has her fingerprints all over the Adams administration," says a rival political operative. "She is the Adams administration. It is Brooklyn clubhouse politics brought to the whole city. And every dispute is a personal fucking bloodbath."
It can often seem as if there are two Adams administrations. The first is a collection of policy technocrats, generally acknowledged to be experts in their field, who would likely find a home in any administration — and indeed are veterans of the Bloomberg and de Blasio years. (This faction is led by First Deputy Mayor Sheena Wright and includes deputy mayors like Anne Williams-Isom and Maria Torres-Springer.) The second is composed of Adams loyalists whose expertise is what could charitably be described as "operationalizing" the mayor's agenda. They're knife fighters, and they relish their mandate to destroy the mayor's enemies. Lewis-Martin is their alpha. "When they go low," she once told an interviewer, "we dig for oil."
And so while one segment of City Hall is overhauling zoning laws, rethinking trash, and planning more bike and bus lanes, the segment Lewis-Martin leads is speaking to the mayor's base of moderate and right-
leaning outer-borough homeowners. You can see her influence in moves such as calling on the federal government to close the southern border, backing challengers to state lawmakers who oppose the mayor's policing initiatives, and giving jobs to people with a history of making anti-gay comments — all dog whistles to Adams's conservative fans. The tension is most apparent in Lewis-Martin's efforts to counter initiatives by Adams's own Department of Transportation to keep cars off a pedestrianized street in Fort Greene and bring traffic-calming measures to the deadly McGuinness Boulevard in Greenpoint. She has boasted about not taking the subway in 40 years.
"Most of my colleagues are afraid of her," says a councilmember. "They think of her as someone who can make a few phone calls and get people to show up for you if you need it or who can turn on the money spigot. You don't want to get on her bad side. She will make your life miserable."
On a recent night as New York was drenched in record-setting amounts of rain, Adams was at a $2,000-a-head reelection fundraiser in Inwood. As he was speaking, a protester interrupted, saying the mayor was pitting migrants against other unhoused New Yorkers and using Republican talking points. Before security could come to snatch the protester away, even before Adams could say much of anything in response, Lewis-Martin sidled up beside the mayor, towering over him, arms folded across her chest, glowering. — David Freedlander
The Power To:
Stop
a
Sunset
Park
Development
It was the work of environmental activists Elizabeth Yeampierre and Eddie Bautista.
The interests that have historically called the shots in Sunset Park's Industry City are right there in the name. But recently, industry — as represented by the billion-dollar developer Jamestown — lost a seven-year effort to transform the waterfront district into an even bigger retail destination. Led by Elizabeth Yeampierre, an environmental-justice activist and the head of the Sunset Park community-advocacy organization Uprose, a local coalition managed to kill the project over concern that the rezoning would push out thousands of residents from the working-class community of color: Greenpoint or Williamsburg all over again. The coalition also wanted to preserve the waterfront in hopes of creating green jobs. "Elizabeth was the driving force," says Representative Nydia Velázquez, whom Yeampierre recruited to the effort.
In 2021, Yeampierre helped notch another win for Sunset Park when the de Blasio administration announced the city-owned South Brooklyn Marine Terminal would be the assembly point for a gargantuan offshore wind project that should come online by 2026. On that one, Yeampierre teamed with her husband, Eddie Bautista, the executive director of the New York City Environmental Justice Alliance. Since they first began collaborating at an organizing workshop in 1987, the couple have pushed for cleaning up the neighborhoods that the city is most likely to pollute: poorer communities of color located near industrial zones. As the top legislative aide to Mayor Bloomberg, Bautista helped reform the way New York gets rid of the tens of thousands of pounds of trash it creates daily, switching from garbage trucks to barges and rail. Now, they're working with state agencies to shut down "peaker" plants exposing outer-borough neighborhoods to excess emissions. — Matt Stieb
The Power To:
Convince
Cartier
to
Sponsor
Your
Gala
In the high-level philanthropy world, Nathalie Gerschel Kaplan makes sure everyone benefits.
The business model of NGK Global, Nathalie Gerschel Kaplan's boutique consultancy, is simple: Get luxury brands to partner with galas that benefit good causes. For example, Cartier might sponsor a dinner before a Robin Hood fundraiser, and wouldn't the co-chairs of the gala's host committee like to try on some earrings after dessert? "The charities are interested in meeting these luxury jewelry clients, and these luxury jewelry brands are interested in meeting the charities' donors, so it works for both sides," says one person who has attended several Kaplan events. Her clients have included causes like Save Venice, the Society of Memorial Sloan Kettering, the Bass Museum of Art, and brands such as Tiffany & Co., Loro Piana, Christie's, and dozens more. While the corporate sponsors are not hiring Kaplan (a point she takes pains to underline), those who have observed her role in the complex ecosystem that is high-level philanthropy say she can help make sense of the vast circle of mutual back-scratching that takes place among brands, charities, and of course, the people giving the money (again, she emphasizes, not her clients!), who might be looking to get on the "right" junior committees or boards. Says Bronson van Wyck, an events producer who has worked with Kaplan, "She helps the smooth functioning of the unwritten social constitution of philanthropy in the city." — Ben Widdicombe
The Power To:
Broker
Peace
Between
Tech
and
City
Hall
The reason they don't hate each other — like they do in San Francisco — is Julie Samuels.
New York's relationship with the tech industry, which is now the city's largest employer, hasn't been all IPOs and roses — recall Amazon's HQ2 disaster — but the person most responsible for preventing all-out tech-versus-government warfare is Julie Samuels, founder and executive director of Tech:NYC. Samuels has accumulated influence by convincing each side of the divide that the other is not the enemy. She texts with not only pretty much every venture capitalist in town but also Mayor Adams and Governor Hochul. Samuels is every New York start-up's de facto government fixer. Your attempt to disrupt an industry is pissing off the unions? Samuels knows the right person at the local. Your founder's girlfriend can't get her visa renewed? Samuels can get the application to Senator Chuck Schumer's office. Your DTC flagship store is overrun with shoplifters? Samuels can reach the right person at the NYPD.
In City Hall and other offices, Samuels is appreciated for her ability to convince techies that government isn't filled with Luddites but rather with potential partners. "Unlike some other trade-association reps, she figures out how tech can work with different agencies, which in turn makes New York more receptive to the tech industry," says Janno Lieber, the head of the MTA. When subway surfing became a viral challenge this summer, leading to the deaths of four teenagers, the MTA called in Samuels to help it persuade the major platforms to take down the videos. The platforms removed 3,000 of them.
Samuels has been the Adams administration's go-to tech conduit from the beginning. When City Hall wanted to figure out what to do about drones, Samuels was tasked with getting the smartest executives and regulators together. "In a world where doing that otherwise could take 900 meetings, she can get the right people together in 20 minutes," a former Adams-administration official says. At a dinner earlier this year, Samuels and the VC Fred Wilson were the first to show Adams how ChatGPT worked. The mayor was impressed with the bot's answer to the question "How do we get rid of rats in New York City?" — Reeves Wiedeman
The Power To:
One must "come correct" to get into GeGa Japaridze and Téa Abashidze's Queens nightclub, Basement.
When GeGa Japaridze and Téa Abashidze moved to New York from their native Georgia, their Eastern European sensibilities were shocked: While they were attending a party at a club in Brooklyn, the lights came on at 4 a.m. "We thought it was an emergency," says Japaridze. "'What is happening? What is happening?,'" Abashidze remembers saying. "My friends were like, 'Girl, chill; it's New York.'" Since the parties here were tamer than they had expected, they saw an opportunity.
The two promoters, who are former lovers with similarly chiseled features, stayed in the city and in 2019, along with Tyler Myers, opened their club, where the party never stops at 4 a.m. Basement is in the literal basement of Knockdown Center, a onetime factory in Maspeth, and it "keeps alive this 24/7 club culture that you see more in Europe and Berlin," says musician and raver Jonah Almost, who tells me he's lasted at the club well past 11 a.m. "It's become the institution for the scene."
People often compare it to Berghain in Berlin, but the pair bristle at that: "The reason why they say that is they haven't been to Georgia," says Japaridze (Tbilisi, in his opinion, is one of the best nightlife cities in the world). A night at Basement is not for the faint of heart. The venue is very dark, very sexy. "There's labyrinths, nooks and crannies to explore," says Almost. "No one bothers you, so you can do whatever." To preserve that vibe, the bouncers cover your iPhone camera lens with a black sticker when you arrive. This is assuming you can get in: Those judged too basic are denied entry. "The door guy's job is to create a fantasy," says Almost. "If you're not contributing something to make this situation quintessentially New York and cool, then you can't come in." Abashidze hopes you'll try again, though. "Next time you come, you might come correct." — Brock Colyar