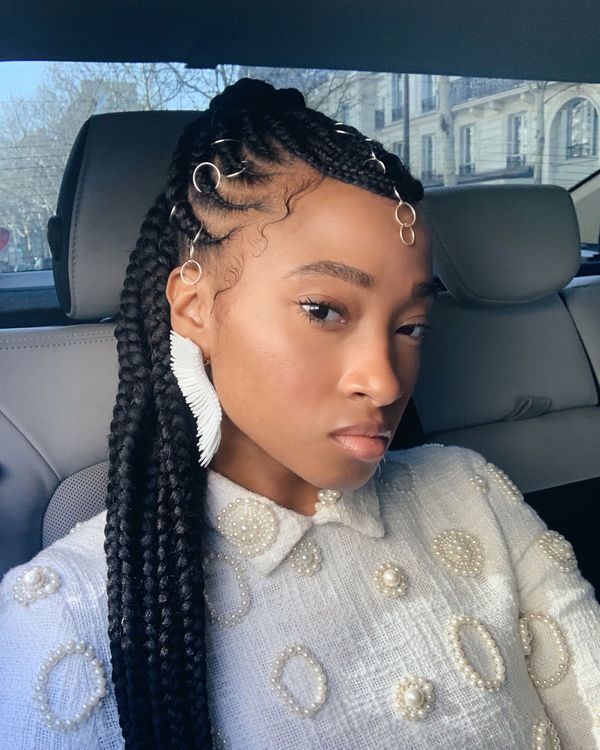 Photo: Courtesy of Candace Marie
Want more skin care? Join our Facebook Group, the Beauty of It All.
Candace Marie dealt with acne for years before she figured out a skin-care routine that worked for her. "I have very acne-prone skin. It's a mixture of oily and dry," says the social media editor, who currently manages Prada's accounts. She recommends experimenting: "The same routine won't work for everyone. The key is to keep testing and learning about what works for your own skin."
Besides acne fixes, Marie looks for products that have been formulated with women of color in mind. "We definitely need to be treated with different products," she says. "I'm big on reading reviews and seeing what worked for other women who are similar to me." A current favorite is the luxury brand Epara, which helps her skin hydrated and even.
Below, a look at the French cleanser that helped clear her acne, the ten-minute mask she uses after traveling, and the exfoliant that gives her professional peel results.
"I found this face-wash at a drugstore in Paris during Paris Fashion Week. It's beyond amazing at helping me manage my adult acne, which can tend to get out of control when I'm stressed out or during my monthly cycle. I use it twice a day, once in the morning and once at night."
"Epara is a stellar brand with handcrafted products that are tailored to the needs of women of color. It helps with skin-care issues like dryness and discoloration caused by the sun, free radicals, and air pollution. The products are highly nourishing and made with naturally active ingredients that prevent irritation, brighten skin, and target hyperpigmentation. I rub this cleansing oil on top of the dry areas of my face, and it makes my skin instantly look better and softer."
"This mask helps soften, cleanse, and purify my skin. I use it when I've been traveling a lot and haven't been able to keep up with my normal routine. You massage a generous amount on clean skin, leave on for about ten minutes, and then rinse off thoroughly with water. My skin is instantly hydrated and over time, the tone becomes more even."
"I use this product not only to smooth and exfoliate my skin but also to help with my adult acne. I leave it on overnight and wash it off in the morning. The results are instant. It reduces the appearance of acne blemishes and scars, and after a few days, your skin will glow. I'd compare it to a professional peel."
"This dewy serum instantly plumps the skin and gives you the smooth finish that you want in the morning. I especially recommending using it on the days you don't wear makeup."
"This mist gives an instant hydration boost that will help your skin combat dryness for the day. I use this as a last skin-prep step before addressing my lips, lashes, and brows."
"This mascara can be used for your lashes or brows. I tend to use this for my brows as I like to brush them up and over in the morning. I stopped plucking and waxing my eyebrows years ago, and this lash gel helps to create a shape without altering my eyebrows too much. There are a lot of great eyebrow gels in the market, but I particularly like this one because it is easy to find in any drugstore and affordable (and I tend to use a lot)."
"For my gloss, I use the brand Mented, which is a black-owned makeup company. They believe that every woman should be able to find herself in the world of beauty, rather than being an afterthought. This is the perfect combination of a gloss and moisturizer for my lips, and it doesn't have the sticky residue that you get with a lot of lip glosses. I prefer the tint 'coralition' as it comes off as clear on my skin tone."
If you buy something through our links, New York may earn an affiliate commission.