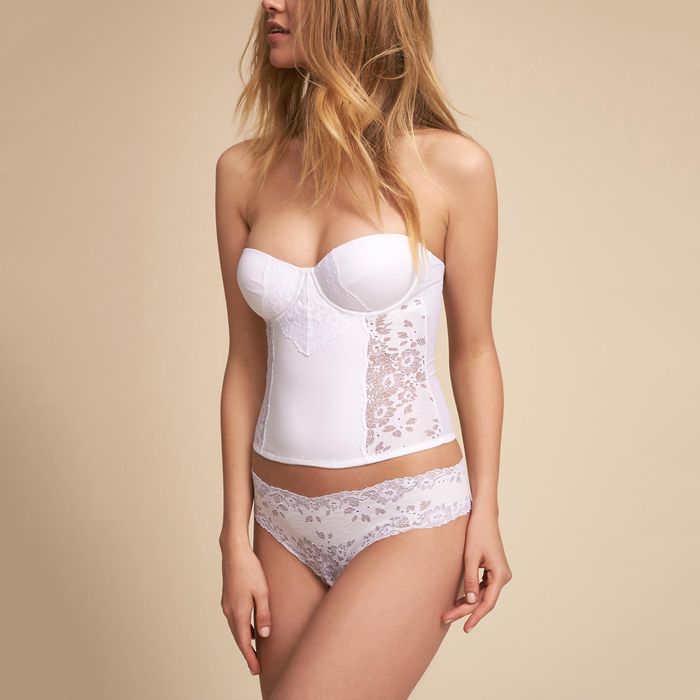 For soon-to-be brides planning a wedding, finding bridal lingerie is often the last thing on your mind. To focus on your to-do list, shop for the essentials quickly with this complete guide. We've gathered 13 pieces under $200: the bra to wear under your dress, a practical thong, and something sexy for later at night. Scroll ahead for more of our favorite pieces.
Almost every bride needs a good slip dress. Wear it while getting dressed, under your wedding dress all day, or to bed. This one does the trick and only costs $9.
I wouldn't normally use the words practical and thong in the same sentence, but I can't tell you how many friends have worn this thong on their wedding day. You get no panty lines and a waistband that smoothes the tummy area.
For some lift and sturdiness, a longline bra is your best bet. This one from Journelle is made with delicate material and floral eyelets.
If you're looking for something pretty with no frills, this is the way to go.
Suspenders and stockings for a wedding day are an old-fashioned touch — brides don't always wear them now. For a modern take on the look, Stella McCartney's are the best. The suspenders are designed to hug your curves without irritation, slung low around your hips or at your natural waist.
A versatile option for your wedding day or honeymoon, this delicate, sexy set is still under $200.
At only $30, this lace-trim satin pajama set is a total steal.
To subtly get the tradition of something blue into your look for the big day, consider soft blue lingerie.
This one is backless and strapless, so that no matter what dress you plan on wearing, the bodysuit holds everything in place.
For getting-ready pictures with a wedding photographer, a pretty robe is a must.
For more coverage in your midsection with a lighter, more invisible fabric, a lace brief is for you. This one is high-waisted with a figure-smoothing panel, so it looks flattering even under tight dresses.
For dresses with a dip, this is the best-rated bra out there with extra support.
This one is really beautiful with delicate lace, but it also provides a lot of support with underwire in all the right places. Perfect for honeymoon adventures.
No matter how tight of a dress you're wearing, this corset is the best underpinning that won't jab at your skin yet keep everything smooth and flattering.
If you buy something through our links, New York may earn an affiliate commission.