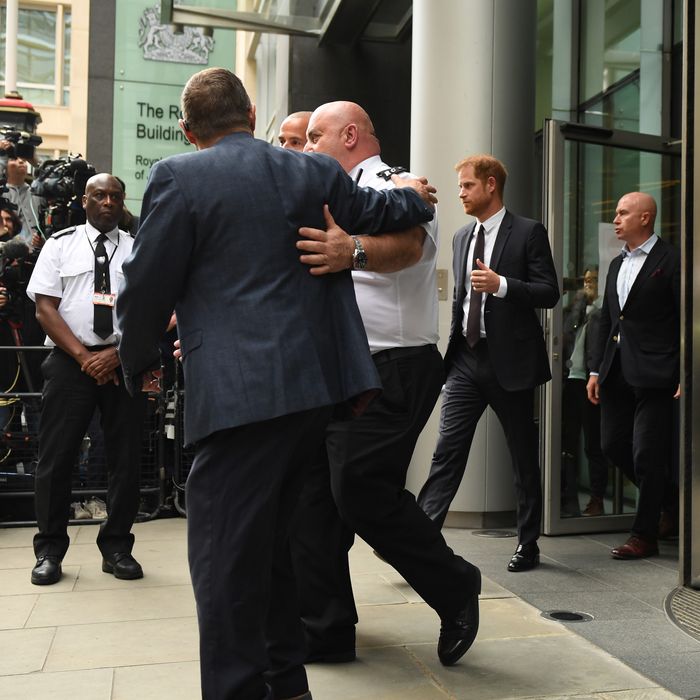 Photo: Bloomberg via Getty Images/Bloomberg via Getty Images
Nearly four years after Prince Harry sued Mirror Group Newspapers for allegedly hacking his phone and misusing private information to create salacious stories, the Spare author is finally squaring off against the British tabloids at London's high court. Harry claims journalists at The Mirror, The Sunday Mirror, and The Sunday People took repeated aim at him and his inner circle by unlawfully accessing his voice-mail and using other illicit information-gathering tactics between 1996 and 2011, privacy intrusions he says caused him significant distress. The historic trial, which began last month, marks the first time a senior royal has testified in court since 1891, when Edward VII, then the Prince of Wales, testified in the case of a man cheating at cards.
The right to privacy is a different game than, say, baccarat, and defending that right has proved a protracted and costly battle for the Sussexes, who have been involved in seven cases against the British tabloids and media organizations accused of violating theirs. For its part, The Mirror's publisher admitted to unlawfully gathering information about Harry "in one instance" and apologized, though it denies that its journalists hacked his voice-mails and argues that too much time has passed since the incidents allegedly occurred for the trial to proceed. Harry has levied similar lawsuits against the publishers of The Daily Mail and Mail on Sunday alongside celebrity plaintiffs like Elton John and Elizabeth Hurley, as well as a lawsuit against Rupert Murdoch's The Sun. Judgements are pending in those cases, and all publishers have denied wrongdoing.
"The tabloids have known the challenges and mental health struggles that I have had to deal with throughout my childhood and adult life and for them to then play on that and use it to their own advantage I think is, well, criminal," Harry wrote in an emotional, 55-page witness statement. During Tuesday's court session, the defense argued that they'd legally obtained their information about Harry, pointing to a number of stories they say could easily have been obtained through legitimate methods — including through palace participation. But according to the Times, Harry stood firm on his assertions, telling the room "some editors and journalists do have blood on their hands." Below, the highlights.
Harry says Piers Morgan makes him "physically sick."
In his witness statement, Harry spoke specifically on Piers Morgan, The Mirror's former editor and the crusty TV host who left Good Morning Britain after making callous comments about Meghan Markle's mental-health struggles. Harry accused Morgan and his journalists of "earwigging" into the late Princess Diana's private correspondences, saying the thought of their eavesdropping makes him "feel physically sick" and "even more determined" to hold Morgan and the tabloids accountable for "vile and entirely unjustified behavior." Harry also stated that Morgan subjected him and Meghan to a "barrage of horrific personal attacks and intimidation," "presumably in retaliation" for his Mirror Group claim.
Tabloids, according to Harry, cast him as a "thicko" and an "irresponsible drug taker" as a young man.
Also in his witness statement, Harry said each member of the royal family starts off as a "blank canvas" before getting edged into sensational roles, be it — in Harry's case — the "playboy prince" or the "thicko" and the "irresponsible drug taker." Harry says the tabloid labels sent him into a "downward spiral" of self-fulfilling prophecy: "I thought that, if they are printing this rubbish about me and people were believing it, I may as well do the crime," he said, adding that the tabloids would "constantly try and coax me, a damaged young man, into doing something stupid that would make a good story and sell lots of newspapers." When lawyers for the defense asked Harry whether stories about using drugs and thereby breaking laws were of public interest, Harry countered: "There's a difference between public interest and what interests the public."
Harry said he first suspected voice-mail interception when he noticed "snippets of truth" in tabloid stories.
While the Mirror Group denied that its journalists interfered with Harry's voice-mails, Harry recalled strange patterns in his inbox. "I wouldn't go into my voice-mail unless the little envelope symbol flashed up on my phone signaling to me that I had a new message," he wrote in the statement, but "sometimes this symbol would vanish before I had a chance to listen to the voice-mail." He also remembered coming across voice-mails that he'd never heard before, though they weren't marked new — something he said happened on "multiple occasions." Harry wrote that he chalked these moments down to forgetfulness or technology glitches, but that they became frequent enough that other people noticed. "I also distinctly remember people saying to me, 'Did you not get my voice-mail?,' on both a personal and a work-related level. I was like, 'No,' and sometimes I would go back into my voice-mail to look for it but still couldn't find it." Harry also said in his witness statement that he suspected hacking when he noticed "routinely published articles" about him that he claims were often wrong overall but contained "snippets of truth," which he now believes were taken "from voice-mail interception and/or unlawful information gathering." But at the time, those snippets churned up "a huge amount of paranoia" in the duke's relationships, he said: Not only did he become suspicious that those close to him had leaked the information, but he also began to fear for his safety. Harry said the false tabloid narratives created "an alternative and distorted version of me and my life," to the point that he worried "any one of the thousands of people" he met as part of his role in the royal family "could easily have gone you know what, you're an idiot. I've read all the stories about you and now I'm going to stab you."
Harry said Mirror Group journalists and photographers intercepted flight details, voice-mails, and hotel bookings between him and an ex.
Harry feels intrusions from the Mirror Group led to the dissolution of his relationship with ex-girlfriend and businesswoman Chelsy Davy, whom he dated on and off between 2004 and 2010. At the time, the couple lived in different countries and dated long distance; in his witness statement, Harry recalled feeling concerned about the possibility of Davy "jumping into a taxi" whenever she arrived at Heathrow to see him because "someone from the Defendant always seemed to know that she was coming."
He says he later realized that Mirror Group journalists "were blagging her flight details so that [they] would know exactly when she was going to arrive," which he says led to "aggressive" paparazzi pursuits. Whenever the former couple went on getaways to Bazaruto, an island off the coast of Mozambique, Harry claimed Mirror Group journalists and photographers would "literally turn up and book into the hotel before we got there," leading him to believe they intercepted private voice-mails, flight details, and hotel booking. The lack of privacy put stress on the relationship. "We were never on our own and able to enjoy each other's company away from the prying eyes of the tabloids," Harry said. "We could also never understand how private elements of our life together were finding their way into the tabloids, and so our circle of friends became smaller and smaller." Harry added that the situation left him distrustful and prone to "bouts of paranoia and depression." It also led Davy to decide that "royal life was not for her," which Harry said was "incredibly upsetting" for him at the time.
Though the tabloids would cite people inside the palace or "friends" of the couple as sources for their information, Harry remains skeptical, testifying that the leaks continued even after he stopped disclosing his and Davy's plans to those around him. "A lot of these quotes were attributed to friends," he reportedly testified, pointing to an article about trouble in the relationship. "But by this point, Chelsy and I were not sharing anything with anyone." Including, apparently, more official sources: "I never discussed with the palace any details about my relationship with my girlfriend," Harry told the court, per the New York Times. He has also alleged that an MGN journalist installed a tracking device on Davy's car. According to the Times, when his attorney asked him to explain how he knew that, Harry replied: "We found it."
Harry recalled being "livid" to find photographers hiding under a car outside his friend's apartment, waiting for him and Caroline Flack to arrive for a poker night.
In 2009, Prince Harry briefly dated the late TV presenter and Love Island host Caroline Flack, who — as Harry put it in his statement — "was often hounded" by the paparazzi as well. Still, he said he was "shocked" and "livid" to find two photographers lurking underneath a car outside his friend Mark Dyer's apartment one night, after he invited Flack over to join a poker night. "It was only the second time we met in person, I think," he recalled, noting that he and Dyer had talked about the evening in voicemails. "Given the fact only the three of us knew the plan, I was highly suspicious and convinced someone had leaked the information to the press. I was angry. I hadn't told anybody." Harry said that he initially blamed Dyer, and "stopped talking" to him for a while because of it. "We just couldn't understand how stories about us meeting privately with him ended up in the papers, or how photographers would end up outside his apartment," Harry explained. "I now believe this information had come from our voicemails — mine, Marko's, or Caroline's. The impact these kinds of stories had on my relationships cannot be underestimated. Even those I trusted the most, I ended up doubting."
Harry discussed a voicemail in which he called his mother's butler a "two-faced shit."
During cross examination, Harry spoke to a 2003 article that ran in the People, which quoted him as calling his late mother's butler, Paul Burrell, a "two-faced shit." The duke admitted in his witness statement that this is a phrase he "would have used" to describe Burrell at the time, given that the latter had just stood trial for allegedly selling Princess Diana's possessions. (That case fell apart.) He believes he made the comment in a voicemail to his brother, Prince William, whom Harry says wanted to meet with Burrell in an effort to stop him from giving more interviews and, per the article, "selling more Diana secrets." Harry didn't like that idea, and says he told William so — in private. To have the contents of their conversation splashed across the front pages, he told the court, "seeds distrust between brothers."
Harry told the court it would be an "injustice" if no evidence of hacking was found.
In cross-examination, Harry was asked if he would be "relieved or disappointed" if the court did not find evidence of phone-hacking in the trial. Reiterating his belief that the alleged intrusions occurred at an "industrial scale" across "at least three papers," Harry said he thought it would be an "injustice" if MGN were cleared of wrongdoing, according to CNN. "For my whole life, the press have misled about me and covered up their wrongdoing," Harry told his own attorney. Alleging that the defense "has the evidence in front of them" — and indeed, Harry's team has demonstrated that certain MGN journalists were in touch with hackers, including one who had Harry's cell number — Harry said he was "not sure what to say" about the suggestion that his complaints were speculative. When the defense asked him if he "want[s] to have been phone-hacked," Harry volleyed back: "No one would want to be phone-hacked."
This article has been updated.