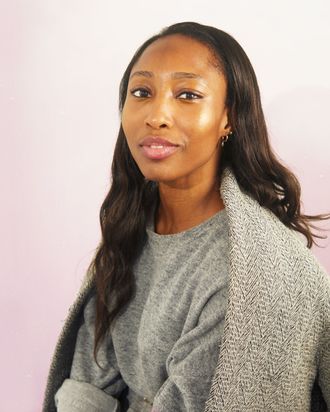 Photo: Courtesy of Francia Cooper
"I've never been a product junkie," warns Francia Cooper. "I am a huge believer in the saying 'If it's not broke, don't fix it.'" In fact, the beauty publicist, who represents Becca Cosmetics, has largely kept the same skin-care routine since moving to New York City five years ago. Developing her routine in the first place, though, took some effort.
"I went to college in Miami and loved it because my skin was always moist," she explains. "I never had to worry much about hydration until I moved to NYC, where my skin was really dull." With the help of her dermatologist, Cooper built a routine centered on products with ingredients like hyaluronic acid. You can find the ultra-hydrating ingredient in her cleanser, micellar water, and moisturizer of choice — two of which cost under $13.
Cooper is especially adamant about keeping her routine as clean as possible, and is careful to avoid using products and ingredients simply because they're popular. She also keeps it short: The whole thing, at maximum, takes five minutes. She says that making sure her routine is tightly edited — both in terms of products and time — means she's more likely to stick to it night after night. "Everyone wants good skin, and there's really no magic trick to achieve it unless you put in the time and effort," she explains. Below, read all about her tried-and-true products.
The Cleanser
"I like gentle cleansers that aren't harsh on the skin, and this cleanser is a must-have. It has active ingredients such as honey and hyaluronic acid, which helps skin retain moisture. My skin tends to be dry, and this is perfect for dry skin."
The Micellar Water
"I am obsessed with making sure my skin is really clean and doesn't have any leftover residue so I always use the Cerave Micellar water to double cleanse after I wash my face. It was hyaluronic acid, too. I love Cerave products because they are gentle on the skin. When I moved to NYC and was battling dry skin, my dermatologist told me to stop experimenting with products and really stick to the Cerave line and that actually helped. By the way, Pharrell and I have the same dermatologist — Dr. Elena Jones!"
The Cotton Pads
"I use the Cerave Micellar water with organic cotton rounds by Maxim Hygiene. I love that these cotton rounds are nice and big. Usually, one or two does the job. They don't leave lint on your face like most of the others on the market. I never use a towel to dry my face — these organic cotton rounds are usually what I use."
The Mist
"I've been using True Botanicals products for over a year now. I think I discovered them on Instagram and was really drawn to them because it is a clean, non-toxic beauty brand. I love the Nutrient Mist from the Renew anti-aging line. I use it on my face and neck. I always make sure that whatever products I use on my face I bring it down to my neck. I love this mist because it's essentially a multi-vitamin for your face, packed with all the good-for-you antioxidants. It smells really good and really leaves my skin feeling refreshed and hydrated."
The Moisturizer
"I don't experiment much with moisturizer because the Cerave AM Moisturizer is always my go-to. I love it because it's a moisturizer with SPF. It also has hyaluronic acid and three essential ceramides, which restore and maintain the skin's natural barrier."
The Face Oil
"The True Botanicals Pure Radiance Oil from the Renew line targets aging and really hydrates the skin. I always mix this with my moisturizer. The Cerave moisturizer tends to leave a white cast on my face since it has sunscreen in it, and mixing the oil with it gets rid of that. The oil smells amazing, leaves my skin feeling hydrated, and gives me a long-lasting glow."
The Eye Cream
"The one thing I am always experimenting with is eye creams. Right now, I am using the Drunk Elephant C-Tango Multivitamin Eye Cream. So far, I like it. I've always wanted to try the Drunk Elephant line so this is my first product from them. I keep it in the fridge so that when I apply it, it feels cool and soothing. I apply it every morning and night, but so far, I can't say I've noticed a dramatic difference."
The Lip Balm
"This is my holy grail product, always in my purse. I use it on my lips and when I am out and need a little bit of moisturizing, I use this on my elbows and literally everywhere. I discovered it randomly and was really drawn to the name because I am from West Africa, and we use the word pawpaw instead of Papaya. So when I came across it, I thought it was an African brand, but turns out it's Australian."