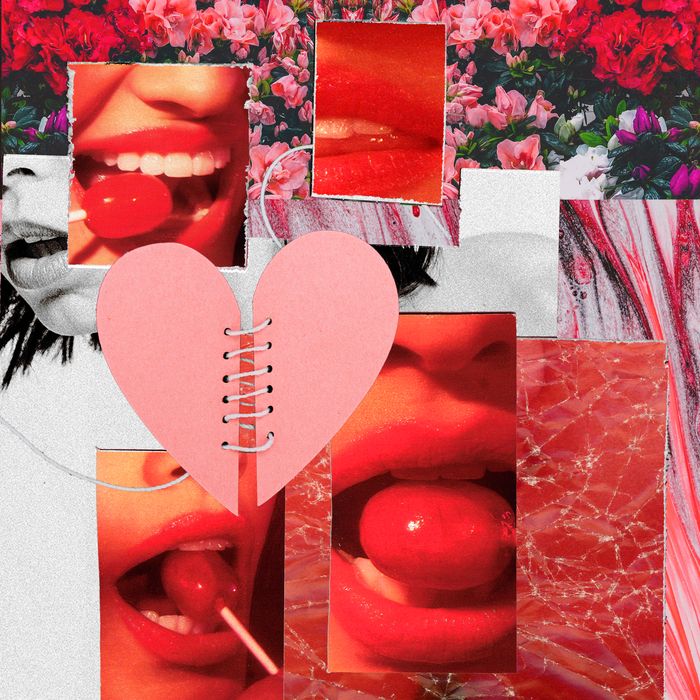 Photo-Illustration: by Marylu Herrera
New York Magazine's Sex Diaries series asks anonymous city dwellers to record a week in their sex lives — with comic, tragic, often sexy, and always revealing results. The column, which began in 2007, is the basis of a new docuseries on HBO.
This week, a woman goes out on the town with two guys visiting the city on business: 32, single, Brooklyn.
DAY ONE 
9:30 a.m. I'm a little bit jet-lagged from two weeks in Los Angeles, where I was visiting my sister. She's about five years younger than me, and it's crazy how much harder she parties. We drank every night. I had sex with two different guys from two different bands, and now I'm home and just want to detox and purify.
11:30 a.m. I'm taking a spin class at a local gym, which feels like a very dated concept, but like I said: Ya gotta sweat, bitch.
1 p.m. Okay, there are the two hottest Irish guys at my gym. Like, they have Irish accents and look like Paul Mescal and Colin Farrell. I don't even understand what I'm looking at. Why are they at a bougie gym in Dumbo? I have to go talk to them. They're both so hot … and that accent — yum.
1:30 p.m. The Irish guys are here on business — they work for an Irish consulting firm or something like that. I still don't get it. But they're being put up in a loft in Dumbo. Oh, and they're cousins. I'm in love with both of them. Call them Finn and Liam. I give them my cell. I've lived in Dumbo for two years and know a few things. They're super-sweet, mildly flirty, but also kind of shady. I bet at least one of them is married. No rings.
4 p.m. An epic grocery shopping at Trader Joe's. All healthy food. Detox, baby, detox!
6 p.m. Dinner is a huge salad from one of those Ranch Salad bags. This is totally fake healthy. But it fills me up.
8 p.m. No it doesn't. I have a small bowl of coffee ice cream — fine, with a dollop of Nutella on it — while I catch up on my shows.
10 p.m. Lights off!
DAY TWO
10 a.m. A text from Finn and Liam (I have no idea who the number belongs to). They want to see what I'm doing later today. It's Sunday, so I was going to deep clean my apartment, but otherwise I had no plans. I appreciate that these boys have no game and texted me before 10 a.m. on a weekend. I wonder what sketchy news I'll discover about them. Both married? Scammers? Druggies? Losers? I'll find out, I suppose.
1 p.m. I spend a few hours trying to gather girlfriends to join me and the guys later today. Summer weekends are hard in my world. I'm a publicist (groan, I know), and most of my friends go to the Hamptons. I'm not one of those people because I don't have rich parents and I hate snobs, personally, so I stay put and enjoy a sleepier New York on most weekends.
3 p.m. I have one friend in town, Nancy, who I know from my old job in fashion PR. She's willing to come hang out with me and the Irish boys, and she's always a lot of fun. Girl can drink, too.
4 p.m. I text the boys that we should all meet at this spot in Dumbo because they have great cocktails, and we'll take it from there. I figured we could hop around a little. It's going to be a beautiful night. I feel zero sense of nervousness. There is literally nothing to lose with these guys, and I love the randomness of it all.
I had a terrible breakup about six months ago. My ex basically just … fell out of love with me. I was still very much in love with him. We had been together for three years. We moved to New York together. We lived together. I adored him. He was funny, sexy, had a thick cock that always made me come (like, every single night). He was almost too good to be true. But he started fading away. He wanted sex less, wasn't interested in anything I had to say, had a lot of work plans that didn't include me. I suspect he was having an affair, but I'll never know. One day he just said, "I love you but I can't do this. I need to feel young and untethered." Blah, blah, blah. He ripped my heart out.
So … it's good to feel excited and flirtatious again. The last few months haven't been easy.
6 p.m. I meet up with Nancy at a bar first and fill her in on what the deal is with these two dudes. Nancy seems like she might be on something — I'm not a drug person, and I don't ask. Then we walk over to meet Finn and Liam. They're at the restaurant bar waiting for us, and they look simply adorable. Nancy, on the other hand, looks really sweaty and seems kind of fucked-up.
8:30 p.m. We're all a bit loose and tipsy. The boys say they're both single, which I find so hard to believe. I am flirting with Finn in particular. He's a bit wild, more rough around the edges. I'm super-attracted to him.
9 p.m. At this point I know that I'm going to have sex with Finn tonight. But Nancy is messy and spiraling. She tells me she needs to vomit, so I take her outside and she throws up on her shoes. It's gross. I'm splattered in her puke. Since my apartment isn't far away, I suggest running home and showering and coming right back. Finn and Liam are like, you gotta get your girl home.
10 p.m. The night ends with me getting Nancy home safely to her apartment and going home alone to mine. I am done with her.
DAY THREE
7 a.m. I knew this would happen. Booty call from Finn at midnight last night — I was already asleep. "Can I come over?" it says. With a heart emoji. I am actually happy that didn't happen. I'd be so hungover right now, and instead, I had two drinks and about nine hours of sleep. Finn's not going anywhere. Well, that's not true. He's going back to Dublin in a week.
9 a.m. I log onto work. I do PR for a large agency and my clients are primarily in the beauty arena. In the summer, we all work remotely because, like I said, everyone is a Hamptons person, especially my boss, who moves to the Hamptons the day her kids get out of school and doesn't set foot in the city until after Labor Day.
2 p.m. Now seems like a good time to text Finn back. His loft is a five-minute walk from my apartment, so I ask if he wants to recap last night over a coffee. Finn reminds me that they work out of midtown when they're here, so he'll have to see when he gets back tonight. But it's a warm, friendly exchange and I'm happy with it.
6 p.m. I get a text from a guy I met at a "singles event" a month ago. My friend works for Bumble and I went at her insistence. He was the only semi-cute guy there, but I was also kinda grossed out that he was there in the first place. Even though I was there myself! His name is Tyler, and from what I can tell, he's a good catch other than he's a little bit short. He asks if I'd like to get dinner this week. We haven't met up since getting introduced at the party, so I'm open to a date with him for sure. We agree on tomorrow night. Of course, I'd much rather see Finn before he goes, but I try not to be a total idiot about it.
8 p.m. Finn texts that they're still in midtown but he'll hit me up when they're in Dumbo.
10 p.m. I use my vibrator and get ready for bed. I guess I won't be hearing from the Irish boys tonight!
DAY FOUR
8 a.m. I wake up feeling annoyed and turned off by Finn. He never texted me again last night, and it all kind of feels like a waste of energy.
10 a.m. I'm actually grinding at work today. I have to write two press releases and start planning a huge event in the fall that is entirely my responsibility.
2 p.m. Tyler suggests some super-fancy restaurant for tonight. It feels a bit aggressive. I was thinking more like one fish taco and a spicy margarita. I don't want to hurt his feelings, but the fact is, I'm probably not going to be into him and don't want to invest so much energy when I'd rather be home eating a girl dinner and watching The Kardashians. I dial it back and suggest Tacombi for a quick bite. Tyler gives me a thumbs-up emoji.
4 p.m. Finn texts that he's working from Dumbo today and do I fancy that coffee now. I'm kinda over Finn, so it's easy to say "yes!" without analyzing any of it.
4:30 p.m. We meet up. Hell, this man is so fine. He buys me a latte and we split a chocolate croissant. He says he'd like to have a proper date with me before he goes home. I tell him to make it happen, but not tonight because I already have one. He seems a bit jealous, which I love!
8 p.m. At Tacombi in Nolita with Tyler. I'm not into him. He asked if we could split the bill. Such a turnoff. It was like $14 each. I mean, come on! And he works in finance. I want to go home …
9 p.m. I'm about to text Finn that I'll be home soon if he wants to come over but I also want him to think I'm on a stellar date and lose sleep over it, so I hold off. I have more work to do when I get home anyway.
DAY FIVE
9 a.m. "How was last night?" a text from Finn. I will answer in a few hours. I have a Zoom right now!
11:30 a.m. It occurs to me that tonight is the only night I can hang with Finn before he leaves, since I'm going to the Hamptons tomorrow. My boss is having a little work retreat there.
1 p.m. I text Finn: If you want to hang out, one-on-one, I think tonight is the only night. I have to go the Hamptons tomorrow for the weekend. "I'm in," he responds. "Tell me where and when."
2 p.m. I decide to have him come over. I'll cook us a little dinner, and I have some really nice bottles of wine that my friends brought over when I was in my breakup-depression era. My building has a roof, so we can start up there and it won't feel too claustrophobic.
7 p.m. Finn arrives on time. We go to the roof and start drinking the wine. I have cheese and crackers out, and I have a simple pasta all ready to make. But we don't get that far.
8 p.m. We are kissing on my rooftop as the sun sets. It's fucking surreal. He's a great kisser. It's superhot. People keep coming up to the roof, forcing us to cool it a little, and it's building so much tension.
9 p.m. We can't take it anymore. The kissing is so fucking arousing, and I know he's busting out of his jeans, and I'm, like, insanely wet. We've opened our second bottle of wine, and I suggest we drink it downstairs at my place.
9:15 p.m. We make out so hard-core in my elevator before we get to my place and start fucking. Finn doesn't have a condom, and I'm all out, so it feels great but also a bit dirty and reckless. He pulls out and comes on my bedspread, which is fine; I can throw it in the wash. I came, like, three times. We are super-sweaty and decide to take a shower.
10:30 p.m. I sober up a bit in the shower. That was really fun, but I want Finn to leave. It hits me that I'm never going to see him again and I definitely don't want to catch feelings, and now I'm feeling a bit sad.
11 p.m. We hug good-bye at my door. He says how much he loved meeting me and spending time with me. We both know we'll never see each other again, and I actually get a bit weepy. Not because my heart is broken or anything, but good-byes are just a little painful at times.
11:30 p.m. I clean up my apartment, change my sheets, and go to bed feeling very sexually satisfied and also a little unsettled.
DAY SIX
9 a.m. A girl I work with lives in Cobble Hill and offered to pick me up and drive me out to my boss's place in the Hamptons. She has a young child and is very excited for a bit of a girls' weekend.
Noon By the end of the ride, I've learned more about her marriage than I ever needed to know.
3 p.m. My boss's house is sick. We're all drinking Aperol spritzes and shitting on our clients. I feel nice and relaxed.
7 p.m. While my boss's husband grills, I tell everyone about my night. All the married girls are jealous. Actually, all the single girls are jealous too.
10 p.m. Didn't hear from Finn all day, nor did I expect to. Not the best feeling but totally what I signed up for.
DAY SEVEN
8 a.m. Yoga by my boss's pool.
9 a.m. Her chef has the most insane breakfast spread. I'm eating everything.
2 p.m. We're all at the beach. There are a group of single guys next to our little setup. They're as Hamptons douchey as you can imagine. Probably all went to UPenn together. One seems kind of low-key and "normal." His name is David.
4 p.m. David and I chat a little bit and he takes my number. Maybe he'll be a fun weekend hookup. Or maybe he's husband material. I don't fucking know anything about anything when it comes to love and sex. Does anybody?
7 p.m. We're doing dinner at home again because my boss says no one cool goes to trendy Hamptons restaurants. David texts to see what my gang is doing tonight. I am afraid to ask my boss if we can "have friends over," so I decide to ignore his text and revisit it when I'm back in the city. I think I have to take my love life a bit more seriously.
Want to submit a sex diary? Email sexdiaries@nymag.com and tell us a little about yourself (and read our submission terms here.)