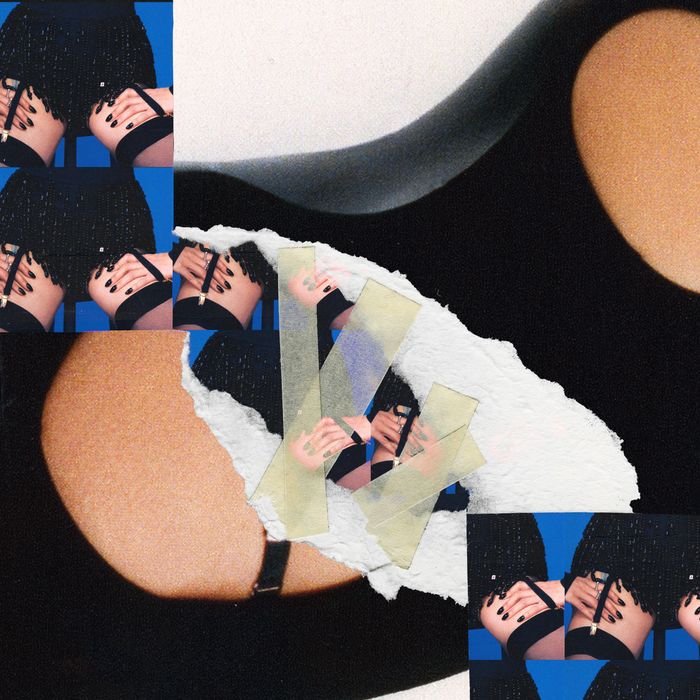 Photo-Illustration: by Marylu Herrera
New York Magazine's Sex Diaries series asks anonymous city dwellers to record a week in their sex lives — with comic, tragic, often sexy, and always revealing results. The column, which began in 2007, is the basis of a new docuseries on HBO.
This week, a woman masturbates to fanfiction and takes a "kink test" before a first date: 32, single, New York. 
DAY ONE
4 a.m. Can't sleep, so I reach for my phone and pull up a fanfiction website. I have never outgrown my teenage habit of masturbating to fanfic and am still doing it now. Weirdly, cumming rejuvenates me instead of tiring me out.
8 a.m. I moved into my parents' apartment when the pandemic first hit. One of the many issues is that my mom has a very heavy foot fall. I listen to her clomp around above me.
10:30 a.m. Open Instagram to a DM from a guy who follows me, but whom I've never met IRL, who wants me to send feet pics. He's offering me $100 to step on a grape. A red grape, specifically. I have zero feet pictures on my grid, but for some reason this is not the first time this has happened. I truly don't get the feet thing, but nowadays I won't show my toes without getting paid. Tip for women: If you have attractive feet, monetize them! Don't just casually wear sandals for nothing.
11:30 a.m. Lose a full hour playing Stardew Valley.
12:00 p.m. Head to the grocery store for grapes.
2 p.m. Back home. I set up my iPhone to take the pics. This is actually quite hard. I have to step on about five grapes to get a decent shot. This also leaves a bunch of floor stains that I have to deal with. Still, money for about 20 minutes of work isn't that bad. He sends the payment via Cash App. Apparently it is the app of choice for feet pics.
5 p.m. Go swimming with my friend at the YMCA. I think we annoy everyone in the pool because we are both noisy and queer and our voices keep escalating in excitement. I call it "gay squawking."
8 p.m. We swim for a while then go to change out of our suits. The women's changing room is super-friendly and chill. No one seems self-conscious about being fully naked, and no one ogles me for having my armpit hair grown out. I like the pit hair, especially pairing it with a feminine dress. I think it gives a little '70s energy.
DAY TWO
8 a.m. Wake up excited about a first date I have tonight with this girl, J. She's 28, so a bit younger than me (though I have a baby face). We met on Hinge. She has a car (very exciting!) and says she will pick me up later.
11:30 a.m. We decide to go to one of those bars that also has arcade games. I like an activity; otherwise I'm chain smoking, and that is not everyone's ideal makeout mouth taste. I started smoking cigarettes again a few months ago because why not do something I enjoy? Vaping is not hot and gives me the ick in the same way that adults on electric scooters do.
3 p.m. My slightly horny texts with J imply that this will be the kind of date where both people are, like, tacitly agreeing to fuck after first meeting in a public place to make sure neither of us has murderer vibe.
3:30 p.m. J insists I take the "kink test" before meeting up. It's an online quiz that's a personality test for sexual preferences. I actually found it to be fun because I love doing a Myers-Briggs-type test (I'm an ENFP), though I cannot deal with someone who lists their Hogwarts house on their dating profile.
4 p.m. J texts that she's a former OnlyFans girl. I tell her I'm impressed. It's amazing to me that some people can just be by themselves in front of a camera. I could thrive on OnlyFans, but I'm too jokey on camera and would just act like a clown. I'll stick to feet pics!
9 p.m. On the date. I don't think our energy is very well matched, but I think we're still going to have sex.
10 p.m. We head to her house to hook up. When we texted she had specified a few things she wanted; most of them involved a strap-on. I always find strap-ons for a first hookup to be giggle inducing. There's just a lot of shuffling around and adjusting straps.
12 a.m. We fuck. I do pretty much everything she asks for. It's fun!
3 a.m. J and I are just hanging out. We go down a TikTok astrology rabbit hole. I end up sleeping over.
DAY THREE
10 a.m. J offers to take me out and buy me breakfast! That's a fun surprise. I put on a pair of her sunglasses and we head to a local Mexican brunch place.
11 a.m. I catch a sight of my neck in the bathroom mirror at the restaurant and fully look like I've been strangled. Well, I do love a hickey. They are fun to give and to get.
2 p.m. J's driving me back home. We say good-bye in the car without any kissing. I zip my windbreaker up all the way up so I don't catch my clompy mother's eye rolls at my hickey neck. I still have J's sunglasses on.
7 p.m. I have work tomorrow. I'm a librarian at a high-school library; it's summer vacation but we still have summer programs here. I spend the evening trying to match a foundation to my neck because I don't want teenagers teasing me about my hickey!
DAY FOUR
10 a.m. At work, stacking the shelves. A friend asks me if I want to buy a ticket to this "polyamorous people party" so I can meet her new boyfriend. He is poly and has a wife and another girlfriend. It's an easy yes for me. It's next week, but I'm excited!
11:30 a.m. I have to download an app to buy the ticket. I spend the rest of the day messing with it.
5:27 p.m. In a cranky mood all day. It might be a bit of PMS because I have a chin pimple, though that could be because I went down on J a few days ago — that often leads to me breaking out along my chin.
10 p.m. My friend is texting me the rules of this polyamorous party happening next week. It's all very convoluted and apparently I have to get dressed up. Yeah, that is not happening. However, I have been told we're going to do MDMA beforehand, which is very fun because I don't think I've done it since before the pandemic.
DAY FIVE
7:45 a.m. Neither of my parents are up yet so I manage a prework wank.
9:15 a.m. At work again! I think I have done a decent job covering my hickeys today.
11 a.m. After stacking the shelves for a few hours I'm told I can have a break. I take my 30 minutes to walk out of the school, smoke a cigarette, and use Hinge on a different Wi-Fi network. I'm afraid of the school seeing my dating apps or my search history.
11:30 a.m. I have a ton more matches and two messages, one of which is from "foot grape guy," who wants to start sexting. I told him I would in exchange for money.
2:30 p.m. I'm finished with work! Easy day. I'm walking and texting with my friend M. He's in a band. I first hung out with him back in 2019 at a Bikini Kill concert. He is a very fun guy and one of my few straight male friends. We can chat about sex stuff in a way that doesn't make me feel skeeved out.
We chat about foot grape guy. He can't fathom why someone would pay to see me step on grapes, but then again, he's not really a foot person.


9 p.m. I lose a good chunk of time texting with a new Hinge match.
11 p.m. Get a series of three nudes from J. It's like a triptych.
12 a.m. We're sexting. I masturbate.
DAY SIX
8 a.m. I wake up happy. J is a very good sexter, like there's more going on than just "Oh yeah" and "Yeah?" and "You like that?"
10 a.m. Work again.
11 a.m. Making plans to meet my friend S. She's newly single and really wants to go out.
5:30 p.m. S and I meet up at a bar where a friend of mine works so we can get some free drinks.
7 p.m. People start assuming S and I are a couple because we keep talking about how good the other looks.
9 p.m. Pretty drunk now. Wondering if I can call in sick tomorrow.
11 p.m. We're at a bar and I'm talking to a lovely guy who looks like John Cena and does tickle porn. He said he makes a ton of money from it and does it so he can buy stuff for his daughter. What a sweetheart.
11:30 p.m. A guy tries to proposition me and S for a threesome. We politely decline.
DAY SEVEN
7 a.m. I call in sick.
12 p.m. At a friend's barbecue. He's a sweet guy with a Paul Dano obsession. I recently bought him a Paul Dano T-shirt as a gift, but it's taking forever to deliver.
4 p.m. Decide to leave the barbecue. I've been cornered by this woman who is talking incessantly about her finance job. She admonishes me for not caring about stocks. She is like human LinkedIn.
8 p.m. Back at home, in my bedroom. Sometimes I like to masturbate to a vague idea, like a bulge in boxer shorts or the thought of walking around without a bra all day. That's probably why I don't like watching the fucking part of porn as much as I like the buildup. Anyway, I wasn't wearing underwear all day today, so I get off on that thought.
Want to submit a sex diary? Email sexdiaries@nymag.com and tell us a little about yourself (and read our submission terms here.)