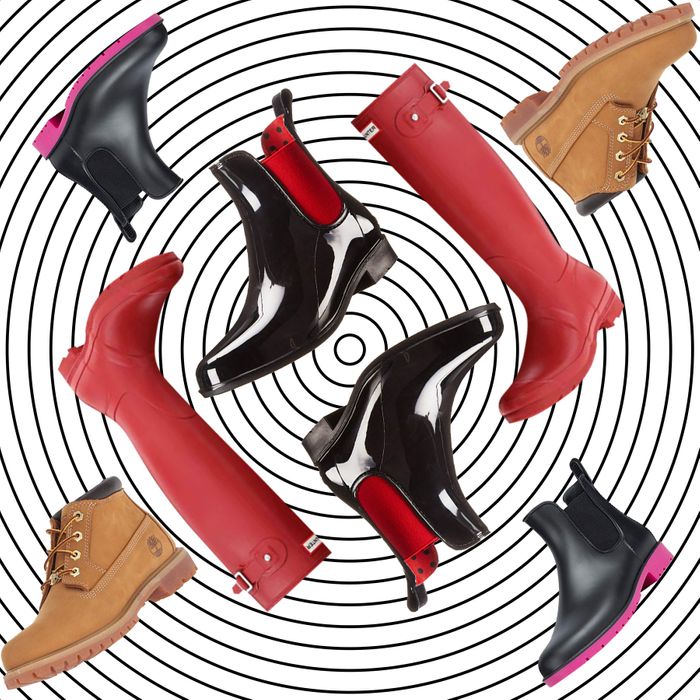 Photo: Courtesy of the Retailers
I'm from Southern California, where heavy rainfall is so rare that I remember my high school French teacher pausing a test so that we could listen to the patter on our classroom's roof. So when I moved to New York, my first torrential downpour was a rude awakening. It caught me as I walked from the subway to my college dorm, soaking me so badly that when I finally sprinted into my building, someone in the elevator asked me if I had just showered in my clothes. As water ran down my legs and pooled in my sneakers, I realized it might be time to invest in my first-ever pair of rain boots.
You might think, as I did, that rain boots are the No. 1 way to ruin an outfit. But they don't have to be. I've done the research, looking at thousands of online reviews and scrolling through pages of waterproof footwear, and I've found plenty of pairs that won't make you feel like a fisherman or a toddler. Below, the 14 best pairs of rain boots to buy right now.
The Best Affordable Hunter Dupe
With over 3,600 reviews on Amazon and an average 3.9 star rating, these boots give off classic horse-girl energy, and the thick rubber is equally good at keeping out stable gunk and urban mystery water. Reviewers said that the rubber material isn't a flashy patent, but rather a more muted and versatile matte. One reviewer even came back to the product listing after 3.5 years, just to rave about these boots: "I've always hated rainy days. But these became the one perk that actually made me kind of excited for them."
Available in sizes 6 to 11.
The Best Rain Boots for Wide Feet
Here's one way to wear Crocs without looking like a VSCO girl. Reviewers on Amazon say that these are more durable than other similarly priced boots, and the hole design helps you get the boots on and off your feet. Some rain boots can be too narrow for those with wider calves, but because these only go up to your ankles, you don't need to worry about your legs being squeezed.
Available in sizes 4 to 11.
If You Like a Little Color
These patent Chelsea boots keep water out, but they're low enough that they won't dominate your entire outfit. The elastic is a bright red, which shines in contrast to the black rubber upper. These also have a 1-inch heel — just enough lift to make you feel pulled-together but still comfortable.
Available in sizes 5 to 11.
The Best Narrow-Fit Rain Boots
These Sloggers come in a variety of patterns and colors, from black-and-white polka dots to a more psychedelic blue floral print. Reviewers with narrow feet report that these boots worked great — they're comfortable and won't make you feel like your feet are swimming in them. The one major drawback: you definitely need to wear tall socks or tuck pants underneath these boots, as the hard top edge can rub and chafe against the skin on your calves.
Available in sizes 6 to 10.
The Surprisingly Comfortable Ones
From the outside, these seem like your standard tall wellie-style rain boot. However, the UGG Shaye boot comes with a genuine shearling sole insert for extra comfort and warmth. One reviewer wrote, "I felt like a kid again, stepping into the puddles on my way to work. Perfect height and my pants don't get wet.
Available in sizes 5 to 12.
The Classic Preppy Ones
Sperry's Saltwater boots are a nice alternative to the pervasive tall wellie. Reviewers say these boots are a more comfortable, cuter take on the ever-popular L.L. Bean boots which sell out every year. The boots also come in two different size widths, so you can find the best fit.
Available in sizes 5 to 12.
The Best Budget Rain Boots
These boots start at $15 and come shades ranging from canary yellow to a more low-key gray. As with most Chelsea boots, they're easy to slip on and off and these boots in particular have almost 1500 reviews and a 4.5 star rating on Amazon. One reviewer said that the boots lasted through two weeks of hiking and exploring in Scotland with minimal rubbing and blistering. Other reviewers recommended adding an insole, since the sole lining might start to wear faster than other parts of the boot, but that's not too large of an ask given the super-affordable price of the boots themselves.
Available in sizes 4.5 to 11.
The Utilitarian New York Classic
These boots are more of a bootie, so they're less heavy than Timberland's original 6-inch boots, but still study enough to keep water out. Since the uppers are made from full-grain leather, the boots are completely waterproof, but you'll need to wear them a few times to break them in. Size up a half size if you plan on wearing these with thick socks in winter.
Available in sizes 5 to 9.5.
The Classic Hunter Boot
The original tall rain boot. Hunter is known for its vast array of heavy-duty, but fashionable rainwear, and these boots are where it all started. The tall boots can withstand the most torrential downpours, and you can also buy matching boot liners and insoles for colder, snowier conditions. The only main drawback — the rubber construction makes for some pretty sweaty calves if you don't tuck in pants or wear knee-high socks.
Available in sizes 5 to 11. 
A Fun Moto Boot
Photo: Courtesy of the Vendor
If you want boots that will absolutely keep water out but don't look like a rain boot, these are your best bet. These boots from Rag & Bone have a rubber upper, but from afar look like well-loved brushed leather. A bright red fabric lining adds some color and make these a tad more comfortable (and less sweaty). The wide moto boot style also makes these easy to take on and off.
Available in sizes 5 to 11. 
The Ones with a Chunky Heel
These boots from Jeffrey Campbell have a thicker sole, making them look more like combat boots than rain-wear. One reviewer said she bought them for a weekend trip and found them comfortable even after walking 13 miles in one day. If you're in between sizes, reviewers recommended sizing up, since they run small.
Available in sizes 5 to 11.
A More Versatile Hunter Boot
Unlike many of Hunter's styles, these don't have the logo across the top of the boot, which makes them more subtle and cuts down on some of the bulk. The boots' height is perfect for keeping out NYC puddle water, but not so tall that they produce dreaded leg sweat.
Available in sizes 5 to 11.
The Ones You Can Wear to Big Meetings
Okay, so technically these Timberland boots aren't rain boots. But they're made of leather treated with extra water-repellent technology that will prevent most splashes and spills, and they come with a classic Timberland treaded sole to help you avoid falls on slippery sidewalks. A 2-inch heel gives you a slight lift, without undoing the practicality of the rest of the shoe.
Available in sizes 5.5 to 11.
The Everlane Ones
Like most of Everlane essentials, these boots are attractive enough to make them more than purely a practical purchase. They come in appealing neutral shades like Surplus and Toffee, plus all black and a muted stone. Reviewers say "they really get the job done (keep your feet dry) while also being very cute."
Available in sizes 5 to 11.
If you buy something through our links, New York may earn an affiliate commission.