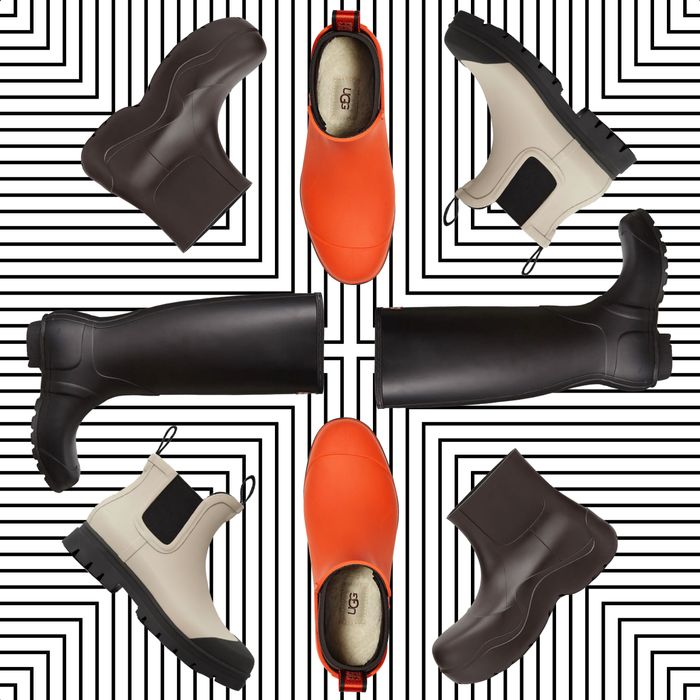 Photo-Illustration: by The Cut; Photos: Retailers
For more of the Cut's favorite fashion, beauty, and home finds, sign up for the weekly Cut Shop Newsletter.
There are few fashion moments more annoying than walking in wet socks. As New Yorkers we know that if you don't check your weather app in the morning before you leave for house, that is a possibility. Enter the rain boot. Saving you the inevitable rage (sorry, we are not all Drew Barrymore) of walking in the puddled streets or sprinting from your subway stop to your final destination, praying that an umbrella will keep you somewhat dry.
We know what you're thinking, though: Rain boots are the No. 1 way to ruin an outfit. However, if the resurgence of lug boots taught us anything, it's that they don't have to be. There are plenty of pairs that won't make you feel like a fisherman or a toddler, and we rounded up the ones that even if they do, it's in a "camp" way.
A Refined Chelsea Boot
If neutral footwear is your vibe though, these are a great versatile option. They don't have the Hunter logo across the top of the boot, which makes them more subtle and cuts down on some of the bulk. The boots' height is perfect for keeping out NYC puddle water, but not so tall that they produce dreaded leg sweat.
Not Your Typical Uggs
These rain boots from UGG are the perfect pick-me-up for a rainy day. The boot has a rubber shell and flexible neoprene collar on the outside and a moisture-wicking wool-rich blend on the inside made to feel like genuine shearling.
Rain Boots that Don't Look like Rain Boots
Photo: Courtesy of the Vendor
If you want boots that will absolutely keep water out but don't look like a rain boot, these are your best bet. These boots from Rag & Bone have a rubber upper, but from afar look like well-loved brushed leather.
The Everlane Ones
Like most of Everlane essentials, these boots are attractive enough to make them more than purely a practical purchase. Made from 100 percent rubber, they hit at ankle height and feature a slip-resistant tread and a cushioned insole for walkable comfort. Plus the flexible rubber leaves plenty of room for thick winter socks for those winter rainy days.
Statement Chelsea Boot
Why opt for a neutral toned rain boot when you can buy these chic mustard ones instead? If you want an option that screams "fun," these are the ones for you. These boots are made from natural rubber and a neoprene lining for all-day comfort. Plus they've been tested to be freezeproof so you'll be good even if you don't check the weather app.
The Classic Hunter Boot
The original tall rain boot (or as we like to call it the official Glastonbury rain boots). These boots can withstand the most torrential downpours, and you can also buy matching boot liners and insoles for colder, snowier conditions.
The Hunter Dupe
These boots give off classic horse-girl energy, and the thick rubber is equally good at keeping out stable gunk and urban mystery water. Reviewers said that the rubber material isn't a flashy patent, but rather a more muted and versatile matte.
The Utilitarian New York Classic
These boots are less heavy than Timberland's original six-inch boots, and, even if they don't look it, are 100 percent waterproof. They are the perfect blend of rugged and feminine and feature premium full-grain waterproof leather uppers. If you really don't like the look of rain boots, these are a good alternative. But size up a half size if you plan on wearing these with thick socks in winter.
The Preppy Ones
Sperry's Saltwater boots are a nice alternative to the pervasive tall wellie. Reviewers say these boots are a more comfortable, cuter take on the ever-popular L.L. Bean boots which sell out every year. The boots also come in two different size widths, so you can find the best fit.
For Your Next Target Run
These ankle boots may not be the best to wear if it's pouring rain, but they're easy enough to throw on for your next Target run. Plus the waterproof construction will still keep your socks dry.
The Festival-Ready Option
If you plan on spending most of the summer festival-hopping, this cool matte black pair is a good option to keep on hand, especially since they are considerably more affordable than a pair of Hunter boots. The chunky heel will give you a few more inches so you can actually see the performances.
The Heeled Ones
These boots made it big on TikTok for being both practical and stylish. If you still want these rain boots even after the hype died down, this is your sign. With their sleek and glossy design they'll be a great investment purchase.
The Splurge-Worthy Ones
Speaking of investment purchases … Say hello to maybe the trendiest rain boots on this list. Hitting right above the ankle, the boots are lightweight enough to wear all the time and give a flattering fit that keeps you dry. Sure, they are expensive, but that is why they are our splurge pick.
Another Splurge-Worthy Option
If you want something slightly more flashy than Bottega's offbeat boots, consider these chunky chain boots that come equipped with their own accessories. They're made from trustworthy PVC rubber, so no rain will dampen your day (or outfit).
Rain Boots to Channel Coraline
Halloween might be months away but consider these tall rain boots if you want to channel one of our fave stop motion characters. And even if you're envisioning a whole other costume, these are available in a slew of other colors that will surely match your current wardrobe.
The Best Zip-Up Rain Boots
If you're looking for a little detail when it come to rain boots, an exterior zipper not only makes them easy to take on and off but adds a little something to an otherwise blank design. Featuring a padded insole and hitting around the ankle, the lug-sole rain boots do their job. The only downside is that they're online only, but have plenty in stock.
The Wide-Calf Option
If you have ever tried to zip up a boot only to make it halfway, these are for you. The calf width of Hunter's classic boot is around 14 to 15 inches, though you can size up for a little extra room. However, the wide-calf pair gives you two extra inches to work with.
If You Can't Part With Your Crocs
If you already own a few pairs of the polarizing shoe, these boots won't be a hard sell for you. If you don't, hear us out. The lightweight boots are made of a waterproof foam, have a little platform, and, if you're into it, can be embellished with little charms.