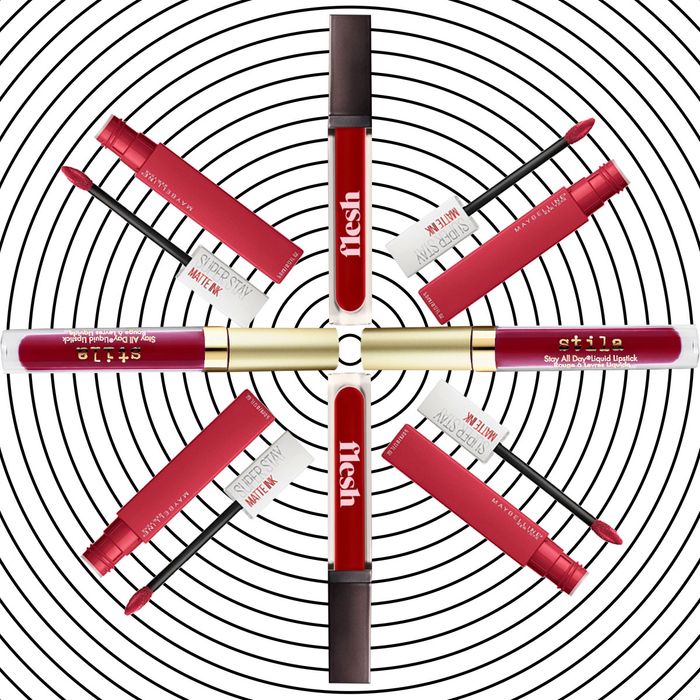 Photo: Courtesy of the Retailers
We're in the thick of the holiday season, which means it's time to eat and drink in quantities we usually wouldn't while wearing really bold makeup we also usually wouldn't! A statement lip is one of the easiest ways to present as "festive," but the only thing worse than having to remove it at the end of the night is realizing your lipstick had the nerve to remove itself — all over your cocktail glass/bacon-wrapped date/greater mouth area/teeth. And in public, of all places!
Liquid lipsticks are intense and clingy, two things that are terrible in human relationships but exactly what you want from a beauty product during a highly photographed time period when the socializing exclusively revolves around guzzling beverages and shoving food into your mouth. Here are seven smearproof liquid lipsticks that can handle all that holiday feasting so you can chug nog and inhale hors d'oeuvre with abandon.
The One That's Good for Long Bathroom Lines
If you hate the feeling of stuff sitting on your lips, the constant, nagging reminder that hey, maybe you should check on your mouth, try this lightweight formula. It earned its flesh moniker: It's so undetectable you'll forget you're wearing it, and you won't find evidence of its existence on your cocktail glass, either. Not until you stumble into the bathroom, realize how inebriated you actually are, and catch your reflection in the mirror will you remember you have a bright-red lip painted on. No need for a touch-up, though, go forth and socialize.
The One That's Good for Sit-Down Meals With No Escape
This liquid lipstick means business, and it's very good at its job. It dries quickly and, although it skews on the drier-feeling side, once it sets, it sets. This formula would be good for a sit-down meal where you're basically stuck in your seat for its entirety and you don't want to be paranoid that you have pigment smeared all over your face after the first course. This is also Alexandria Ocasio-Cortez's long-lasting formula of choice, and she has to do a lot of appearance-making, small-talking, schmoozing, questioning, and debating, which is basically all you'll be doing once you're back home.
The One That's Good for Photo Ops and Plandids
Some liquid lipsticks feel too liquid-y (very smear prone), and some feel way too dry (very flake prone). This Goldilocks one lands right in the middle. It obediently stays where you put it, but it has a flexible, almost rubbery finish that moves with your lips so you don't get those creases or that uncomfortable taut feeling. I recommend this formula if you foresee a lot of pose smiling, over-the-top fake laughing, or duckfacing on your itinerary. It literally won't crack under the pressure of all those lip movements.
The One That's Good at Being Passive-Aggressive
This formula is a best seller because it gets you opaque, high-color payoff with minimal swipes, and it stands up to liquids, even fizzy, exfoliating ones, without batting an eye. And the brand has one of the largest liquid-lip-color ranges I ever did see (currently, a casual 54). If you're really looking to stand out in a sea of expected reds and darker reds, or just unnerve a certain relative of a certain generation, spread your wings and try something spicy like Damned (black cherry), Roxy (bright grape), or Dreamer (neon turquoise), I double-dog dare you.
The One That's Good for Last-Minute "Let's Grab Drinks"
In addition to being the same shape as a Christmas tree, Stunna Lip Paint is a great holiday-season sidekick because it's very user friendly. The round applicator makes it surprisingly easy to stay inside your lip line when you don't have time to sit there and get it really precise. It sets fairly quickly, and once it does, you can sip freely, both from straws or directly out of any of the variety of glasses Rihanna drinks out of. Rest assured that it's not going to fade your top lip or announce to the world that your DNA is now all over your drinking vessel.
The One That's Good for Desserts and Such
ABH is known for brow products, but its liquid lipstick is a real winner too. Though the finish is matte, you wouldn't know it from the feel of the formula. It has one of the smoothest, most heavenly applications in town, so much so that you're kind of sad to see it dry. That is, until you realize that once it sets, it doesn't rub off. Not even when hit with notorious lipstick smearers like creamy desserts, whipped or frothy things, and spongy breads and cakes, all of which dominate the holiday consumption circuit with a vengeance. You, your sweet tooth, and the rest of your teeth will emerge unscathed.
The One That's Good for Irish Exiting
If you need to make a quick yet memorable appearance and swiftly peace out, this lipstick will get the job done. The formula is so comfortable and silky you won't begrudge putting it on just to take it off in an hour once you're back on the couch. It creates a pretty, velvety finish that people will definitely remember seeing, and though it doesn't have the same staying power as some of the aforementioned formulas, it, like you, truly excels at gradually fading away. No splotches, smearing, or uneven gaps; it just quietly transforms into an equally beautiful lip stain that everyone will think was there the whole time. Just like they thought you were.
If you buy something through our links, New York may earn an affiliate commission.