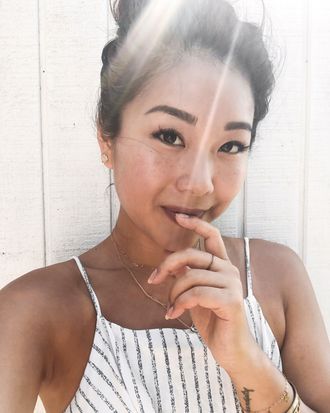 Photo: Courtesy of Remy Park
Want more skin care? Join our Facebook Group, the Beauty of It All.
There's a wealth of advice out there detailing the benefits of rethinking your eating patterns. But like most things in life, modifying your diet is always easier in theory than it is in practice, and it isn't usually until you see someone leading by example that you're prompted to follow in their footsteps. For an inspiring look into the benefits of veganism, look no further than food photographer and wellness blogger Remy Morimoto Park, who actively develops vegan and gluten-free recipes on her blog and Instagram account @veggiekins.
For Morimoto Park, eating a vegan diet was not only the path to recovery from an eating disorder but a lifestyle change with a multitude of positive changes — among them: Clearer skin. "They say that your skin is a reflection of your health, and I completely agree with that," she says. "I used to struggle a lot with acne and dry skin. I've been vegan now for about four years and really noticed changes within the first few months of changing my diet. The bottom line for me is to increase your consumption of dark leafy greens, ditch dairy, and use 'nontoxic' products on your skin."
In her skin-care routine, which is also strictly vegan, the health writer looks out for five key "toxic" ingredients: parabens, synthetic fragrances, sulfates, polyethylene glycol (PEGs), and petrochemicals. She adds, "One website I like to reference is clean beauty retailer The Detox Market's ["Ingredient Standards"], where they share a list of all the ingredients they do not allow in the products they carry." Below, a look into her skin-care routine, which also cuts out lanolin, beeswax, honey, and carmine.
The Cleanser
"This was the first clean beauty brand I had ever tried. I started looking for both vegan and nontoxic beauty — few brands fit the bill at the time, but I found Osea. It's a very moisturizing cleanser, great for dry and sensitive skin. I only use this in the morning if I've done a workout, but otherwise, I'll just rinse my face with water. But I do use it every night."
The Mist
"I use this as a toner after washing my face, and love the ingredients. I personally love the way my skin looks and feels after a beach day, and I think of this as my beach day in a bottle. Sea water is really mineral-rich (e.g. magnesium, calcium). The Sea Minerals spray is similar and contains Patagonian seaweed and aloe vera. It's suitable for dry skin and is not drying. I also use it prior to applying serums or concentrates, because I find that my skin absorbs it better when slightly moist."
The Serum
"This has been my greatest product discovery. It targets pimples. It's a very concentrated bottle that packs a powerful punch and you really only need a drop (seriously). You're supposed to use it in conjunction with a moisturizer or all-over serum, so I like to add a drop to my face after spraying a mist, then using my gua sha tool to massage it into my skin. I first tried this product as a sample size while traveling, and once I ran out, I noticed a difference in my skin — I had less acne and clearer skin — so I knew I had to repurchase. If you have to purchase one new product, go for this one because you can add it to your existing routine."
The Gua Sha
"Gua sha for the face is almost like a de-puffing, intense massage and lift. I like to do this every morning because I typically wake up with a pale and puffy face. It feels great, gets circulation going and encourages collagen production in your skin. Also, I always love rose quartz, which is a crystal that promotes self-love and giving yourself a mini facial massage is exactly that."
The SPF
"I protect my skin from the sun every single day. Even when it's cloudy. I like this formula because it's nontoxic, blends into the skin without any white cast and also serves as a primer."
The Exfoliator
"I use this exfoliator one to two times a week, and particularly after long, heavy makeup days or travel days. I also like to use it the night before photo shoots or film days because I find it really smoothing and brightening."
The Face Mask
"This mask is made with such simple ingredients and is not as drying as other clay masks. It's gentle, and has a gorgeous pink color, so I like to do this every once in a while when I feel like my skin is a little more oily than usual."
The Face Oil
"At night, I like to moisturize with something a little more hydrating, since I don't need to worry about staying matte or layering makeup on top. I love this lapis oil because it's hydrating, smells great and isn't too heavy."
If you buy something through our links, New York may earn an affiliate commission.